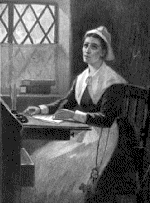 This post is hosted on the Huffington Post's Contributor platform. Contributors control their own work and post freely to our site. If you need to flag this entry as abusive,
send us an email
.
In 1666, a great fire consumed much of the considerable library of books owned by the poet Anne Bradstreet. Although she had been born in England in 1612, by the 1660s Bradstreet was living in Andover, Massachusetts, and had made her name as a poet – in fact, she was the first person in America to have a volume of poems published.
In the course of my research for my new book, which reveals the curious but little-known stories behind both famous and forgotten books, I became more and more interested in Bradstreet's story. She heads the chapter on American curiosities in my book, which has just been published as The Secret Library: A Book-Lovers' Journey Through Curiosities of History (Michael O'Mara Books). Anne Bradstreet is one of my favorite authors discussed in the whole book.
Bradstreet could claim descent from such a notable figure as Queen Elizabeth's favorite, Robert Dudley, Earl of Leicester. In 1630, just ten years after the Pilgrim Fathers sailed from England to the New World on the Mayflower, Anne and her husband left behind Boston, England and traveled across the Atlantic on the Arbella to establish a new settlement in Massachusetts. They named it after the English town they had left behind, and thus the city of Boston was founded. Later that year, the Bradstreets moved a few miles north of Boston and settled 'the newe towne', later named Cambridge, where Harvard University would be founded a few years later.
It was not exactly an environment conducive to poetic creativity. Early colonial life was hard – the life expectancy was not particularly high – and the early settlers in America could afford to take few books with them. As Robert P. Ellis has put it, 'Few poets can have learned their craft under more trying conditions.' Yet learn it she did. Her brother-in-law, travelling back to England in the late 1640s, took a bundle of her poems with him, and they were published in London in 1650 – supposedly without their author's consent – under the title The Tenth Muse Lately Sprung Up in America. No woman since Sappho had been so garlanded with the title.
With the appearance of The Tenth Muse in 1650, Bradstreet became not only the first published poet from the New World but one of the first female poets from anywhere to have a full book of poems published. An edition published posthumously in 1678 added a number of new poems, which were also noteworthy for being explicitly about married love, not a particularly common topic for love poetry at the time. The poems are largely a reminder of how hard life was for the early New World settlers: many of Bradstreet's poems are about longing to recover from a fever, for the restoration of her husband from 'a burning Ague', or to be delivered from a fit of fainting. But Bradstreet appears to have been a patient sufferer of life's hardships. It's noteworthy that one of the earliest uses of the phrase 'easy come, easy go' appears in The Tenth Muse: 'For that which easily comes, as freely goes'.
What marks Bradstreet out from many of her contemporaries is her frankness. In a letter she wrote to her children, she confessed that when she was a teenage girl she experienced 'carnal' desires, vanity, and a faltering in her religious faith. What is also noteworthy is the fact that her poems are hers: unlike many earlier English women writers, such as Joanna Lumley (a fascinating sixteenth-century writer and the first female English dramatist, also discussed in my book), Bradstreet writes about her own life rather than translating the words of men. She wrote poems addressed to her father, her husband, her children. She wrote about herself and about the life of her fellow colonists in Massachusetts. Although she can hardly be called a confessional poet, it is significant that in the 1950s, three centuries after the publication of The Tenth Muse, leading American confessional poet John Berryman wrote a long and sincere Homage to Mistress Bradstreet.
Bradstreet's reputation endured for about thirty years after her death in 1672, with Cotton Mather praising her in 1702, but thereafter she more or less disappears completely from the American consciousness for an entire century. Her name remains more obscure than it deserves to be, although in the last century her reputation has recovered a little. Among those who have claimed descent from Anne Bradstreet are President Herbert Hoover, both Oliver Wendell Holmeses and, more recently, politician and would-be President John Kerry. Politics, not poetry, has dominated the lives of her more famous descendants.
SUBSCRIBE TO & FOLLOW THE MORNING EMAIL
The Morning Email helps you start your workday with everything you need to know: breaking news, entertainment and a dash of fun. Learn more