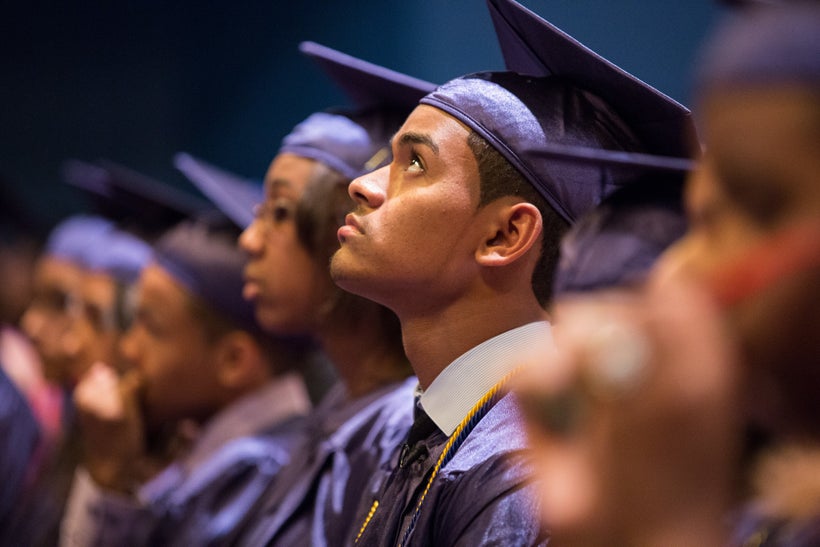 Last week as we began Black History Month, I shared many of these sentiments with my colleagues. As we press forward for our children, I wanted to share with any of you who are teaching, nurturing, and encountering black children every day.
This Black History Month is unlike any other. The last eight years, in particular, have been a study in paradox for Black communities. We've experienced the highs of a Black first family, the progress of Black women becoming the nation's most educated group, and the blessing of a Black artistic and cultural renaissance that has propelled more Black, intersectional role models onto more screens, into more writing rooms, and behind more cameras.
Simultaneously, we have continued to endure the fight of our lives, resurrecting a worldwide protest movement from Ferguson for our slain young people while we saw our repeated degradation on video, coming face-to-face with the cradle-to-school-to-prison pipeline , and witnessing what many in our community hold to be severe anti-Blackness intersecting with Islamophobia, homophobia, and anti-immigrant sentiments.
When the future looks bleakest, I think of Dr. King's little-known words on the importance of love and power, combined as an unstoppable force to change the world:
"One of the greatest problems of history is that the concepts of love and power have usually been contrasted as polar opposites, so that love is identified with a resignation of power, and power with a denial of love. . . . What is needed is a realization that power without love is reckless and abusive, and that love without power is sentimental and anemic. Power at its best is love implementing the demands of justice, and justice at its best is power correcting everything that stands against love."
In order for the Black future to build triumphantly on the important gains of Black history—and for all of our children to have what they deserve—we must nourish the love Black children feel for themselves, and encourage them to seize the infinite power that is theirs. We know from years of involvement and the truths of our communities that marginalized children require a schooling experience that provides rigorous skill—and that grows their confidence and consciousness as well. Academic experiences that focus solely on rigor without affirming the youngest among us will ultimately be insufficient.
I'm proud to work for an organization that, in its constant evolution, has centered itself in culturally responsive pedagogy and culturally appropriate classroom management. At Teach For America, we haven't always gotten it right—but we are always determined to do better.
This week, as we continue another Black History Month, my challenge to each of us is to turn our eyes toward the lessons of Black history to understand the call of the Black future, and all of our futures. Let us continue to listen intently to the self-determined movements afoot in Black communities, because the artists, the activists, the teachers, the children, and Black people across the country are being clear about the free and empowered future we want for our families. Let our listening influence our collective action, for the Black children in many of our homes, neighborhoods, and classrooms and for the Black leaders who have laid the groundwork for us and put themselves on the line for our community every day.
No matter your background, each of us, whether educators, mentors, leaders, parents, or people who care about children and their futures, must take on our role in the work of educational equity and excellence with new levels of urgency and curiosity—with love and with power. Our children know when we don't love them, when we don't believe in their power. They watch when we don't love one another, or believe in our own power. To create the future we desire and we all deserve, we cannot give in to hatred but instead must "implement the demands of justice" by marrying our love for our children with a belief in their power—and our own.
I'm determined to secure a bright Black future, and a bright future for all of our children. I am therefore determined to believe in our power to get there together and love the inherent humanity of the children who will lead us along the way.
Celebrate and learn from Black history—and invest in loving, powerful Black futures.
This post is hosted on the Huffington Post's Contributor platform. Contributors control their own work and post freely to our site. If you need to flag this entry as abusive,
send us an email
.
SUBSCRIBE TO & FOLLOW THE MORNING EMAIL
The Morning Email helps you start your workday with everything you need to know: breaking news, entertainment and a dash of fun. Learn more