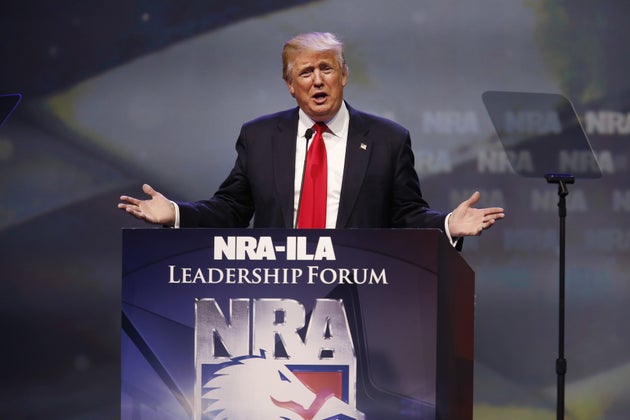 When North Carolina passed a law in March effectively sanctioning LGBT discrimination, corporate America turned up the heat on the Tar Heel State.
More than 90 CEOs and other top business executives signed a letter to North Carolina Gov. Pat McCrory (R) denouncing the law and warning that it would "diminish the state's draw as a destination for tourism, new businesses, and economic activity."
Some major companies, including PayPal, Google Venture, Braeburn Pharmaceuticals and Lionsgate Entertainment, put their money where their mouths were, canceling existing plans for projects in the state or vowing a boycott on future investments.
But many of the same companies are moving forward with their plans to sponsor this summer's Republican National Convention, where the GOP is expected to nominate Donald Trump, a noted bigot, for president.
Those companies appear to have a higher tolerance for Trump's outrageous statements and policy proposals regarding Latino immigrants, Muslims, women and President Barack Obama than they do for North Carolina's anti-LGBT discrimination.
Progressives See Hypocrisy
The apparent inconsistency is not lost on the progressive and civil rights organizations pushing corporations to disown a Republican convention that will nominate a racist demagogue for the presidency.
"It is surprising that we have companies showing up very vocally for certain types of people, but unwilling to let go of access when it comes to supporting a convention for a candidate who has said horrible things about multiple communities of color," said Arisha Hatch, managing director of campaigns at ColorOfChange Political Action Committee, which has led the charge against corporate backing for the GOP convention.
CREDO Action, which is allied with ColorOfChange PAC in its efforts, blasted a video ad to hundreds of thousands of members earlier this month calling on Google in particular to back out of its plans to sponsor the convention. (Google will be the official live-stream provider of the RNC through YouTube, and says it will contribute other associated services.)
Since that video went out, CREDO members have left more than 1,400 voice mail messages with Google employees asking the company to reconsider its participation. But they have not received responses, according to CREDO.
CREDO singled out Google in part because of the company's reputation for promoting the "values of diversity and inclusion," Heidi Hess, a campaign leader for CREDO, said at the time of the video's release.
Speaking to The Huffington Post this week, Hess called the companies' willingness to sponsor the Republican convention, despite their opposition to the North Carolina law, "ironic and troubling."
At the same time, she argued, "it is not surprising that they are able to get over the cognitive dissonance in order to think about their bottom line."
Silicon Valley Under Scrutiny
Indeed, it's particularly notable that so many Silicon Valley firms and other tech giants are supporting the Republican convention, because many of them enjoy a socially liberal reputation, and virtually all of them spoke out against the North Carolina law.
Executives from Google, Twitter, Facebook, Cisco Systems and Microsoft all signed the letter condemning H.B. 2, North Carolina's anti-LGBT law. All of those companies plan to sponsor the GOP's convention in Cleveland this July.
Aside from Google, it's not exactly clear what the companies will be doing for the convention, but in various statements to HuffPost they characterized their contributions as in-kind donations of technology and other services.
They also justified their participation on the grounds that they plan to contribute similarly to the Democratic National Convention, which will be held this July in Philadelphia. Several companies argued that contributing to both conventions helps promote democracy. The language in the various statements is remarkably similar.
"Twitter works with both major political parties and we will support both national conventions, in order to promote civic engagement and democratic participation," a Twitter spokesperson said in a statement.
"Facebook is supporting both the Republican and Democratic conventions in a similar manner and without endorsing any one candidate, issue, or political party," a Facebook spokesperson said in a statement. "We believe encouraging this ongoing conversation is important because an informed debate about the candidates and the issues is essential to the democratic process."
One of the things I have found in my activism work ... is that there is an extreme amount of discomfort around race in Silicon Valley.

Arisha Hatch, ColorOfChange PAC
"As a company, we have provided in-kind contributions equally to both the Democratic and Republican convention since 2000," Nigel Glennie, a Cisco Systems spokesman, said in a statement. "Our support is not for a specific policy, candidate, or party, and is driven by our belief that these are historic moments in the selection of the next President of the United States."
Microsoft referred HuffPost to an April 29 blog post on the topic by Fred Humphries, the company's corporate vice president of U.S. government affairs.
"First, we act in a bipartisan manner and provide similar levels of support to both conventions," Humphries wrote. "Second, we make a special effort, as do many companies in our industry, to provide the conventions with technology tools to help enable this part of the American democratic process to operate efficiently and accurately. And third, we do not endorse either political party or its nominee."
While Google did not provide any new comments for this article, it offered an explanation earlier this month that resembles the other companies' statements. A spokesperson described Google's role in the Republican convention as simply expanding access to the event for people who can't attend in person.
Google has not yet announced sponsorship plans for the Democratic National Convention, but it has supported both party gatherings in previous years.
PayPal, which canceled plans to build an operations center in Charlotte, North Carolina, in response to the passage of H.B. 2, did not immediately respond to a request for information about its participation in the convention.
Hewlett-Packard and Xerox, whose executives signed the letter condemning the North Carolina law, also did not respond to requests for comment. LinkedIn, another signatory, declined to comment for this story.
A law passed in 2014 eliminated federal funding for the party-run convention committees, increasing pressure on the parties to raise funds elsewhere. Although the party-run committees cannot receive direct cash contributions from corporations, they can receive in-kind contributions of the type being provided by Google, Facebook, Twitter, Cisco and Microsoft.
Contrary to those companies' professed goal of promoting democracy, however, the in-kind gifts are technically only legal if the companies view their contributions as ordinary business deals in which the promotional value or other benefit of providing a free service offsets or outweighs the financial cost.
Twitter works with both major political parties and we will support both national conventions, in order to promote civic engagement and democratic participation.

Twitter spokesperson
The progressive organizations pressuring companies not to participate in the Republican convention are not accepting the companies' explanations.
Hatch said the corporations' pleas that they support both parties' conventions are just "an excuse being used by companies attempting to buy influence and access at any cost."
"What we have been saying to companies we talk to is that this is not just business as usual," Hatch said. "It is not ordinary politics. We disagreed with Mitt Romney's policies, but we were not knocking on Silicon Valley's door asking them not to give money to a convention that nominated him."
Hatch suggested that Silicon Valley's reluctance to take a stand may reflect a larger problem with racial sensitivity in the industry, whose workers are overwhelmingly white and Asian.
"One of the things I have found in my activism work, whether it is a campaign about increasing diversity on the staff of tech companies or against the use of algorithms targeting race in inappropriate ways, is that there is an extreme amount of discomfort around race in Silicon Valley," Hatch said.
Slow Progress For A Boycott Movement
ColorOfChange PAC launched a petition in March demanding that corporations withdraw from the Republican National Convention. The petition ultimately garnered more than 830,000 signatures.
CREDO and other like-minded national groups joined ColorOfChange PAC, either as part of the petition drive or in complementary efforts, forming a coalition of 32 groups with the shared goal of depriving the convention of corporate America's implicit blessing.
Some of the groups, including the Arab American Institute, Muslim Advocates and the National Iranian American Council, were unable to participate in ColorOfChange's explicitly political petition due to their nonprofit status. Instead, they signed on to a letter to corporations that uses vaguer language. The letter asks companies to refrain from supporting "any political party conventions that engage in bigoted, xenophobic and racist rhetoric that encourages violence."
The convention host committees, in contrast with the party-run committees, can receive direct cash contributions from corporations. Originally conceived as a way for local businesses to support the conventions, they have gradually morphed into a major backdoor channel for corporate financing of the lavish gatherings.
Emily Lauer, senior director of communications for the Cleveland 2016 host committee, suggested that Trump's presence on the ticket has had little impact on fundraising thus far.
"Regarding corporate support, we have more than 100 sponsors at this time, and we have received a variety of comments from those who have chosen not to support the Cleveland host committee," Lauer said. "A very small number have specifically noted the candidate landscape as the reason."
Lauer acknowledged that one company has withdrawn a pledged contribution since Trump secured the nomination, but she declined to say which one.
The host committees are not required to disclose their donors until 60 days after the convention occurs.
Despite the hesitation of many top companies to buck the GOP, representatives of the progressive coalition argue that their efforts are beginning to yield fruit.
What happens when you write off that share of the market? It is a risk to the business.

Alyssa Katz, corporate political activism expert
The groups claim credit, for example, for declines in contributions by Microsoft and Coca-Cola. (Coca-Cola's president also signed the letter condemning North Carolina's law.)
Although Microsoft decided not to make direct cash contributions this year, the company in 2012 made donations worth $1.5 million, half of them in cash.
Microsoft's Humphries claimed in the April 29 blog post that the decision about the donations was made in the fall, months before Trump secured the nomination.
Coca-Cola, which was among the companies ColorOfChange specifically targeted in its petition, has reduced its contribution to the host committee for the GOP convention to $75,000 this year, after giving $660,000 in 2012.
Jennifer Amundsen, a spokeswoman for Coca-Cola, noted that the company would be contributing an identical amount to the Democratic convention in Philadelphia. She ignored the suggestion that outside groups had played any role in the company's decision.
"Our support helps the host committees run these large events and contributes to local economic development but does not represent an endorsement of any specific party or candidate," Amundsen said in a statement.
ColorOfChange PAC's Evan Feeney, though, maintains that activism did influence the two companies, saying their denials don't "really pass the smell test."
"If either Coke or Microsoft had made a decision and was moving on they could have said that the minute our campaign started," Feeney told HuffPost in an email. "Yet they took time to have multiple senior level [officials] on the phone multiple times... to explain what they were deciding and how they were dealing with our campaign."
So Why Haven't Activism Groups Had More Success?
It's not hard to see why companies would be reluctant to pull, or even just reduce, their support for one of the two parties' conventions. Even if Trump is not elected president, there is a good chance Republicans will maintain control of at least one house of Congress.
Stiffing the GOP at one of its most extravagant fundraisers would likely have consequences for a company's public policy agenda.
"A lot of members of Congress are affiliated with the convention," said Lawrence Noble, general counsel of the Campaign Legal Center, a nonprofit. "It becomes a great lobbying opportunity for these companies."
Alyssa Katz, author of The Influence Machine: The U.S. Chamber of Commerce and the Corporate Capture of American Life, argues that it's probably Trump supporters, more so than politicians, whom the corporations are afraid of alienating.
"What happens when you write off that share of the market?" Katz said. "It is a risk to the business."
Facebook, in particular, may be sensitive to backlash, Katz noted, with the company "still reeling" from accusations that its "Trending" topics feature is biased against conservative news.
The movement to boycott North Carolina was so successful because the LGBT community is "so well organized and the issue is so specific," according to Katz, who is also a member of the New York Daily News' editorial board.
A boycott movement of the kind Trump critics are now launching "may soon catch fire," she said. "But it is not yet where we are in terms of LGBT rights."
Editor's note: Donald Trump regularly incites political violence and is a serial liar, rampant xenophobe, racist, misogynist and birther who has repeatedly pledged to ban all Muslims -- 1.6 billion members of an entire religion -- from entering the U.S.
SUBSCRIBE TO & FOLLOW THE MORNING EMAIL
Get top stories and blog posts emailed to me each day. Newsletters may offer personalized content or advertisements. Learn more