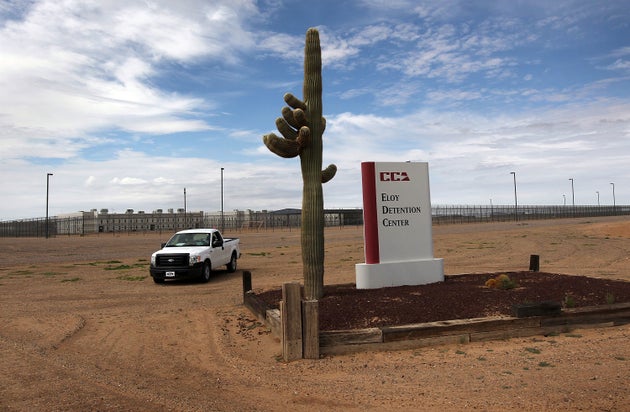 A 36-year-old Guatamalan woman died in the custody of Immigration and Customs Enforcement on Sunday, the third death of a detainee in two months.
Raquel Calderón de Hildago died at Banner Casa Grande Medical Center in Arizona after a series of seizures, according to an ICE press release. Border Patrol agents caught her crossing into the U.S. from Mexico illegally on Nov. 17, according to ICE. She did not have a criminal record.
Calderón was sent to Eloy Detention Center on Nov. 23 to await deportation proceedings, but was rushed to the hospital by ambulance after the seizures started, ICE said. Some 15 immigrant detainees have died while confined at Eloy since 2003, according to The Arizona Republic ― the most of any immigrant detention center.
Five deaths at Eloy since 2005 have been suicides, Latino USA reports. One was José de Jesús Deniz Sahagún, a 31-year-old Mexican national who was found dead at Eloy three days after being locked up there in May 2015. He was found with a sock stuffed down his throat in solitary confinement in an apparent suicide, according to two-part series by Latino USA.
"We're deeply disturbed by reports of another death at Eloy, where the U.S. government's own investigations reveal poor oversight and follow-up after problems are identified in medical care and other aspects of detention," Grace Meng, a senior researcher at Human Rights Watch, wrote in an email to HuffPost. The Department of Homeland Security, which includes ICE, "should publicly release the results of investigations into her death and all other death reports that have not already been released."
Eloy Detention Center is run as a for-profit business by CoreCivic, the country's largest private prison contractor. The company recently changed its name from Corrections Corporation of America. A spokesman for CoreCivic wrote in an email that the company was not the medical services provider in Calderón's case and declined further comment.

Also on HuffPost
Why Latin Americans Really Come To The U.S.
SUBSCRIBE TO & FOLLOW POLITICS
HuffPost Politics brings you the top political stories three days a week. Learn more