This post is hosted on the Huffington Post's Contributor platform. Contributors control their own work and post freely to our site. If you need to flag this entry as abusive,
send us an email
.
Pinocchio has long been hailed as Walt Disney's masterpiece. While Walt Disney Animation Studios' second feature-length production may admittedly lack the heart that Snow White and the Seven Dwarfs had, there's no denying that Pinocchio tops its predecessor. At least when it comes to artistic ambition and technological advances.
Mind you, Pinocchio wasn't always supposed to be the film that followed Snow White. In fact, if Walt had had his way, an animated version of Felix Salten's "Bambi, A Life in the Forest" would have been the very next project that the Mouse Factory churned out.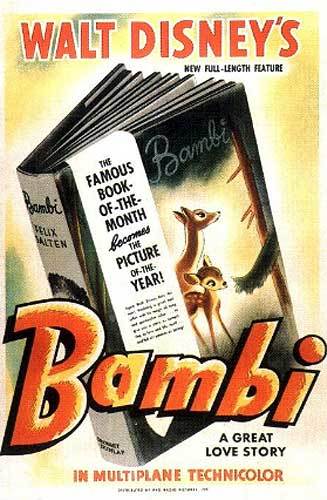 So how did "Bambi" go from being WDAS' proposed second production (which was originally supposed to be released to theaters in the Spring of 1939) to the studio's fifth feature-length film (which didn't wind up debuting 'til August 13, 1942)? That actually has a lot to do with the lessons that Walt thought that he and his team had learned while working on "Snow White." Chief among these being that animating believable, life-like human figures is very tough.
In a January 1938 interview that Disney did with the New York Times in the wake of Snow White's huge success at the box office over the 1937 / 1938 holiday season, Walt revealed that – as his studio was ramping up to produce additional animated features – the mistakes that had been made during production of Disney's first full-length cartoon …
… will not be repeated. Particularly, the human figures (in "Snow White") presented a problem which was not solved until the final five months of (production). So obviously these will be minimized or omitted in his next two offerings, "The Adventures of Pinocchio" and the subsequent "Bambi."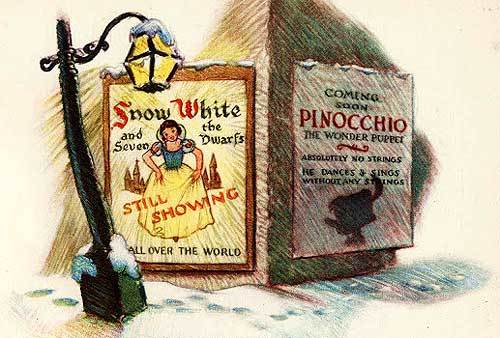 Now please note that use of the word "subsequent." Because it was only three weeks earlier that Walt had revealed – in a December 15, 1937 story that, again, ran in the New York Times – that
… "Pinocchio," the puppet that wanted to be human, will provide the basis for Walt Disney's next feature-length cartoon, replacing the (previously) scheduled 'Bambi.'
Prior to this, Bambi had actually been on the fast track at the Mouse House. Walt had purchased the film rights to Felix Salten's 1923 novel from producer Sidney Franklin (who had originally tried to get MGM to produce a live-action version of this popular Book-of-the-Month Club selection back in 1933) in April of 1937. With the idea being that – as Disney's animators finished working on Snow White – they could then immediately pivot and begin working on a feature-length cartoon version of Bambi.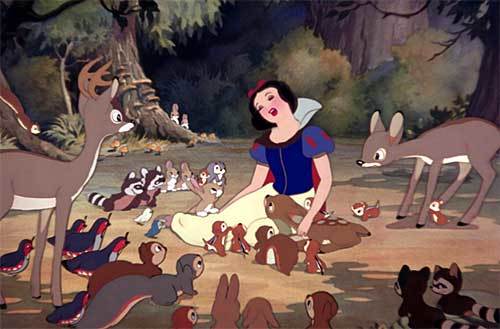 You see, to Walt's way of thinking, all of the experience that Disney artists had acquired while drawing Snow White's forest friends (i.e., the squirrels, chipmunks & birds that help her " … tidy up the place" as the little princess sings "Whistle While You Work." More importantly, the deer that the Dwarfs ride while they're pursuing the Evil Queen) would now make it possible for them to produce an animated version of Felix Salten's "Bambi, A Life in the Forest" in record time.
"How quickly are we talking here?," you ask. Walt had originally thought that his artists would be able to turn out a feature-length animated version of Bambi in just 18 months time. Which – if all had gone according to plan – meant that Disney's Snow White follow-up would have opened in theaters sometime during the Summer of 1939.
Sadly, given that "Bambi, A Life in the Forest" had originally been written for adults, Felix Salten's novel proved extremely difficult to transform into fodder for a family-friendly film. All efforts that the story team made to leaven this movie's rather grim source material (EX: Giving Thumper six sisters that – just like Snow White's Dwarfs – would have cute / funny names that quickly summed up their personalities. Or creating a-squirrel-and-a-chipmunk comedy team who'd be modeled after Laurel & Hardy for Bambi to interact with) didn't meet with Walt's approval.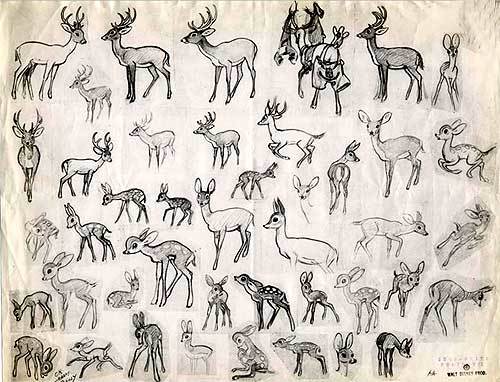 To make matters worse, once serious development of Bambi officially got underway in August of 1937, Walt began reviewing all of the animal-related footage that his artists had created for Snow White and suddenly found it wanting.
To hear Disney Legend Eric Larson talk, Walt's problem with the deer that his studio had animated for Snow White was that (to his eyes, anyway) they all now looked " … like big flour sacks." In order for Bambi to work as a feature-length cartoon, Disney realized that all of the animals in this pending production would then have to have far more realistic anatomy. And Walt wasn't entirely sure that the artists at Disney Studios – as talented as they obviously might be – were actually up to this challenge.
According to Michael Barrier, author of the excellent "Hollywood Cartoon: American Animation in its Golden Age," Walt kept up a brave face for months.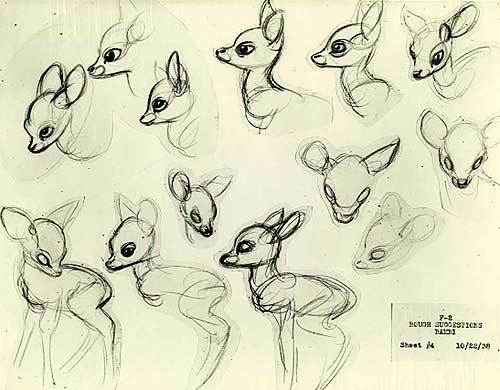 "As late as October 1937, Disney was still speaking of 'Bambi' as if it would be his next feature."
But as Snow White was being readied for its December 21st world premiere at the Carthay Circle Theatre, Walt began to worry about what might happen to his studio if the 800 people on Disney's payroll didn't have a new project to work on soon. Which is why – just six days prior to Snow White's premiere – Walt announced a change in the studio's batting order. From here on in, Pinocchio was now going to be Disney's second feature-length cartoon, rather than Bambi.
And then – for the next six weeks or so -- Walt was very optimistic about the animated version of Carlo Collodi's "The Adventures of Pinocchio: Tale of a Puppet" that his studio was produced. Telling a reporter from the New York Times that production of …
"Pinocchio" is going so rapidly that it may be ready for next Christmas, but Disney is careful to make no promises. More likely, it will be shown in the Spring of 1939.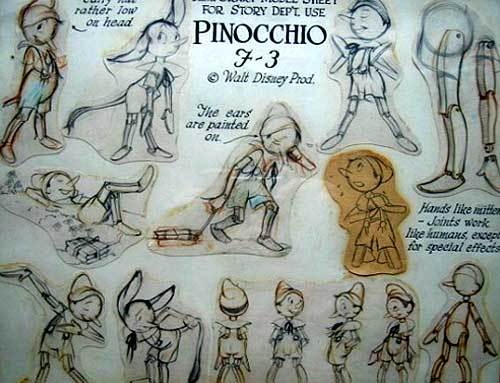 By February, all of that optimism had faded away. This was when the very first animation tests for Pinocchio began coming in. Which was when Walt then realized that this project wasn't going to be Snow White revisited.
No, Pinocchio's human characters (i.e., Geppetto & Stromboli) weren't the problem this time around. But – rather – it was this movie's title character.
As once Walt once famously said during a Pinocchio story session, " … people know the story, but they don't like the character." And given that those early animation tests which Disney artists produced weren't able to turn Pinocchio into a character that audiences would actually like, Walt actually shut down production of his studio's second feature-length animated film for a full six months while his story artists searched for a way to make this project work.
One of the biggest problem that Disney & his team faced was that – given that Collodi had originally written "The Adventures of Pinocchio: Tale of a Puppet" as a newspaper serial with more than 36 installments – there was originally just too much story. But as the below video shows …
… Walt had a process for whittling all of that material down to something that would then work as a motion picture.
But even with this herculean behind-the-scene effort, Pinocchio still missed its originally-announced release date of Christmas 1939 by more than a month. Which meant that Walt then lost out on the opportunity to screen his studio's second full-length animated feature at the exact theater where Snow White had had its East Coast premiere, NYC's Radio City Music Hall.
This unfortunate development genuinely depressed Disney. As Neal Gabler recounted in "Walt Disney: The Triumph of the American Imagination," Walt sent a letter of apology to Gus Van Schmus (i.e., the then-managing director of Radio City Music Hall), stating that Pinocchio was "… the toughest job the animators have ever had, and I hope I never have to live through another one like it."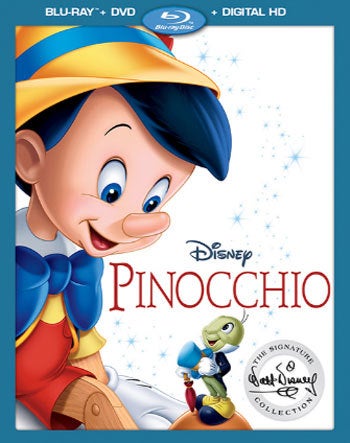 If you'd like to check out " … the toughest job (Disney) animators have ever had," the Walt Disney Signature Collection edition of Pinocchio debuted on Digital HD and Disney Movies Anywhere earlier today. Which means that – if you're a fan of Walt Disney Animation Studios' second feature-length animated film and aren't willing to wait for the Blu-ray & DVD version hits store shelves on January 31st – you can download the digital version right now.
SUBSCRIBE TO & FOLLOW THE MORNING EMAIL
The Morning Email helps you start your workday with everything you need to know: breaking news, entertainment and a dash of fun. Learn more