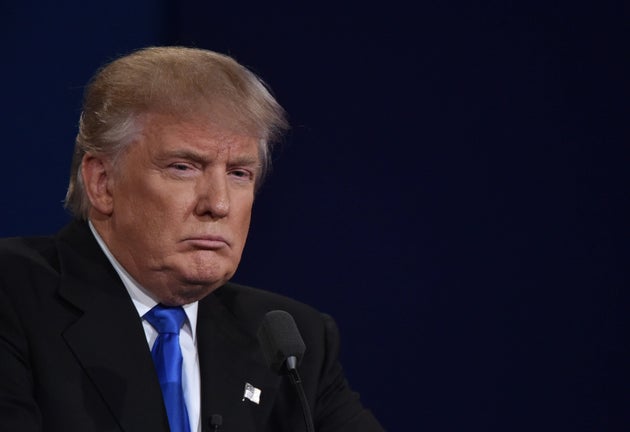 Like what you read below? Sign up for HUFFPOST HILL and get a cheeky dose of political news every evening!
To say that Donald Trump is "draining the swamp," would be incorrect ― the truth is something closer to "making small talk with the swamp about how crowded East Hampton has gotten." Trump wants to take away the citizenship of anyone who burns an American flag, which is to say, he wants to give flag burners the opportunity to appear in a photo-op with Justin Trudeau. And today is #givingtuesday, when Americans take a break from holiday shopping to contribute to a charitable cause, or, in the case of the Trump Foundation, a new school library for Barron. This is HUFFPOST HILL for Tuesday, November 29th, 2016:
Have any of you NOT been made to think you will receive a cabinet position? A person who spoke with David Petraeus yesterday said the former general felt confident Trump would offer him the secretary of state position. "He felt good about his chances, but I'm sure Trump makes everybody feel good about their chances," a source told Ryan Grim.
FFS, KEVIN MCCARTHY - Coming from the guy who touted the Benghazi Committee as a huge political win, this isn't surprising. Michael McAuliff: "When asked whether it's actually Congress' responsibility to ensure the executive is following the rules, McCarthy countered with a question of his own about whether Trump is really breaking the rules…. When it was pointed out that Trump has spoken about his business concerns with foreign leaders, and that foreign diplomats have suggested they'd stay in Trump hotels to curry favor, McCarthy professed ignorance. 'Is someone saying that's happened?' McCarthy said. 'Can [diplomats] not stay at the hotel?' … And, likely to the amazement of Democrats who have complained about endless probes into Hillary Clinton's behavior, McCarthy argued that it's time to back off on investigations. 'I think for too long, some of these rules have been used that way, and I think it's been a bad thing, and it's harmed the ability for people all to work together,' McCarthy said. 'Let's take a deep breath. We're going into a new year, we've got big problems before us.'" [HuffPost]
And this: "A POLITICO survey of lawmakers found only a smattering of support among rank-and-file Republicans for aggressive oversight into Trump's financial situation, and nearly every GOP leader approached for an interview on the topic hunkered down or tried to avoid comment." [Politico's Darren Samuelsohn]
LA LA LA I MCAIN'T HEAR YOU - Either John McCain is ashamed of Trump, really wanted Hillary to win, or else he's pretending he lives in alternative universe 2008 and he's the president-elect. Laura Barron-Lopez: "Sen. John McCain (R-Ariz.) will not talk about Donald Trump and he wants reporters to inform their colleagues. He will not do it if he's asked about one of Trump's many tweets. He will not do it if he's asked about what Trump's priorities should be on North Korea. He just will not do it, he insisted…. 'I will not talk about Donald Trump. Now look, tell all your friends, OK?' McCain said to reporters Tuesday in the Capitol." [HuffPost]
MNUCHIN TO BE TAPPED FOR TREASURY - Steven Terner Mnuchin is just the kind of name of someone with a closet dedicated to baseball hats with whales on them and slim puffy vests. Binyamin Appelbaum and Maggie Haberman: "Steven Terner Mnuchin, a financier with deep roots on Wall Street and in Hollywood but no government experience, is expected to be named Donald J. Trump's Treasury secretary as soon as Wednesday, sources close to the transition say. Mr. Mnuchin, 53, was the national finance chairman for Mr. Trump's campaign. He began his career at Goldman Sachs, where he became a partner, before creating his own hedge fund, moving to the West Coast and entering the first rank of movie financiers by bankrolling hits like the 'X-Men' franchise and 'Avatar.' … His selection fits uneasily with much of Mr. Trump's campaign rhetoric attacking the financial industry. Mr. Trump, in a campaign ad intended as a closing argument, portrayed the chief executive of Goldman Sachs as the personification of a global elite that the ad said had 'robbed our working class.'" [NYT]
Joe Manchin on flag burning to a group a reporters today: "The bottom line on flag burning is it's a First Amendment right. If you do it in front of me, I'm gonna beat the hell out of you." Thanks, Senator!
IT'S HAPPENING - This cycle of diplomatic obsequiousness ends with the parliament of a major USAID recipient voting to make Eric Trump its national bird. Paul Blumenthal and Jessica Schulberg: "The Embassy of Bahrain plans to host its annual National Day celebration at President-elect Donald Trump's lavish Trump International Hotel in Washington, D.C. Set to take place on Dec. 7, the Bahrain National Day celebration would add yet another bullet point to the ever-expanding list of potential conflicts of interest facing the president-elect as he seeks to balance his new role and his global real estate empire. His D.C. hotel already emerged as a point of concern after it suggested to foreign dignitaries that staying there during their official visits could help their relationship with the president-elect. Last year, the Embassy of Bahrain hosted its National Day party at the Ritz Carlton, a swanky hotel located about a mile from Trump's new space." [HuffPost]
Like HuffPost Hill? Then order Eliot's new book, The Beltway Bible: A Totally Serious A-Z Guide To Our No-Good, Corrupt, Incompetent, Terrible, Depressing, and Sometimes Hilarious Government
Does somebody keep forwarding you this newsletter? Get your own copy. It's free! Sign up here. Send tips/stories/photos/events/fundraisers/job movement/juicy miscellanea to huffposthill@huffingtonpost.com. Follow us on Twitter - @HuffPostHill
MEET YOUR NEXT HHS SECRETARY - We guess Todd Akin had prior commitments. Jonathan Cohn: "President-elect Donald Trump will name an ultra-conservative surgeon, Rep. Tom Price (R-Ga.), to run the Department of Health and Human Services. The choice, which Trump's transition team announced on Tuesday morning, would appear to signal Trump's determination to proceed with a major overhaul of federal healthcare programs ― including not just Obamacare, which Republicans have sworn to repeal, but also Medicare and Medicaid…. By tapping Price, Trump is enlisting one of the few Republican lawmakers who have actually taken that vow seriously ― to the point of writing a detailed piece of legislation. The 'Empowering Patients First Act,' as it is known, would gut Obamacare's regulation of insurance plans, reduce the total financial assistance going to people buying private coverage and rescind entirely the law's expansion of Medicaid for the poorest Americans." [HuffPost]
ALSO, THERE ARE NO GAYS IN IRAN Travis Waldron: "President-elect Donald Trump continued to expand his cabinet on Tuesday, tapping Rep. Tom Price (R-Ga.) as his preferred choice to head the Department of Health and Human Services. Democrats immediately attacked the pick, citing Price's steadfast opposition to the Affordable Care Act, specifically the efforts of the health care law and Obama administration to expand women's access to contraception. Price, a doctor and one of the top-ranking members of the House GOP caucus, was among the most outspoken Republicans when it came to Obamacare's birth control rules, which eliminated copayments for all forms of contraception. In 2012, Price told ThinkProgress that those rules were unnecessary, as there were no women who struggled to access contraception. 'Bring me one woman who has been left behind. Bring me one,' Price said at the time." [HuffPost]
ELAINE CHAO PICKED FOR TRANSPORTATION - We're guessing Mitch McConnell and Elaine Chao will get along with House Transportation Committee chairman Bill Shuster and his girlfriend, an airline lobbyist. Igor Bobic: "Chao, 63, has a substantial record of government service and would be a conventional choice to lead the department. She previously served as secretary of labor from 2001 to 2009, becoming first Asian-American woman in U.S. history to be granted a Cabinet position. Her experience also includes stints as deputy transportation secretary under former President George H.W. Bush, chair of the Federal Maritime Commission and director of the Peace Corps. Chao is the wife of Senate Majority Leader Mitch McConnell (R-Ky.), who is, along with his fellow senators, responsible for confirming the president's Cabinet appointments." [HuffPost]
Our favorite Mitch McConnell/Elaine Chao memory: The pair silently eating dinner outside at Café Berlin.
KUSHNER COULD FACE QUESTIONS OVER BUSINESS TIES, FAMILY'S THIRST FOR VENGEANCE - Is there anyone in this incoming administration more adept at swiveling around his office large chair JUST as you enter a room than Jared Kushner? We say no. Peter Grant: "The real-estate company controlled by Jared Kushner...has hundreds of millions of dollars in loans outstanding from domestic and foreign financial institutions, markets condominiums to wealthy U.S. and foreign buyers and has obtained development financing through a controversial U.S. program that sells green cards. Those and other business activities could raise conflict-of-interest issues if Mr. Kushner is named to a staff position in the Trump administration. Executive branch employees are prohibited from participating in any matter in which there is 'a close causal link' between that matter and a 'real possibility' of a financial gain or loss, according to the U.S. Office of Government Ethics." [WSJ]
OH, HONEY - Soon the GOP base will know how environmentalists feel. Rebecca Savransky: "Sixty-four percent of registered voters polled by Harvard University's Center for American Political Studies and the National Research Group said Trump will be either very or somewhat effective in fulfilling his campaign promises, not only on immigration but also to invest in the nation's infrastructure, to cut taxes and to repeal ObamaCare. Seventy-eight percent approve of his infrastructure promise, and 53 percent think he'll keep it. A majority of Americans also approve of a proposal to cut individual income taxes, according to the poll. But Americans are slightly more confident the president-elect will cut taxes on corporations, as opposed to cutting taxes for individuals. Fifty-four percent of respondents trust the president-elect will uphold his campaign promise to repeal and replace ObamaCare — a pledge he often made during his campaign rallies. But only 46 percent of respondents approve of the idea to repeal and replace President Obama's signature healthcare law." [The Hill]
SWAMP RESIDENT HATES SWAMP - Susan Page: "Former House speaker Newt Gingrich calls Donald Trump a potentially transformative president. But he shouldn't have sent out that tweet alleging election fraud…. 'The president of the United States can't randomly tweet without having somebody check it out,' Gingrich told USA TODAY's weekly video newsmaker series. 'It makes you wonder about whatever else he's doing. It undermines much more than a single tweet.' … He argues that Trump, who hasn't held a news conference since July, should feel no obligation to hold any as president, suggesting instead he solicit questions from the public to answer. 'The news media so totally disgraced itself in this election, if I were Trump I would just say no,' Gingrich says. 'And if the White House Correspondents Association doesn't like it, I'd say, "Fine, disband."'" [USA Today]
BECAUSE YOU'VE READ THIS FAR - Here's a dog and kitten just kicking it.
ALWAYS CHECK YOUR SCHEDULE - This will seem so quaint when President Trump starts calling Rush Limbaugh as John Miller. Caitlin MacNeal: "In an embarrassing mix-up, a Wisconsin radio host Tuesday morning forgot he was scheduled to interview House Speaker Paul Ryan (R-WI), only realizing his mistake when he took a call from a listener who was actually the speaker waiting for his scheduled interview. Wisconsin radio host Mitch Henck was scheduled to interview Ryan on Tuesday at 10 a.m. ET, according to a press release from the speaker's office. However, a few minutes after 10, Henck had still made no mention of Ryan on 'The Mitch Henck Show.' The host then took a call from listener 'Paul,' but the caller informed Henck that he was in fact Paul Ryan, and that he had been waiting on the line for his scheduled interview with Henck." [TPM]
COMFORT FOOD
- Find out what your British name would be. Your author is Shiv Fergus.
- Google Home and Amazon's Echo talk to each other on a loop that will presumably continue until the sun fizzles out because the robots killed us all.
- The world's oldest person celebrated her 117th birthday.
TWITTERAMA
@pattonoswalt: I mean, at least @realDonaldTrump got the #FirstAmendment trending. He's like Schoolhouse Rock for shitheads.
@KagroX: Why don't we just build a wall around every flag?
@Mobute: It bums me out that Christopher Hitchens isn't around for us to watch his bloated wineskin go full fascist.
Got something to add? Send tips/quotes/stories/photos/events/fundraisers/job movement/juicy miscellanea to Eliot Nelson (eliot@huffingtonpost.com) or Arthur Delaney (arthur@huffingtonpost.com).
SUBSCRIBE TO & FOLLOW POLITICS
Get top stories and blog posts emailed to me each day. Newsletters may offer personalized content or advertisements. Learn more