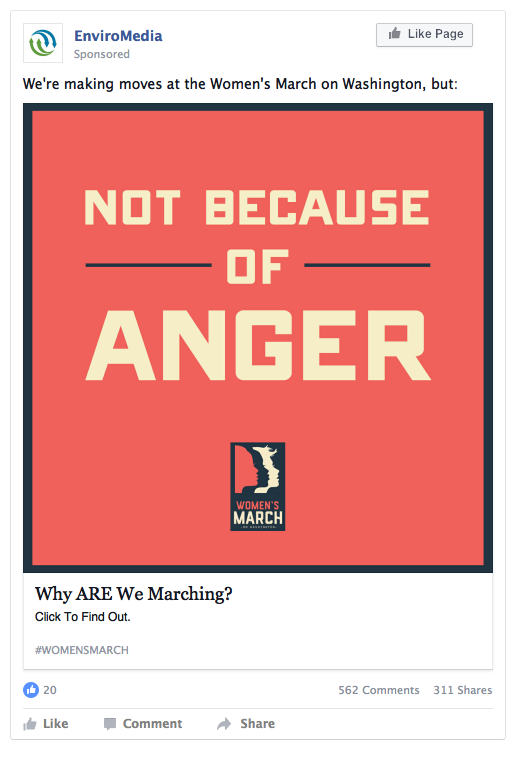 This is the most difficult blog I've ever written.
My company will be 20 years old next month, and over the past two decades I've written about climate change while mammoth industries work hard and spend millions to debunk science.
I've written about our nation's incredible water infrastructure while most of Americans take it for granted.
I've written about what it means to have a gay-owned company after the horrible shooting last June at an Orlando night club.
I've written about the ongoing dangerous standoff between Native Americans and an oil pipeline company in North Dakota.
As long as "blogs" have been around, I've written about issues like these while trying to stand in the middle and see what all sides think. I was writing not to be opinionated but mainly because I believed the American media was not focusing enough at the time on these issues.
Now, in 2017, I never imagined my most challenging writing assignment to myself would be about what it means to have a woman-owned business.
I'll admit it in a blog I write for business reasons. I voted for Hillary Clinton. I never voted for her husband, or any other Democratic presidential candidate who preceded Bill Clinton. I was raised Republican so I voted Republican, well into my 20s. But then, after spending my career working to improve public health and the environment – and coming to terms with being gay – I found myself leaning to the Democratic platforms.
After Hillary was defeated in November, the idea of a Women's March on Washington took hold on the Internet. I decided then if I am lucky enough to make it to my 80s, I don't want to look back then and think I should have gone to that march. So my colleagues and I resolved to "march." Three of us will be in DC, and others will march in solidarity with us at a sister event in Austin.
It's been weeks since I've made that decision to go to DC, and I still haven't totally wrapped my head around how to articulate the business reasons for joining more than 200,000 people in a Women's March on Washington. But I know these business reasons are legit.
Tomorrow, we get on a plane headed from Austin to the East Coast for the march, and I find myself waking up before dawn wondering this: are women being debunked just like climate science?
Either the climate science exists or it doesn't. Either you're a woman or you're not. Where it gets fuzzy is when very smart people muddy the water about the effects.
"Using the statistic that women make 78 cents on the dollar as evidence of rampant discrimination has been debunked over and over again," wrote Forbes contributor Karin Agness last year. "That statistic doesn't take into account a lot of choices that women and men make—education, years of experience and hours worked—that influence earnings."
Of course there are variables. Look at all the "selected contextual data" that led to the United States' 28th ranking among 145 countries by the World Economic Forum "Global Gender Gap Index." (By the way, thank you to our client Centene Corporation and our communications colleagues at Omnicom Group for being "partners" of the Forum's Global Challenge on Gender Parity. And incidentally, as Washington prepares for the Women's March, gender parity is a primary focus of this week's #WEF2017 taking place in Davos, Switzerland.)
Nonetheless, there are well-documented differences between women and men in the workplace. Even when it comes to seemingly intangibles outside the "gender pay gap."
I remember reading a 2014 article by USA Today news editor Jessica Durando – When Will Bosses Stop Calling Women Abrasive?
"Women in the workplace who are called these names [abrasive, direct] — or thought of in those ways — can suffer a loss of confidence that may result in fewer female leadership roles. That's bad for women. It's also bad for business."
When we started EnviroMedia in 1997, I didn't like the idea of joining women-oriented business organizations. I thought, "There's not a Men in Communications organization, so why does there need to be a Women In Communications?" Fast-forward to 2017 and I now see the danger of my thinking. As long as there are discrepancies in this world, we need incubators like WIC until discrepancies no longer exist.
In December, my company EnviroMedia received its certification with the Women's Business Enterprise National Council (WBENC), which is supported by an amazing roster of corporate partners committed to "diversity in the world of commerce."
"We foster diversity in the world of commerce. Diversity promotes innovation, opens new channels of revenue and creates partnerships which provide opportunities that fuel the economy." – WBENC
Why is this so hard to write about?
I haven't spoken much outside the office about going to this Women's March on Washington. But yesterday, I mentioned it at two different family gatherings (brunch and then Cowboys v. Packers game-watching) and two of my favorite men in my life asked very challenging questions.
One conversation went something like this:
Me: We're going to the Women's March on Washington.
Him: Why? What's the purpose?
Me: "Because I want to get to the bottom of what this signals to corporate America."
Me: "Because women make up half the workforce, and are such influential consumers in this country. And there's well-documented pay disparity."
Him: "Oh really? Be sure you do your research on that."
Someone else: So … who's going to win that Cowboys/Packers game?
It's an age-old cliché to not discuss politics and religion at family gatherings. Now, shall we add women's issues and make it a trifecta?
The Business Reasons for the March
As we women and men at EnviroMedia recently white-boarded the business reasons for being at the Women's March on Washington, we found ourselves focusing more on reasons why not.
Not because of Gender Discrimination.
Not because of Reproductive Justice.
Those are important reasons that will be well represented in Washington this weekend.
We are marching Because It's Our Business.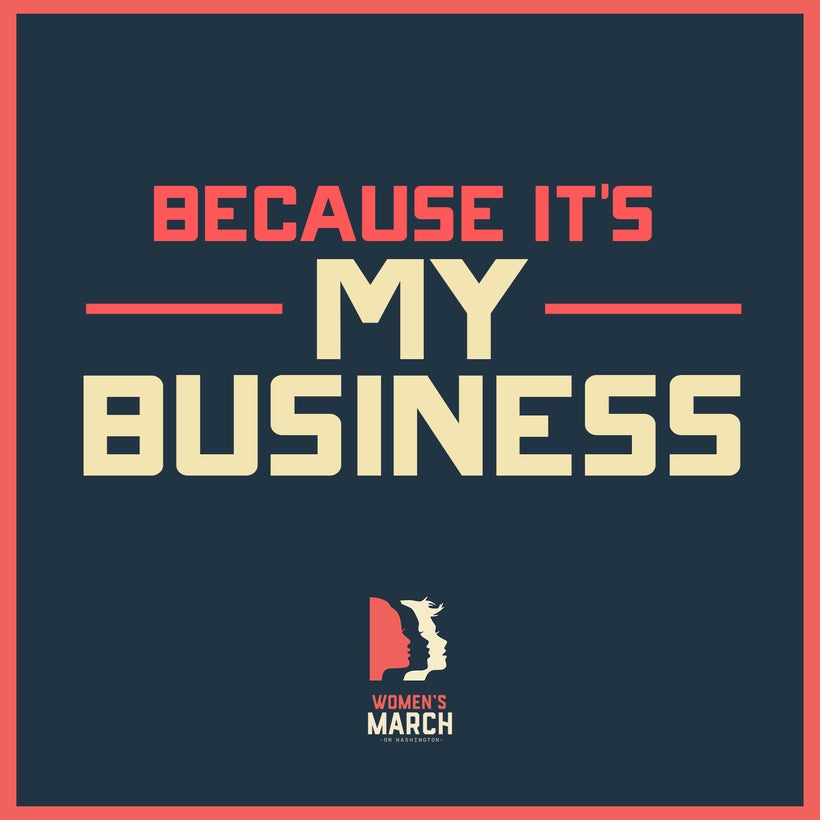 Hundreds of thousands of women, men and children are participating in an unprecedented Women's March on Washington this Saturday. Sift through all the above reasons that will likely dominate headlines, and surely this march is sending a strong signal to corporate America. Isn't it? I hope so. Stick with me as I try to find out over the next week when I report from the march and conduct interviews with business leaders.
This post is hosted on the Huffington Post's Contributor platform. Contributors control their own work and post freely to our site. If you need to flag this entry as abusive,
send us an email
.
SUBSCRIBE TO & FOLLOW THE MORNING EMAIL
The Morning Email helps you start your workday with everything you need to know: breaking news, entertainment and a dash of fun. Learn more