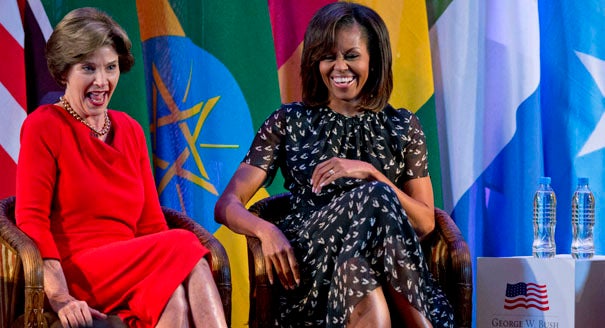 In politics, popularity is capital. And when it comes to coalescing Americans in the pursuit of national goals, whether through private or public action, bipartisanship is also powerful capital. When personal popularity and bipartisanship are combined in support of a public project, the likelihood of its success skyrockets.
Former First Lady Laura Bush departed Washington in 2009 with an ethereal 76 percent approval rating. Eight years later, Michelle Obama left the White House with 68 percent of Americans viewing her favorably. Both of these patriotic women, like all first ladies, made their marks in distinctive ways suited to their own priorities and personalities. Mrs. Bush, a former school teacher and librarian, championed literacy during her time in the White House. She promoted higher teacher salaries and partnered with the Library of Congress to create the annual National Book Festival. Among the issues our most recent first lady worked on included the "Reach Higher" initiative in 2014 to empower more young Americans to attain post-secondary degrees. Mrs. Obama and Dr. Jill Biden also launched the "Joining Forces" initiative, rallying Americans to support U.S. veterans and their families in the areas of education, wellness and employment.
Beyond the specific projects our last two first ladies are known for, they also share the very exclusive experience of knowing the intense and relentless spotlight that comes with the job. Similar to the mutual understanding and respect that exists between their husbands, chronicled by author Michael Duffy in The Presidents Club, first ladies also seem to carry a unique ability to rise above partisanship.
Laura Bush and Michelle Obama have held a number of events together in recent years. At a forum they co-headlined at the National Archives last September, Mrs. Obama commented on their friendship: "As you all know, I deeply admire and respect Laura. And I think it's important to collaborate with people you admire and respect, regardless of party."
Mrs. Bush took it a step further: "It's also a great example for the world to see that women of different political parties in the United States agree on so many issues…When you watch television, you think that everyone in the U.S. disagrees with everybody else. But in fact, we as Americans agree on so many more things than we disagree on."
Imagine the post-White House example these two women could set and the goals they might accomplish if they were to join forces and work together on a high profile national priority. Now friends, with no political baggage to hold them back, there is no telling how impactful a success the duo might be able to achieve.
Of course, the specific challenge area of any initiative launched by the first ladies would need full buy-in from the co-chairs. It would have to be based on need as well as common interest. Considering the fact that both of these strong women have worked for years to make advances on the related issues of education and jobs, there is one national objective that might jump straight to the front of the line: community college achievement.
When the nation's first community college was born in 1901 in Joliet, Illinois, it had an enrollment of six students. By 2014, 42 percent of all American undergraduates were attending community colleges. CCs provide an affordable way for students to obtain marketable job skills, launch careers and contribute to a stronger national economy. A study released by the American Association of Community Colleges reported that in 2012, "the net total impact of community colleges on the U.S. economy was $809 billion in added income, equal to 5.4 percent of GDP."
But a great proportion of community college students have non-traditional challenges that impede their graduation rates. Many arrive underprepared academically and require remedial coursework before they can earn credits. Community college students tend to be older and many have child care responsibilities. Financial pressures and the need to balance work hours with classes also take a toll. Nationally, only 14 percent of students with family income under $30,000 who started at a public two-year schools in 2003 ended up earning an associate degree by 2009.
The good news is that innovative student support models are making momentous progress toward increasing student success. At the City Colleges of Chicago, the One Million Degrees scholarship program is a public/private partnership that provides students with financial aid, academic advising, coaching and tutoring. OMD's 360-degree approach has empowered its scholars to graduate at double the rate of their peers statewide and nationally.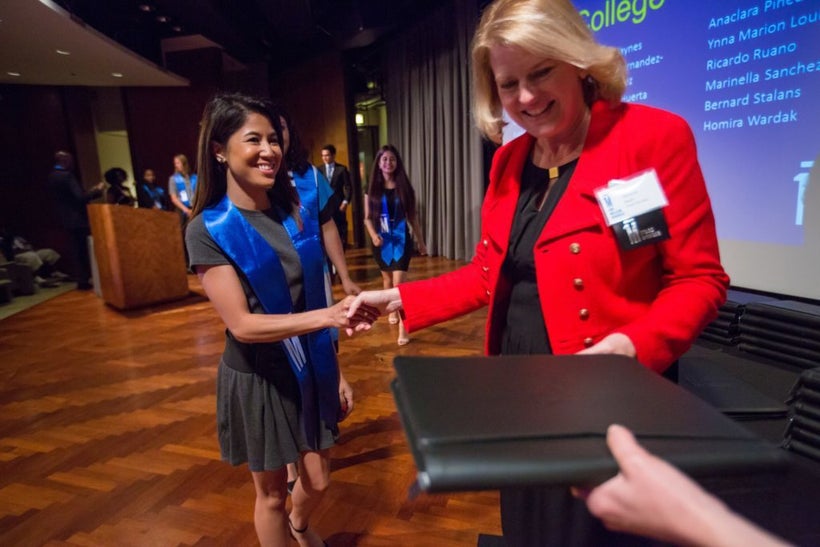 When OMD was created 10 years ago, its founders immediately recruited a set of bipartisan advisory board members and honorary chairs that have included members of the U.S. Congress, two Illinois Governors, the Republican House Leader, as well as statewide officeholders and the two most recent Democratic Chicago mayors. This broad spectrum of public leadership has helped OMD to raise more than $12 million - over 90 percent from private contributions - to empower hundreds of community college scholars to achieve their degrees and embark upon careers.
Not only do Michelle Obama and Laura Bush share a common passion for educational advancement and individual empowerment, they also have a secret weapon to deploy in Dr. Jill Biden. The wife of the former vice president, Dr. Biden has been a community college professor and champion of CCs for more than 20 years. Only a few months ago, in a speech celebrating the 20th anniversary of the Community College Research Center, Dr. Biden summed it up:
"My husband Joe has fought for the middle class – to give all Americans a fair shot at the American Dream. That same principle is why I teach at a community college. I teach to give my students confidence so that they know there's no limit to how far they can go. Education is the great equalizer."
Of being a former first lady, Laura Bush has observed: "The fact is, you really have a podium. Always." She's right. An instant platform. Now multiply it by two (or three) Just imagine the exponential strength that could be harnessed by the combination of Mrs. Bush, Mrs. Obama, and Dr. Biden, speaking from the same public podium, consolidating their power, bypassing partisanship and pushing in one direction toward an essential national goal.
This post is hosted on the Huffington Post's Contributor platform. Contributors control their own work and post freely to our site. If you need to flag this entry as abusive,
send us an email
.
SUBSCRIBE TO & FOLLOW THE MORNING EMAIL
The Morning Email helps you start your workday with everything you need to know: breaking news, entertainment and a dash of fun. Learn more