This post is hosted on the Huffington Post's Contributor platform. Contributors control their own work and post freely to our site. If you need to flag this entry as abusive,
send us an email
.
As I mentioned in my last piece, this week was Mens Fashion Week, which is an incredibly exciting time for anyone involved. Apart from being able to get first looks at designers new collections for next season, there are tons of great parties and events and the overall vibe and mood are elevated. When I go I try to focus on trends that I see emerging in both hair and style, which is what I'm here to share with you. How to wear your hair and clothes next season and look like you just stepped off from the runway.
Grooming - how to wear your hair so you're not left in last seasons cut
If street style and layering multiple t shirts is how you see yourself, then next season you're going to want to get the look that menswear god John Elliott opted for his models this season. 
John Elliott wanted to create his own version of a diverse yacht club," said lead stylist Amy Farid for Bumble and bumble. "We wanted to take that preppy, yacht club feel and make it look like the guys were wet from being in the water or slightly disheveled from being out in the sun. Since the casting was diverse, we worked with many different types of hair texture and length.
Using some of Bumble and Bumbles tonic lotion and thickening hairspray, you create a deep part and then finish off with gel to create a disheveled "fresh off the yacht" look.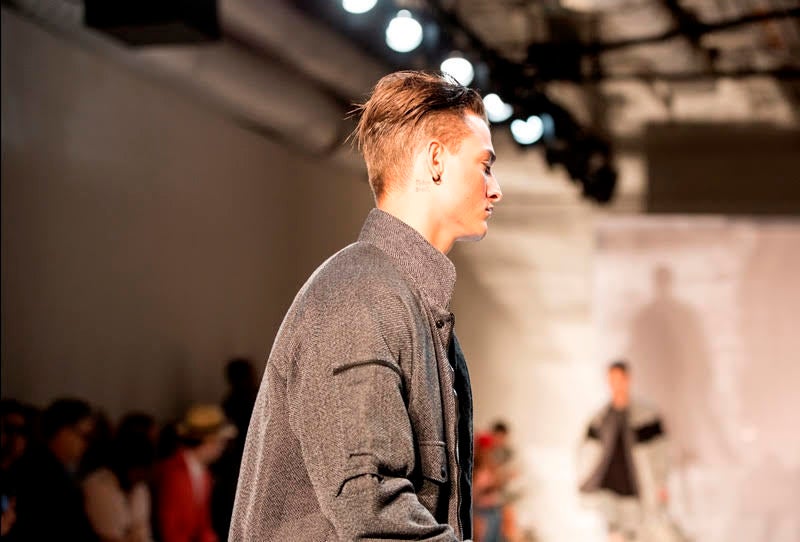 If you're the kind of person who likes to wear gym clothes out and identify with the sporty athleisure set, you'll have to go with the look Chris Stampd chose for his models during his presentation this season. 
"The look for Stampd is about making men look their best," said Bb.Stylist Jordan M. "We found what's interesting about their hair and exaggerated it; we wanted them to be cooler, tougher versions of themselves."
Each model received different styling based on their individuality. All styling started with Tonic Lotion as the base and styling was finished with Cityswept Finish.
The main event - what will you be wearing in a few months once all these styles hit mass market. With the sheer amount of designers showing this season, reviewing every show would be ineffective, so instead I'm choosing to focus on the shows that I think made the biggest splash and have the most commercial appeal along with contributing most to the seasons trends because they set them. 
This one is a no brainer. I've seen the evolution of John's brand since it's inception and have had the opportunity to sit down and pick his brain multiple times. A man that has remained true to his vision, this season we saw that vision expand and grow in a way no one could have imagined before. This season his collection was aptly named "Watching Water" and was inspired by John's idea of a yacht club as he's never been to one himself. With 40 looks in a variety of colors and palettes, this is John's largest collection to date. Transforming the runway with a reflecting pool of water and DJ Lee Bannon enclosed in a white cube, attendees were exposed to the same amazing layering techniques that they've grown to expect. With huge commercial appeal, John has the ability to mold and shape the way interact with clothing and push them to take chances and risk in their sartorial choices. Some of the stand out looks that you can expect to see on the streets in a few months were a pink leather rider jacket and a color blocked sail pullover.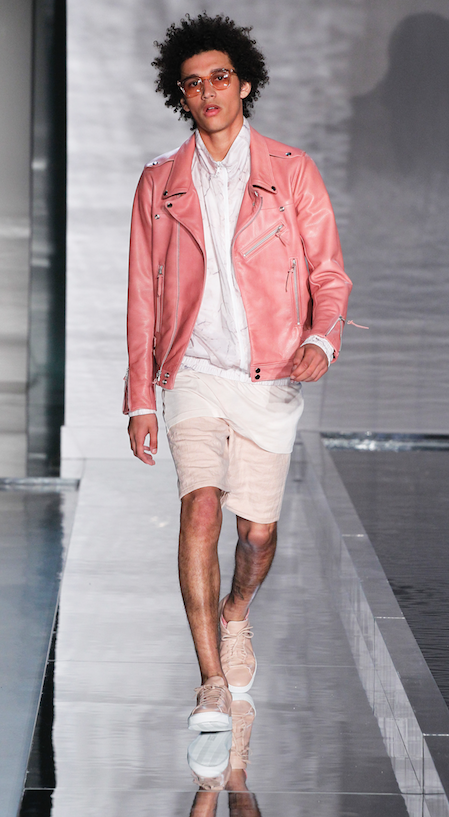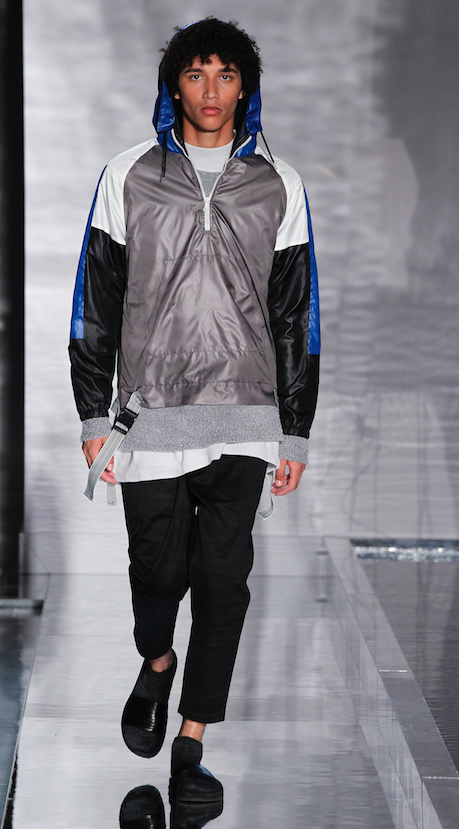 Stampd has been creating buzz for quite some time and is hardly new to the scene. However, in typical fashion for their brand, they did things a little differently. With strong military influences, the collections inspiration was drawn from places where populations re-purpose military supplies and take up arms to defend injustice, which given the current global landscape, is a message that resonated with all attendees. Additionally, following the trend that many brands are beginning to adopt, the clothes debuted in the presentation were available for purchase within 24 hours of being presented, effectively cutting out the amount of time consumers would have to wait to get the pieces.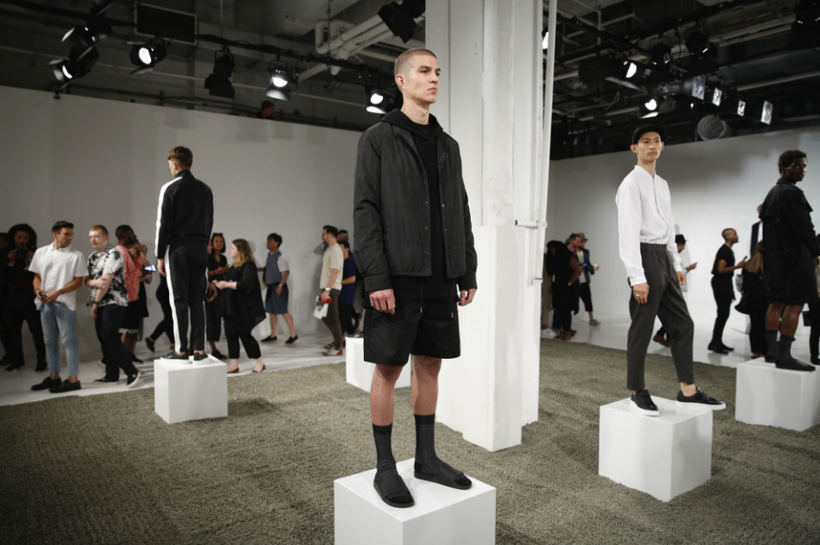 For the artists who prefer the beach to the streets, Timo Weiland has all you're going to need. Focusing on bright, bold colors and patterns, creative directors, Alan Eckstein, Timo Weiland, and Donna Kang presented a whimsical and fun collection aptly titled "Go Bananas." Collaborating with Zenni optical, models walked down the runway in a variety of textures and fabrics that melded together silks and prints in a layered yet seamless way inspired by the 50's on the eve of a revolution. The eyewear played a pivotal part in the collection featuring pieces that can easily take you from a business meeting to the beach and are available online. For the guy who's constantly going from Manhattan to Montauk, this is the collection you'll be packing as you get ready to board the jitney.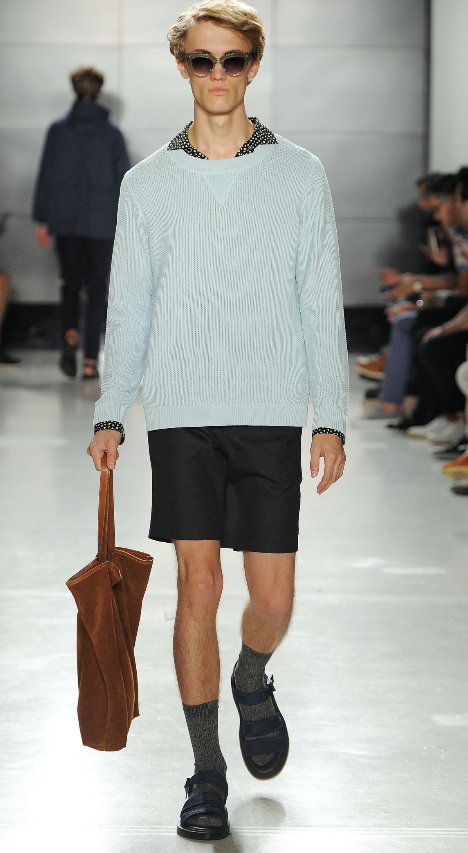 Siki Im might not have the brand awareness that some of his colleagues have but his influence in the menswear space has been felt and seen across the collections of countless designers. Paving the way for the "ninja-goth" look, Siki has been churning out amazingly intricate designs season after season. This season he forwent a typical runway show and instead invited select guests and friends to preview his new collection which were modeled by individuals who had inspired him throughout his life, with one of the models being Maxwell Osborne, half the design team of Public School and DKNY, and arguably one of the most influential men in American fashion. The collection was named Monastic Urbanite and the emphasis was totally on the craftsmanship of the clothing and as Siki describes it "Good clothes. No circus, no smoke and mirrors." The collection was inspired by Zen monks and their simplicity and monochrome minimalism.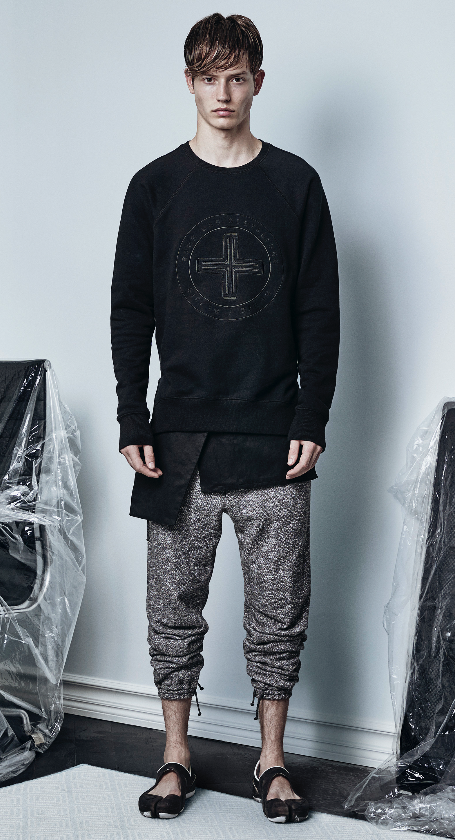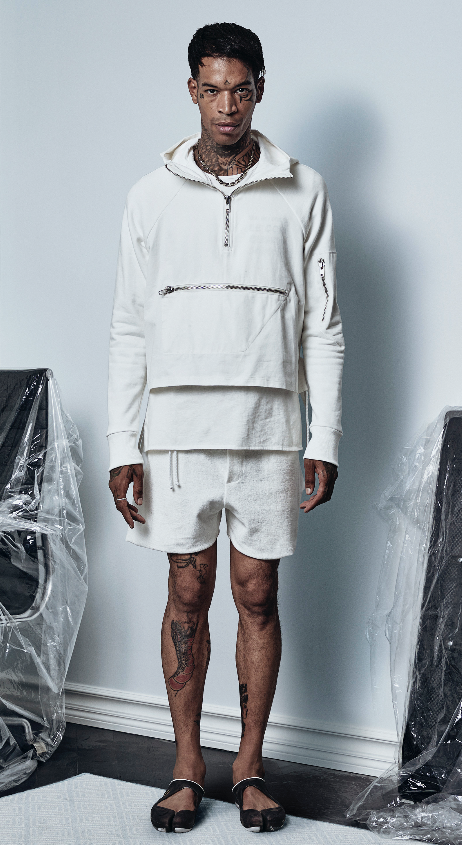 Relative newcomer to the NYFWM scene, SECOND made quite the splash this week presenting a wide range of looks that fully reflected their hometown of LA. With oversized jackets and trousers, they were certainly keeping in line with current trends and styles seen across the menswear landscape. The collection brought a bit of rock and roll style and modernity at a time when menswear is desperately looking for more inspiration. One of the standout pieces this season was a simple yet elevated leather rider jacket that does without all the added frills of tons of zippers and accessories, instead opting for a simple, casual yet refined look.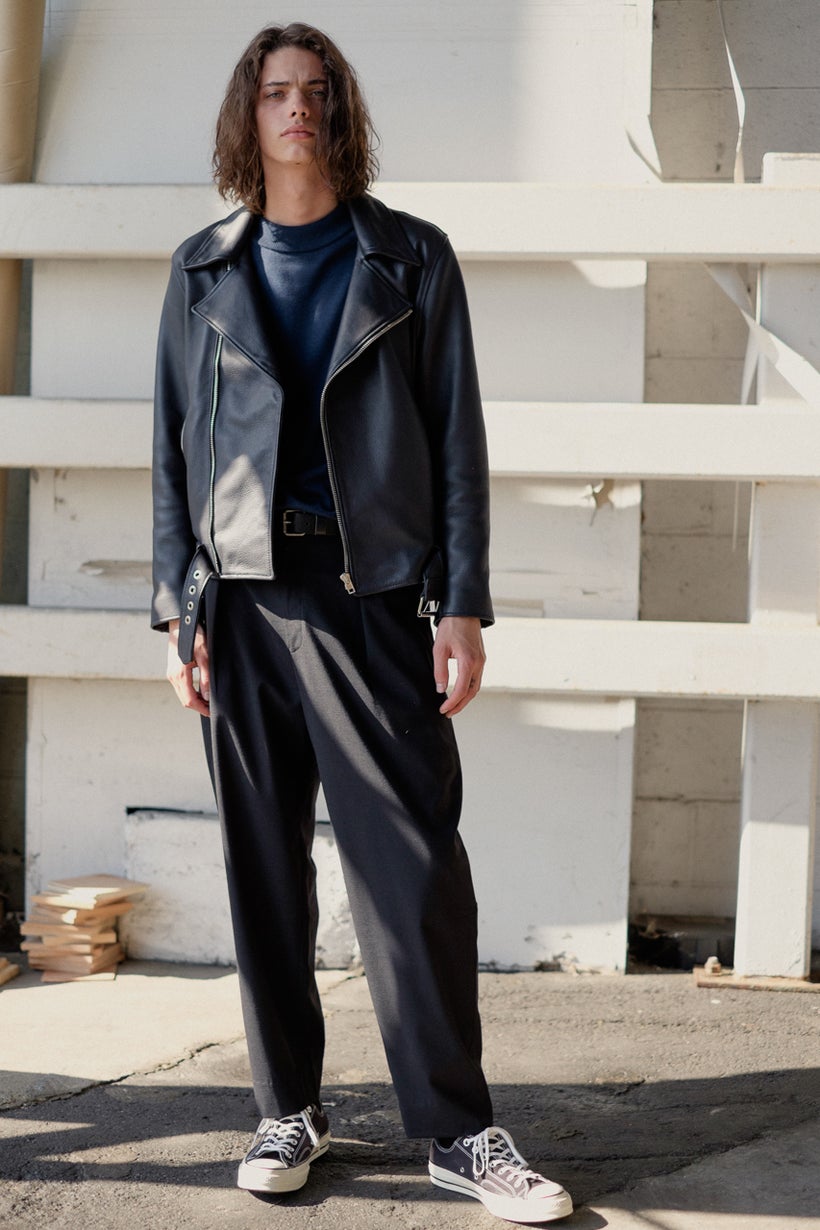 It wouldn't be fashion week without some killer after parties and very interesting people. I had the distinct pleasure of getting to spend some time with CFDA NYFWM Ambassador Travis Mills as he went from show to show not only admiring the collections but also walking in his very first show for Rochambeau. Travis fit the ambassadorship perfectly as his rock and roll aesthetic blended in seamlessly with the vibes and ambiance of NYFWM. It should come as no surprise as Travis has reached critical success in his career as a recording artist and was able to help further the world of menswear and fashion to a brand new audience. Got a chance to chat with Travis and ask him how he felt about being the CFDA Ambassador and how he approached his own style. He happily told me that his style is "influenced from everything around me. The music I listen to, the music I make, the artists I look up to & all the places I've been able to travel to. It's constantly evolving and thats what keep's it interesting."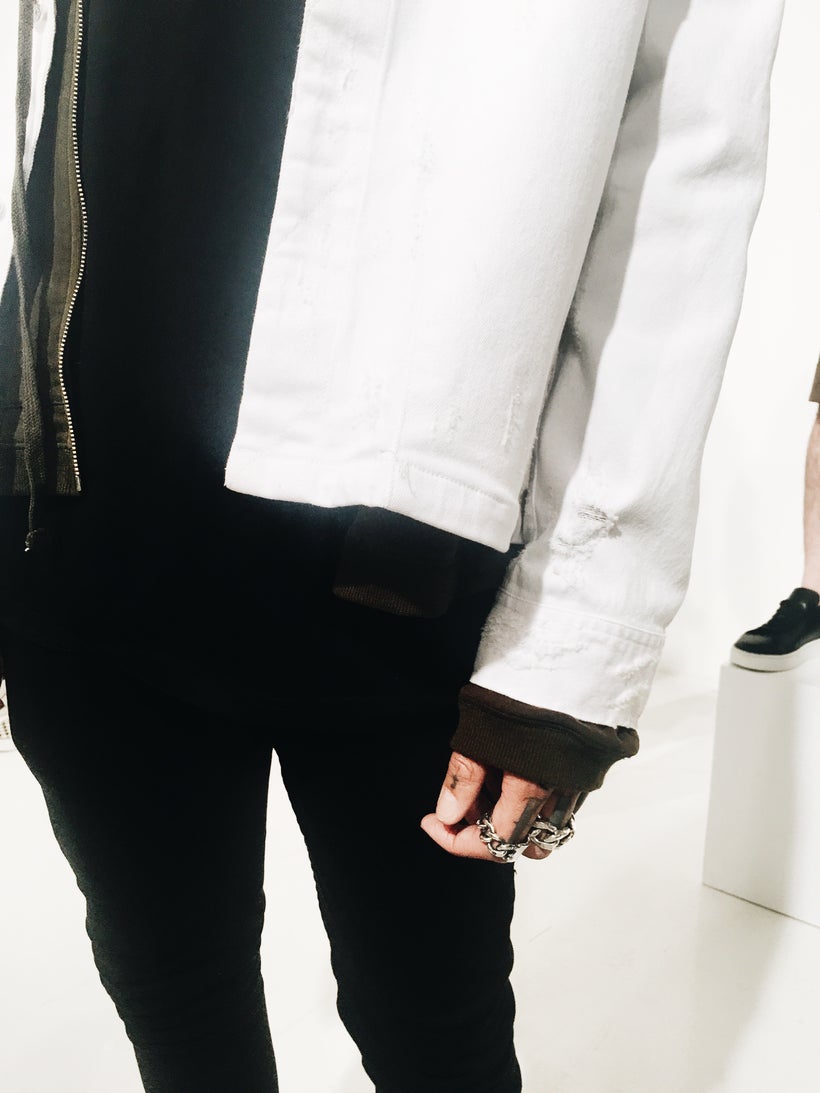 Every now and then it's nice to break up the week and do something out of the ordinary, which is where Zana Bayne comes in. An amazing leather goods designer, Zana has created pieces for everyone from Beyonce to Nicki Minaj and Madonna while collaborating with some of the worlds biggest fashion houses. The pop-up shop, located in Soho, will showcase the new "Highway Girl" collection and feature everything from leather chokers to motorcycle helmets. The store is open from 11AM to 7PM and open until July 24th and is located at 171 Elizabeth Street.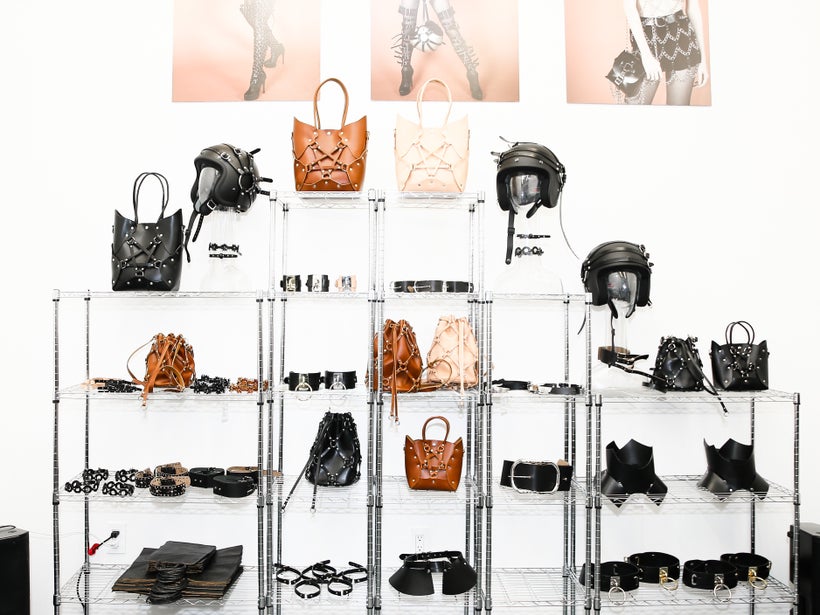 Naadam Cashmere Garden Party 
It takes a lot to get me to leave NYC and it takes even more to get me to leave NYC in the middle of fashion week. However when the founder of Naadam Cashmere Matt Scanlan emailed me inviting me to a garden party in Westport, CT and informed me there would be a bus ready to pick me up that would be filled with margaritas and music, I couldn't say no. What awaited the group of us who were lucky enough to score an invite was a party like no other. Mix a little bit of Andy Warhol and The Great Gatsby and you have Wednesday nights venue for the perfect summer party. Like everything the brand does, this party exceeded all expectations. In addition to a string quartet playing live music in the lush gardens, the brand debuted some of their newest additions to their line of cashmere which actually helps the herders and people that work tirelessly to farm and create the cashmere itself. By fully integrating the production process, Naadam Cashmere can bring you incredibly high quality cashmere at far more attainable prices. A brand that does well and feels even better, they're like the unicorn of the fashion world.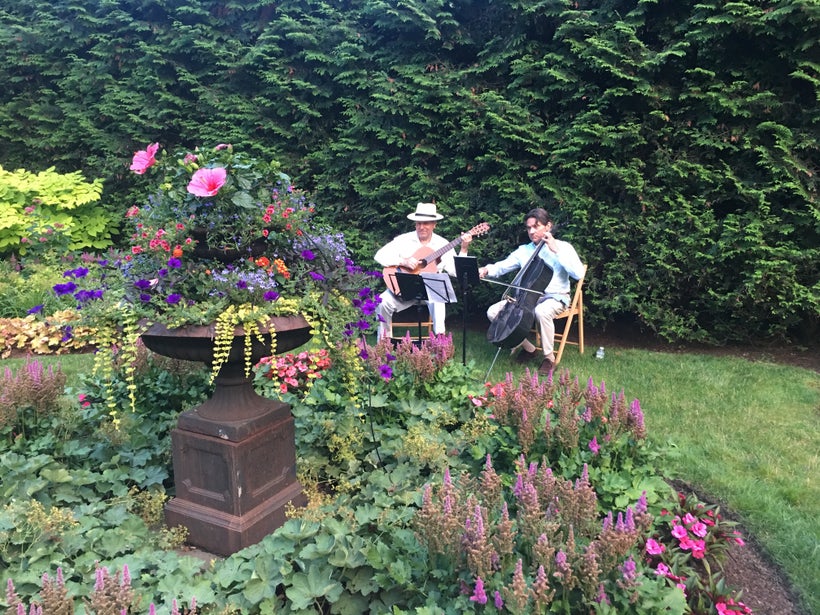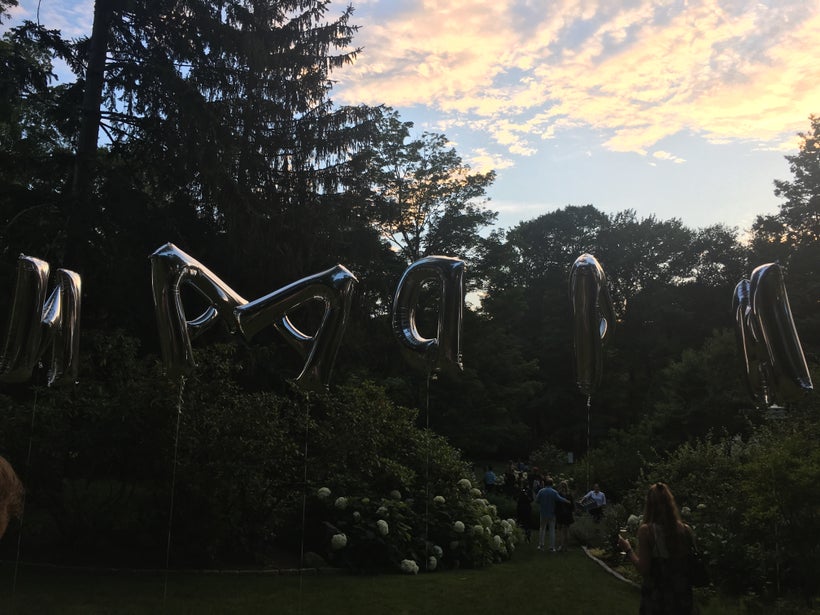 SUBSCRIBE TO & FOLLOW THE MORNING EMAIL
The Morning Email helps you start your workday with everything you need to know: breaking news, entertainment and a dash of fun. Learn more