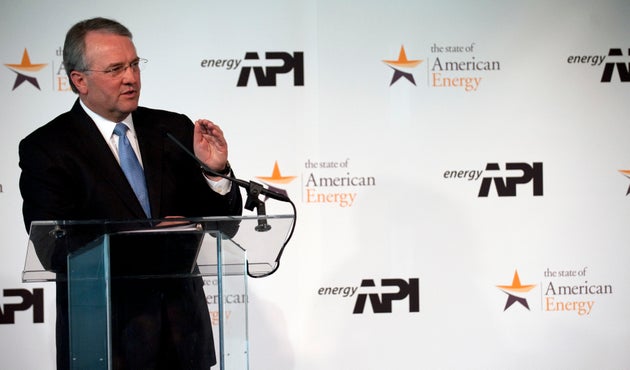 Just months after the New York attorney general launched an investigation into oil giant ExxonMobil over allegations that it misled investors about climate change, a newly surfaced report suggests the oil industry's largest trade group may have had early, detailed knowledge of climate change as well.
In 1982, the American Petroleum Institute commissioned a report from scientists at Columbia University that predicted destructive global warming and linked it to fossil fuel use, according to the nonprofit InsideClimate News, which received a copy of the original report from the Union of Concerned Scientists.
One year after the trade association received the report, API disbanded the task force it had set up to monitor climate change research, according to InsideClimate News. API then launched a multimillion-dollar campaign in the 1990s to persuade the public that the science around climate change was "uncertain," InsideClimate News reported.
API did not respond to repeated requests for comment.
The Columbia researchers who prepared the report for API predicted global temperatures would rise by up to 4 degrees Celsius over the next hundred years. A 4-degree increase would likely have devastating effects on the planet, including widespread species loss, increased food insecurity, stronger storms and more severe coastal flooding, according to the Intergovernmental Panel on Climate Change.
The Columbia report also said the concentration of carbon dioxide in the atmosphere "is expected to double some time in the [21st] century. Just when depends on the particular estimate of the level of increasing energy use per year and the mix of carbon based fuels."
InsideClimate News revealed in September that top executives at Exxon knew about global warming as early as 1977. Instead of cleaning up its act, Exxon waged a $16 million campaign in the 1990s to block proposed regulations on greenhouse gas emissions and to persuade the public that climate science was unreliable, according to a report from the Los Angeles Times and journalists at Columbia University in October.
The report triggered an investigation by the New York attorney general into whether Exxon lied to investors about the risks of climate change. That same month, Exxon accused the Columbia journalists who worked on the story of ethics violations for "cherry picking" evidence.
It became clear in December that several major oil companies affiliated with API had early knowledge of climate change. The newly surfaced report obtained by InsideClimate News shows that the information about global warming available to members of the trade group was detailed and clearly outlined the risks of emitting large volumes of CO2.
In 1998, almost two decades after learning about global warming, API continued to publicly doubt the existence of climate change, according to an internal API memo made public by the Union of Concerned Scientists.
"It's not known for sure whether (a) climate change actually is occurring, or (b) if it is, whether humans really have any influence on it," API wrote in the 1998 memo.
Exxon and API's efforts to sow doubt about climate science have significantly delayed government action on climate change, according to environmentalist Bill McKibben.
"Campaigns of disinformation and denial," McKibben wrote in the New Yorker in September, "have slowed -- perhaps fatally -- the planet's response to global warming."
SUBSCRIBE AND FOLLOW
Get top stories and blog posts emailed to me each day. Newsletters may offer personalized content or advertisements.
Learn more