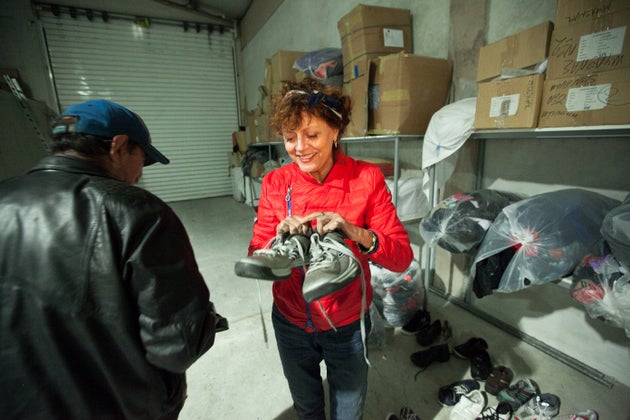 Oh, by gosh, by golly, it's time for mistletoe and holly and Christmas stockings filled with candies, goodies and little treats. But this year, I'm finding my "stockings" discarded on the beach, left behind by newly arrived refugees.
Thanks to the many local and foreign independent volunteers, many of the refugees who arrive in water-logged boats with cold and wet feet get dry socks and shoes. The Dirty Girls of Lesbos Island is one group that makes that possible.
Dirty Girls is the brainchild of Alison Terry-Evans, an Australian world traveler who has spent years on Lesbos prior to the current crisis. Alison saw the littered beaches as an opportunity to recycle and simultaneously provide a service.
Local volunteers gather the dirty clothes from the sand and rocks, place them in bags, label them, and leave them by the side of the road. Alison's team picks them up, gets them washed and dried, and then distributes the garments to the camps and outposts cropping up along the coast. Even heavy-duty blankets and shoes are sanitized so they can go to good use.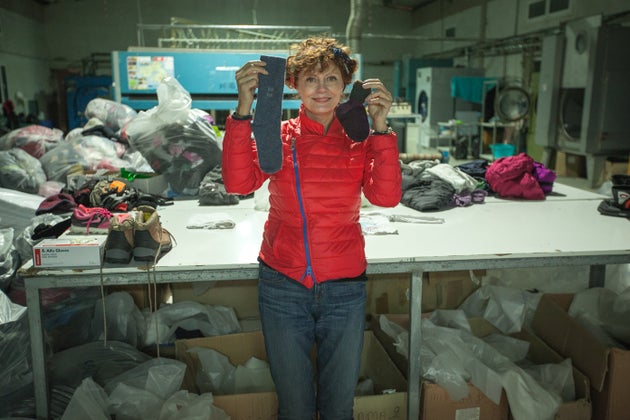 I love doing laundry. Folding and sorting for me has always been a near meditation; so much satisfaction for little actual elbow grease. And finding a mate for the odd sock or shoe is super satisfying. So visiting the huge washing and drying establishment, Ermes, owned and run by Peter Mylonas was thrilling.
Peter saw Alison collecting clothing on the beach and heading home to wash and dry. He generously offered his assistance, and the rest is history.
It seems that everyone loves Dirty Girls: the locals, the arrivals, the NGOs -- and me. Alison keeps the washing machines spinning thanks to private contributions. Want to help? Find Dirty Girls on Facebook.
RYOT and The Huffington Post are teaming to up present "The Crossing," an immersive reporting series hosted by Susan Sarandon chronicling the refugee crisis as it unfolds in Greece. Watch our Snapchat (@HuffPost) and The World Post's Instagram feed (@TheWorldPost) for coverage this week, and check back for upcoming virtual reality and 360 films about the people making the perilous journey from the Middle East toward safety.

READ MORE
-- Susan Sarandon Joins Sea Rescue Team On Search For Refugees Headed To Greece
-- Lesbos' Lifejacket Graveyard: Susan Sarandon Visits The Frontlines Of The Refugee Crisis
-- Susan Sarandon Is Welcoming Refugees To Greece
-- At Lesbos, Children's Pool Toys Are Evidence Of Dangerous Journey

SUBSCRIBE AND FOLLOW
Get top stories and blog posts emailed to me each day. Newsletters may offer personalized content or advertisements.
Learn more