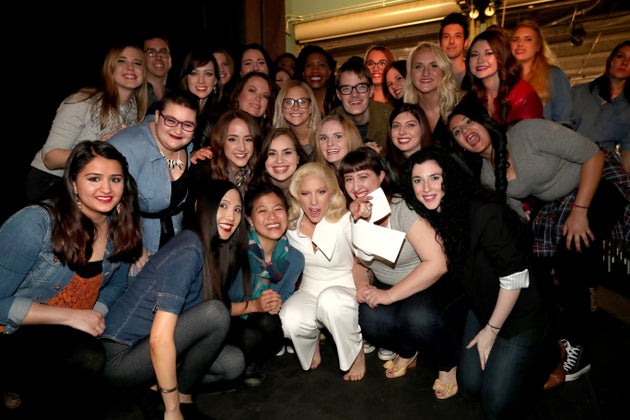 Christopher Polk via Getty Images
Lady Gaga's emotional performance of "Till It Happens To You" at the Oscars hit a high note near the end, when a group of 50 sexual assault survivors walked on stage and stood defiantly as the cameras zoomed in to show they had messages written on their arms, including "Not Your Fault" and "It Happened To Me."
The ballad was nominated for best original song at the Oscars, since it served as the theme for the campus rape documentary "The Hunting Ground."
Vice President Joe Biden appeared on stage Sunday to introduce Lady Gaga and ask people to take the "It's On Us" pledge to end sexual assault and intervene in potentially dangerous situations.
"I'm asking you to join millions of Americans, including me, President Obama, the thousands of students I've met on college campuses, and the artists I've met here tonight to take the pledge," Biden said, "A pledge that says, 'I will intervene in situations when consent has not or cannot be given.' Let's change the culture. We must change the culture, so that no abused women or man, like the survivors you will see tonight, ever feel they have to ask themselves, 'What did I do?' They did nothing wrong."
Backstage, Biden took time to speak with each one of the survivors "for a really long time," the survivors who met with him told The Huffington Post. Lady Gaga's choreographer taught some of the survivors the dance moves to "Telephone," they said. And actress Brie Larson, who starred in "Room," an Oscar-nominated film about a woman imprisoned and raped, met with the survivors backstage before the performance, and later hugged each one as they left the stage. They also offered her a huge hug after she won the Oscar for best actress.
There was clearly a lot of attention on sex abuse victims at the Oscars. In addition to Lady Gaga's performance and Biden's brief speech, the show included the nominations and awards for "Room," as well as for "Spotlight," the best picture-winning film about reporters who uncovered the child rape scandal in the Catholic Church.
But what was less explicit Sunday was that the group of sexual assault survivors gathered for Lady Gaga's performance was diverse, in more ways than one. It included men and women, as well as people who don't identify as either gender; survivors from various racial backgrounds; students who attended elite schools like Harvard and those who attended state universities; and some who were first-generation students.
Here are some of the survivors who joined Lady Gaga on stage at the Oscars:
Standing along Lady Gaga's piano on stage were Annie Clark, Andrea Pino and Sofie Karasek, three women who were featured prominently in "The Hunting Ground" as they began to organize a group called End Rape on Campus, which they now run. The group helped spark a wave of federal complaints against colleges and universities about how they handled sexual violence cases.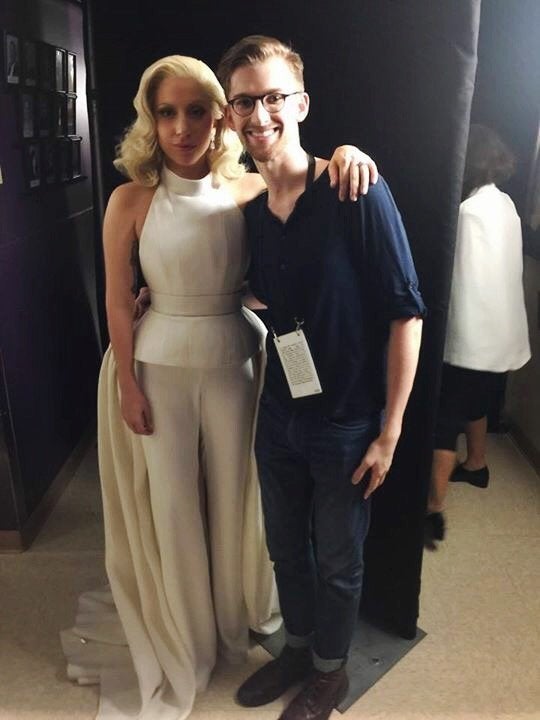 Rose Richi, one of the women who sued the University of Connecticut for how it handled several sexual assault cases.
Kevin Kantor, a slam poet who once performed a piece about his rapist appearing on Facebook under the "People You May Know" section.
Nastassja Schmiedt and Lea Roth, two survivor-activists who are now engaged, and were assaulted when they were both at Dartmouth College. They've since started an activist group called Spring Up, and wrote a book that explores sexuality with young people, aptly titled Millennial Sex Education. They gave a copy of the book to Biden.
Zerlina Maxwell, a survivor, writer and commentator. She made waves in 2013 when she appeared on Sean Hannity's Fox News show and argued against the idea that arming women with handguns would prevent rape, since a majority of assaults are committed by someone the victim knows. Instead, Maxwell said, there should be more focus on teaching men not to rape. Maxwell subsequently received racially fueled death threats for speaking out against rape, according to Democracy Now. (Disclosure: Maxwell has previously hosted segments on HuffPost Live.)
In an Instagram post on Monday, Lady Gaga thanked the survivors for standing on stage with her, writing, "Thank you for all the things you said, for listening to my story and sharing yours. I will never forget it. 50 survivors, so brave, relentless determination."
Also on HuffPost
Lady Gaga Shares The Stage With Survivors
FOLLOW HUFFPOST