Jolie Peters, Epicurious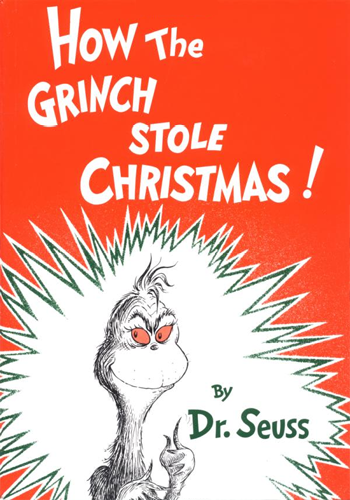 Gather your favorite little Whos for a holiday party in homage to the Dr. Seuss Christmas classic
Ingredients:Boys and girls who wake bright and early, a Santy Claus double--his hair straight or curly. A reindeer, or better yet, a dog named Max, and don't forget some big empty sacks. A log for the fire, some hooks, and some wire. A speck of food small enough for a mouse, and a big Christmas tree to light up the house.
Preparation:Whiz your ramshackle sleigh all the way down Mt. Crumpit, load up with food, then back home to dump it. Get ready for your icebox to be emptied in a flash, because everyone will want your homemade Who-hash! You'll need to devise some grand Grinchy tricks, that will have your house looking just like Saint Nick's. Tell your friends that there will be a FEAST, FEAST, FEAST! With Who-pudding and rare Who-roast-beast at least.
Yield: Our feast will make 8 hungry Whos happy, be they tall or small.
Menu: For our festive meal celebrating Theodor Geisel's How the Grinch Stole Christmas!, we assembled a menu of dishes inspired by the beloved holiday tale, including staples of the Whos' Christmas dinner, and other edibles stolen away by that grabby-hands Grinch.
We start off our meal with Cherry and Plum Bruschetta, in reference to the fruits that the Grinch nimbly snatched from Cindy-Lou's house, stuffed into bags with checkerboards, tricycles, and the like, and then stuffed, one by one, up the chimbley--all with Christmas-hating glee, of course.
To represent the little Christmas tree -- which poor Cindy-Lou saw being stuffed up the chimney, too -- serve up a platter of Broccoli Trees. Sweet little tots, especially, will love dunking them in the Creamy White-Bean Dip, reminiscent of the quiet snow that filled Who-ville that memorable Christmas night
Unless your guests' heads aren't screwed on tight, our rendition of Who-pudding will probably make them SING! SING! SING! But if they don't like our Wild-Mushroom Bread Pudding, we'd recommend checking to see if their shoes are too tight. (Or maybe their hearts are just two sizes too small?)
As a tribute to the Whos' favorite roast-beast, our main course is a juicy Sunday roast that the Grinch himself would be happy to carve. And since our version of Who-hash does not come from a can, we're pretty sure it will be a challenge for the Grinch to steal. That said, this hash does contain bacon, so guests are likely to make it disappear quickly.
Because we love the holiday season just as much as the Grinch hates it, we used all those little crumbs of food he left behind in the Who-houses to make this gorgeous wintry deep-dish pie. Though it's probably much too large for all of Whos' mouses, we think it's just the right size for your merry--VERY merry--crowd.
Last but not least is a goodie bag treat, inspired by the popcorn the Grinch stole in deceit. Pack up this Maple Pecan Popcorn for your guests with ribbons! And wrappings! And tags, tinsel, trimmings, and trappings!
Tips:The playful illustrations and literary details in this Christmas classic will make decorating for your shindig easy and fun. While any holiday decorations will do, you could Grinch-ify your party by using green fuzzy fabric as festive tablecloths, replicating the Grinch's fur. You might also help all of the little guests make homemade antlers, just like the ones Max wore in the story. These can be made easily by cutting antlers out of brown construction paper before guests arrive. Children can then decorate their own antlers, making for a great party craft activity. When they are complete, the antlers can be taped to a headband and worn over their head.
Consider devising a scavenger hunt around the house to find the presents "stolen" by the Grinch. Finally, to honor the great holiday spirit and message of How the Grinch Stole Christmas!, have your guests--tall and small--hold hands Who-ville style and talk about what the holiday means to them.
See more from Epicurious:
Holiday Gifts for Kids Who Love to Cook
Christmas Treats to Make with Kids
Host a Kids' Holiday Baking Party
Christmas Crafts from the Kitchen