As John McCain and Barack Obama debate the benefits and drawbacks of lifting a congressional moratorium on offshore drilling in the Outer Continental Shelf, a battle rages off the coast of northern Alaska, where drilling has been ongoing for decades.
Thomas Napageak, at 25, is the youngest whaling captain in the tiny Alaska Native community of Nuiqsut. The village lies on a serene expanse of tundra just inland of the Arctic National Wildlife Refuge, and 50 miles west of Prudhoe Bay, the largest oilfield in North America.
"We live off the ocean, we live off the land," Napageak says, who hunts the bowhead whale during the fall, as his ancestors have done for centuries. "And that is something I'm definitely going to fight for [for] the rest of my life."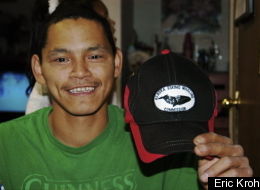 Whaling captain Thomas Napageak, 25, worries
about the impact of expanded offshore drilling
on whales and the environment.
The candidates would do well to consider the perspective of Napageak and his fellow villagers as they decide whether to bow to the interests of oil companies or conservationists. Scouring the frigid waters for their quarry, whalers here have seen the impact of offshore drilling firsthand:
Ship activity from oil drilling and exploration disrupts whale migrations, driving hunters farther out to sea in search of the whales. Just four bowhead whales provide enough spoils to last a year for the roughly 500 villagers in Nuiqsut.
But Napageak has seen large groups of whales fleeing from barges, and no whales are to be found for miles after ships pass. Further, crews search for oil in the Arctic by emitting large underwater blasts of sound. These explosions, according to Napageak and others, are 10 times the volume of a rocket launch and cause considerable damage to whales while disrupting hunting.
Minus the whales and other animals -- caribou, wolverines, seals and geese -- on which they depend, Nuiqsut villagers have little access to adequate sources of food. At the lone store in the village, a small box of dry spaghetti costs $3.85, a box of Cheerios goes for $7.44, and a 12-pack of Coke is marked down to $9.48. It's a stark reminder just how remote this nook is, how removed these people are.
Representatives from Nuiqsut, along with the Alaska Wilderness League and other conservation groups, have successfully sought injunctions blocking oil companies from drilling in the Arctic because of a lack of investigation on their part into the impact of exploration on whales and other wildlife.
Oil companies, who spend millions each year to lessen the environmental disruption, say they can drill more safely than ever, and have long disputed the claims similar to those made by Napageak. But spills, Napageak says, are an inevitability.
And should a spill occur, he and others say, harsh arctic conditions prevent oil companies from doing much more than burning it off the surface of the water.
Onshore drilling is no better, say Nuiqsut residents. Napageak has served as a Subsistence Oversight Board Member for the region -- essentially a conservation police officer. It was his job to observe operations at the Alpine oil and natural gas field, which is primarily operated by ConocoPhillips Alaska Inc., and is situated downstream on the Colville River just 4 miles from Nuiqsut.
There, Napageak says, he observed serious infractions on a daily basis. He saw workers spill oil without cleaning it up. They frequently drove heavy machinery outside of allowed routes, destroying sensitive plants that take 50 years to grow out on the tundra. In general, he says, there is a flagrant disregard for regulations on the part of oilfield workers, and a lack of monitoring by oil companies.
Nuiqsut residents have come to distrust oil companies' promises. Alpine was originally slated to be a smaller operation, on the order of 40,000 barrels of oil per day. But the discovery of so-called "champagne oil," the creme de la creme of crude, prompted a rapid expansion and a ramp-up of production to roughly 100,000 barrels per day.
ConocoPhillips promised they would provide 50 permanent jobs for the village, and would limit flights into the area that have been blamed for scaring off native animals. The company delivered neither, villagers say.
While Alaska Natives receive considerable revenue from oil companies for drilling on their land, the offshore drilling dispute is not about money, Napageak says. Whalers hunt to feed their community, and are not paid for their hefty investment of time and resources during whaling season.
"I'm definitely for the industry [trying] to make our lives better," Napageak says, "but if it's going to impact our traditional way of life I'm definitely going to be against something like offshore drilling."