First there was Gmail, followed by Google Chat (all the cool kids were doing it). Then AOL Instant Message was added inside Gmail. But today, the popular e-mail server is launching a free high quality video and audio component, becoming the first leading webmail service to include video chat.
The feature is being rolled out over the next few days on PCs and Macs. Google Spokesperson Jason Freidenfelds told me in an e-mail, "Gmail has always been about more than just email -- it's increasingly a communications hub, always pushing the limits of browser-based applications."
In a post on the Official Gmail Blog, Software Engineer Justin Uberti wrote, "Being able to switch from email to chat as needed, all within the same app, is really great for productivity. But people can only type so fast, and even with our new emoticons...That's why today we're launching voice and video chat -- right inside Gmail. We've tried to make this an easy-to-use, seamless experience."
Video chat is the latest of many new features Gmail has been adding which include Gmail Labs (a public testing ground for experimental features like embeddable gadgets, the Forgotten Attachment Detector, and Mail Goggles), a mobile client for Android phones, animated emoticons, and more.
Google will be competing with Skype, the popular application which allows people to make free video and audio calls. But already, people are moving towards Gmail, since it is an all-in-one service.
Brittany Jones-Cooper, a journalist from Omaha, Nebraska, uses Skype once a week to talk with her best friend who moved away 8 months ago. A regular Gmail user, Jones-Cooper saw the new technology and immediately went to install the software. When asked on Google Chat if her best friend had Gmail (an essential part of talking with each other), Jones-Cooper typed, "No... but I can fix that."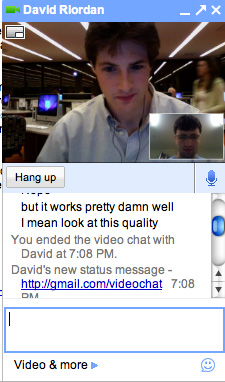 To use voice and video chat, your PC must have Windows XP or a more recent version, or an Intel-Based Mac with Mac OS X v10.4 or later. It works in browsers that support the latest version of Gmail (Google Chrome, Firefox 2.0+, Internet Explorer 7.0, and Safari 3.0). To get started, open a Gmail chat window, click on the "Options" menu at the bottom, and choose "Add voice/video chat," which will walk you through a one-time installation of a free plugin (a quick 2 MB download). When you re-open Gmail you'll notice your "Options" link in your chat window has changed to "Video & more". Open this menu and click "Start video chat" to see and hear your partner in high-quality video. You can pop out the video and change its size and position, or switch to full screen.
SUBSCRIBE AND FOLLOW
Get top stories and blog posts emailed to me each day. Newsletters may offer personalized content or advertisements.
Learn more