WWE Raw: July 30, 2012 -- Episode 1001 or "The Case of the Great Cincinnati Fire"
Quick Results
Match #1: Alberto Del Rio (with Ricardo Rodriguez) defeated United States Champion Santino Marella by submission in a non-title match.
Match #2: World Heavyweight Champion Sheamus defeated Daniel Bryan in a Street Fight
Match #3: Titus O'Neil (with AW) defeated Kofi Kingston after Kofi was distracted by AW
Match #4: Randy Orton defeated Heath Slater
Match #5: Chris Jericho and Christian defeated Intercontinental Champion The Miz and Money in the Bank Winner Dolph Ziggler (with Vickie Guerrero) in a tag team match
Match #6: Tyson Kidd defeated Tensai (with Sakamoto) by Reverse Decision
Main Event: John Cena wrestled The Big Show to a No-Contest after CM Punk interfered
Last week began a new era for WWE fans: their flagship show Monday Night Raw reached a milestone 1000th episode and extended to 3 hours. The closing moments of that historic broadcast saw WWE champion CM Punk laying out Dwayne "The Rock" Johnson, who announced earlier in the night that he would be competing for the World Championship at January's Royal Rumble. The crowd was stunned by the champ's actions; as boo's began to pour in, Jerry Lawler even stated that Punk had "turned his back on the WWE Universe."
Will this week's show continue the excitement of Raw 1000? Or will the hangover start to set in when the WWE Universe realizes that we're stuck with three hours of bad TV wrestling? Raw made news even before the show began when a pyrotechnics mishap set the stage on fire, prompting a mass evacuation of Cincinnati's U.S. Bank Arena just minutes before live cameras started rolling. That's got to be a good omen right?
The Good
CM Punk's Justification for Attacking The Rock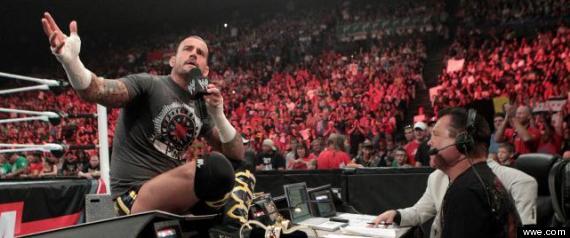 WWE's definition of "good guy" and "bad guy" is annoyingly inconsistent and cartoonish. Even though, Punk has been world champ, he's still been playing second fiddle to John "Underdog" Cena, who main events night in and night out, winning every time and acting like he's still fighting an uphill battle. And as beloved as Rock is, he hasn't done anything to earn a championship shot. So Punk was right to be pissed; WWE was taking the freshest, hottest act and marginalizing him to build up to "Once in a Lifetime, Again." In this whole situation, Punk is the real underdog and Cena and Rock are the bloated egos who don't give him the respect he's earned.
It was especially rewarding to see Punk put Lawler in his place, for spouting off such hokey assumptions; the commentary team's "This Truly is the Darkest Day" hyperbole that comes out whenever anyone so much as sneezes on Cena or Rock is eye-rolling; after "Stone Cold" Steve Austin came along and taught wrestling fans that protagonists could be morally ambiguous and fallible, you can't try to wipe it all away and pretend like we're back to the days of "Hulk Hogan's Rock and Wrestling."
Damien Sandow attacking Brodus Clay
Sandow and his efforts to enlighten the ignorant masses have made him one of the best new characters in a long time. It's great to see WWE portray an intelligent villain as something other than "effeminate," "cowardly" or "weak." And ever since Big Show wiped the floor with Clay and he failed to really get any kind of revenge, the Funkasaurus has looked totally ineffective, so might as well let everyone else gang up on him. We can't all clap along with Brodus, after we've seen him get his ass kicked so thoroughly. And Sandow breaking the Funkasaurus' chain was a great touch.
Daniel Bryan vs. Sheamus
The crowd might not forgive show producers for 18-SecondGate, but Bryan and Sheamus have moved on and they seem to have both re-gained whatever momentum they lost. The two grapplers have great chemistry together and they delivered another great, hard-hitting fight that offered up a few new tricks.
Daniel Bryan's Post-Match Shenanigans with Kofi and R-Truth
Kicking Lil' Jimmy and attempting to have R-Truth committed, offered up another choice insight into Truth's psychosis. There's something hilariously adorable about the nature of Truth's relationship with an imaginary child that represents the youth of the WWE Universe.

The Announcement of a New SmackDown GM on This Friday's Episode
Please don't be Teddy Long. Please don't be Teddy Long. Please don't be Teddy Long.
Titus O'Neil vs. Kofi Kingston
It's just refreshing to see progression over a tag team championship feud. Although, we've got more comments regarding AW below.

Heath Slater Continuing to Be On Raw
The One Man Band secretly became the best thing about Raw by picking (and losing) so many fights with Legends of Raw Past. Now that the big anniversary celebration is over, we're glad to see he's still getting an opportunity to be so annoying that people pay to watch him get beat up.
AJ Forcing Daniel Bryan to Undergo a Psychiatric Evaluation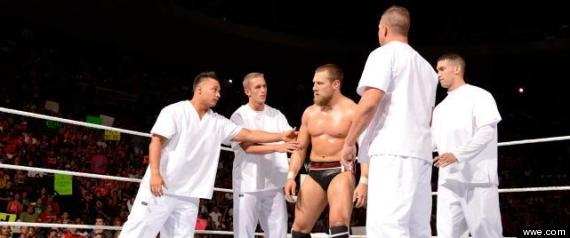 Bryan probably gets more screentime than anyone on the show right now and that gives him a lot of opportunity to do fun stuff with the cast. As goofy as this was, it was the right kind of goofy; we seriously thought Bryan might pop a vein with his manic "YES!"ing. We're happy to see Kane get appointed as his anger management counselor because the Big Red Monster has been revitalized since not only putting the mask back on, but also getting tangled up in the Bryan-AJ soap opera. And with the references to "anger management" it's becoming pretty clear that Charlie Sheen will in fact be involved in this storyline. (More on that below)

Chris Jericho and Christian vs. The Miz and Dolph Ziggler
These four had a fantastically solid match. Despite Lawler stating the contrary, the crowd is seriously getting behind the incredibly athletic Ziggler; he's turning heads through sheer in-ring excellence. Miz's new, more aggressive look is also revitalizing his wrestling skills. And Jericho and Christian might be the two most dependable veterans in the entire wrestling world.
Tyson Kidd vs. Tensai
It was short and sweet but we're glad to hear Kidd getting the crowd behind him as a real underdog with a lot of fire. Even if Tensai beats him senseless now, it's all building to a classic "David and Goliath" conclusion.
Punk on Commentary
Punk is always perfect on the headset, but tonight was especially wonderful because he continued to put Lawler in his place. WWE commentary has entered this weird bizarro land where they cheer good guys for cheating and boo bad guys for defending themselves, so it was pretty hilarious for Lawler to get called out on this hypocrisy and then respond with "yeah... well..." followed up with silence.
The Bad
AJ as General Manager (So Far)
Where did all her personality go? We were very excited to see the crazy chick's promotion, but she didn't really do that much. Plus, her geek girl look was replaced by a very standard executive attire. This was a dull first impression.
Del Rio Beating Santino
It's great to see Del Rio being a confident, aggressive bad guy, but we've seen this match already. With Del Rio stating he won't compete until SummerSlam, hopefully that means we're done with predictable beatdowns. And Santino has lost all the momentum he had from his Elimination Chamber outing; it's time to move him onto a feud with SmackDown's Very European Antonio Caesaro already.
Let's All Pretend Randy Orton Didn't Get Busted for Drugs
The crowd was excited to see him back, but Orton (the real athlete, not the character) did just serve a 60-day suspension for taking performance-enhancing drugs. His hero's welcome makes it feel like he won't have to deal with anymore real-life repercussions. Isn't this guy supposed to be a role model or something?

Dragging Out This Triple H - Brock Lesnar Feud
Whatever zeitgeist they had by bringing back the UFC champ is all gone now. It's been months of Triple H trash talking a guy who can't be bothered to show up.
Cena vs. The Big Show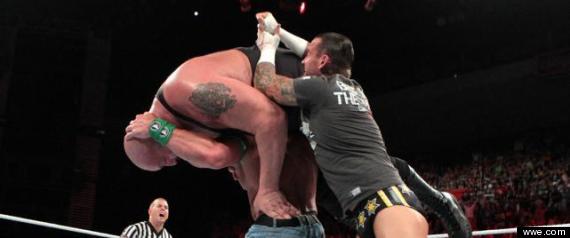 We've seen it too many times for it to be interesting.
The End of the Show
Punk out of nowhere started acting like a sniveling whiner when AJ announced the SummerSlam main event (which by the way was totally predictable). Punk shouldn't be scared of Show and Cena, considering he's spent the past year reminding us he's on their level.
The Ugly
The Funkasaurus-Vickie Dance Off
It's only week 2 of the three-hour Raw era and we're already re-treading filler garbage we've seen on past shows. We get it, WWE wants you to laugh at the widow for being a normal sized women over the age of 40.
Sheamus vs. Daniel Bryan Match Options
No Holds Barred, Falls Count Anywhere or Street Fight... those are the same kind of match. The people didn't have that much power.
Recaps, Recaps, Recaps
A recap of the 1,000th episode celebration, the Triple H-Lesnar confrontation, Ziggler-Jericho, the pre-show fire and the opening of the show with Punk. Less filler, more killer please.
Charlie Sheen, Here We Come
Welp... after guest-starring on Raw 1000 and having words with Daniel Bryan, he's still being regarded as an ongoing presence in the show. Thankfully it looks like he won't be wrestling, but rather standing in Kane's corner for a SummerSlam match against Daniel Bryan. Celebrities and wrestling have always been a train wreck; sometimes it's awful, sometimes it's amazing. Whose to say if it will be awful or awesome, but bringing that maniac onto the show will surely make this the train wreck-iest thing ever.
AW's Kobe Bryant Rape Joke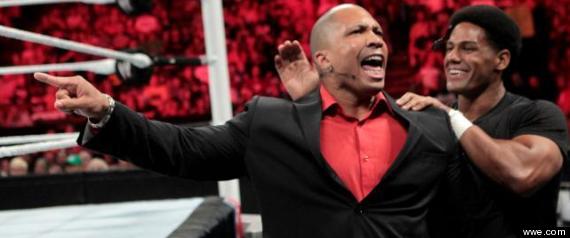 This was an ugly moment that's already gotten WWE in hot water. It was especially unclever because it had no context -- does Cincinnati especially hold a grudge toward Kobe? What did he think the audience was going to do when they heard that? AW is great with a live mic, but after this screw-up, he deserves to get it taken away from him.
Final Verdict
Good (11), Bad (6), Ugly (5)
This was a straight-up 50/50 show. Those are not great odds for a three hour extravaganza.
World Heavyweight Title Match: Sheamus (Champion) vs. Alberto Del Rio
WWE Title Match: CM Punk (Champion) vs. The Big Show vs. John Cena - Triple Threat Match
SUBSCRIBE TO & FOLLOW ENTERTAINMENT
Get top stories and blog posts emailed to me each day. Newsletters may offer personalized content or advertisements. Learn more