As far as national icons go, Frédéric Bartholdi's Liberty Enlightening the World is the ultimate. It is a symbol of what this nation is supposed to stand for. For the nation in general and for New York City in particular, Uncle Sam is as fictional as Santa Claus, Mom is mad at you half the time, apple pie is overrated, and the flag is everywhere, but Lady Liberty is different. The UN has declared her a World Heritage Site.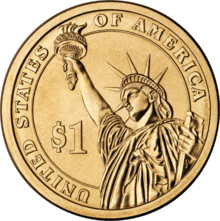 She's in one place, and as the genuine article, just has to be experienced in person. However... There are a number of things that have to be seen properly at a distance, and this is one of them. For one thing, it costs $12/person MINIMUM to get to Liberty Island. For that you get to see the statue's butt from below. They started letting people in for the climb to the top a few months back, but in order to do that, you have to make reservations well in advance (go here), or get to the ticket office in Castle Clinton (itself a National Monument), by at least eight in the morning. Just going on a whim is a waste of time. Generally, the ferries goes there and Ellis Island, and starting around noon, there's not enough time to see both it and Ellis Island (which IS worth going to), and so if you're in the Battery in the afternoon, or New Jersey's Liberty State Park, where the other ferry docks, don't bother getting on.
But as was said before, this is a mandatory tourist trap, and visiting New York without seeing the thing head on is something you would regret. So what to do?
There are two options that are totally free of charge:
1) The Staten Island Ferry
2) Governor's Island
The Staten Island Ferry is a no-brainer. Millions of tourists take the ride every week and never leave the St. George Terminal. The view of the statue is excellent and you get to see it twice. True, the snacks are expensive, but you can get them elsewhere much cheaper. However, if you're in town over the weekend, Governor's Island is a much better option. While only open Friday through Sunday until October 10th (unless you make a reservation for the Wednesday or Thursday tours), you can get the FREE ferry to what was until recently a military base, and walk over to what happens to be a perfect spot to view Lady Liberty, sit down on that convenient park bench and take her in for as long as you want. After that, you can take a tour of the two forts or participate in one of the many artistic endeavors that various groups have planned in order to make Governor's Island the great American Hangout.
As to souvenirs, you can get Statue of Liberty tchotchkies just about anywhere, and, and they're generally less expensive.
If you don't live here in New York, then it may actually be worth it to go to the website and see if you can get a "crown ticket." There's a better than even chance you won't get it, but that's the only reason to actually get to the island.
This Blogger's Books and Other Items from...
SUBSCRIBE AND FOLLOW
Get top stories and blog posts emailed to me each day. Newsletters may offer personalized content or advertisements.
Learn more