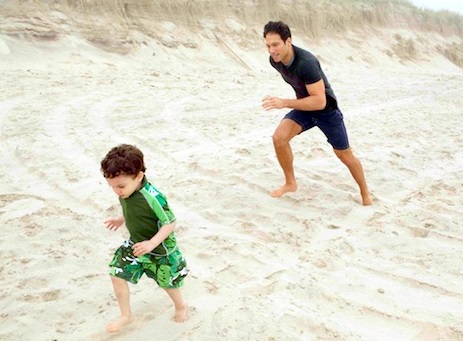 Having grown up spending my summers in the Hamptons, I have seen the place change and evolve. While the traffic is worse and it seems that homes and stores have sprouted up everywhere you look, one thing has remained the same - the natural beauty, landscape and beaches are still breathtaking. One of the most fun parts about being a Dad is reliving some of my childhood experiences with my son and this time around I'm literally in the drivers seat. Not that that is always such a great thing. I can remember it not being much fun going to Southampton Hospital for stitches, but I can now say it's far worse as a parent.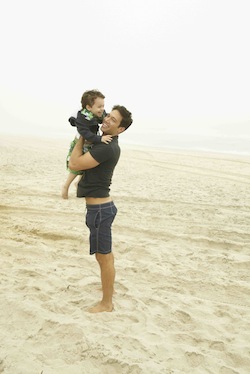 The Duck Pond in East Hampton still has the same charm (although the scale seems much smaller than I remember from my childhood). The ducks, who have been well fed over the years, nonchalantly swim over and except tribute from their summer admirers. When the water rats make an appearance the kids never fail to shriek with delight while their mothers look less than thrilled.
I can remember swimming in the ocean till I turned blue, and the white sandy beaches that the Hamptons are renowned for have a special place in my heart. I'm happy to say that my son is a beach kid (sometimes it doesn't kick in until adolescence, I'm told). I always spent time in Southampton but now we flock to where the kids are gathered - most often Bridgehampton these days.

Summer evenings are the best; watching my dad work the barbecue with the family all about is magic. Riding bikes, throwing a ball around and going for a walk at sunset are pretty perfect too. And just like when I was a kid the fish are still biting - in May and June you can catch monster Snappers off both the North and South slips for the Shelter Island ferry (apologies in advance to my loyal crew for divulging our fishing hole). Once August rolls around the Gannet creek cut has them so thick they bite literally as fast as you can put your line in. This always makes me feel like a conquering hero but my son Ronan shoots me a look that seems to say, "Is this fishing stuff supposed to be hard?" I try to tell him that just as the ladies won't always run over to him to pinch his cheeks the way they do now that he is a toddler sporting a muscle shirt, he'll have to learn that the fish aren't always biting, either.
SUBSCRIBE AND FOLLOW
Get top stories and blog posts emailed to me each day. Newsletters may offer personalized content or advertisements.
Learn more