The closest I've ever come to being a Deadhead was for Ben Folds.
Listening in awe to one track after another at a CD-listening station at Tower Records, I was instantly hooked by his blatantly misnamed power trio, Ben Folds Five, and their 1995 self-titled debut album, a bratty, ballsy and beautiful collection of piano rock that restored my faith in music in the doldrums of the 90s. It was my "Nevermind."
In the years since, I've seen Mr. Folds perform his music at countless venues in a variety of configurations, from the Five barely crammed onto the microscopic stage of the Casbah in San Diego or accompanied by a string quartet at the HORDE festival, through the many performing incarnations which followed the breakup of the Five in 2000, including Ben's first-ever solo piano gig at New York's Bowery Ballroom in 2001.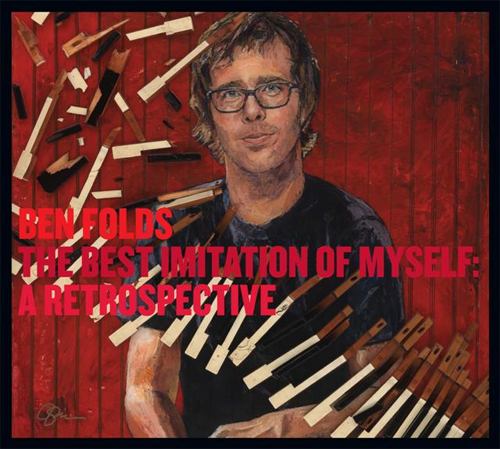 Epic Records attempts to capture the scope of Folds' career so far with a new compilation, "The Best Imitation Of Myself: A Retrospective." A single-disc, 18-track overview, is available but anyone with a whit of curiosity about Folds's music would be a fool not to cough up the marginally higher price for the deluxe three-CD collection, which includes one bonus disc of live tracks, another of studio rarities and demos from the past two decades, plus access to a further online vault of over 50 more odds and sods. If that's still not enough, presumably you can send Ben a personal check and he'll scrounge up some cassette tapes from his grade-school piano recitals.
With the luxury of three CDs to sprawl across, not all of the career highlights need to be crammed into disc one's putative "Best Of", but the collection does kick off with the one Ben Folds Five song you're likely to have actually heard, "Brick":
As often happens to artists with small but fervent followings, the band's mainstream breakthrough was viewed with skepticism, derision and accusations of "selling out" by a chunk of the hardcore fan base, but I've always found the song remarkable -- honest, poetic, and spare. If Folds were truly making a crass play for commercial airplay, a methodical ballad about an abortion would probably not be the most obvious route to the Top 40. Astonishingly, given its subject, the song generated no noticeable uproar -- except among the aforementioned disgruntled fans (fun fact: back in 1997, when MTV still played music, they aired the video for "Brick" at 6a.m., the day after Christmas).
For a more characteristic example of the band's trademark sound, skip to track three, "Philosophy":
For my money, "Philosophy" is the definitive Ben Folds Five song, most successfully bringing together all of the band's strengths in one neat four-and-a-half-minute package. Undeniable musicianship, with Folds' alternately deft and brutal piano work paired with Robert Sledge's trademark chainsaw-on-idle bass guitar. Killer, if slightly ragged, three-part harmonies. Lyrics that are amusing, heartfelt, yet oblique. Abrupt shifts of tempo and mood, with the delicacy of the opening melody building to the full sonic blast of the climax, the band careening madly through a chunk of "Rhapsody In Blue" as they spin out. Play this one at my funeral.
Disc one's other hits and coulda-been-hits tackle revenge ("One Angry Dwarf and 200 Solemn Faces"), the perils of hipness ("Underground," "There's Always Someone Cooler Than You"), the joys and doubts of parenthood ("Still Fighting It," "Gracie") and all aspects of love from giddy infatuation ("Kate") and long-term commitment ("The Luckiest") to relationships falling apart ("Smoke," "You Don't Know Me") or never happening at all ("From Above," with lyrics by British novelist and kindred spirit, Nick Hornby).
Given Folds's reputation as a dynamic concert performer, it's not terribly surprising that the disc of live recordings is the most satisfying and cohesive of the three CDs. It kicks off with a breakneck Ben Folds Five performance of "Julianne" (which makes up for the anemic, castrated version of the same song on disc three, taken from the unreleased misfire of a first draft of the band's first album). All phases of his career are well represented here, including short-lived semi-pseudo-super-group the Bens (with Ben Lee and Ben Kweller) and a less-jokey-than-you'd-expect duet with Rufus Wainwright on "Careless Whisper" by Wham!. A poignant highlight is a performance with the West Australian Symphony Orchestra of "Fred Jones Part 2," the tale of a newspaper worker's firing which unfortunately applies to more and more people every day:
One quibble: for a set which doesn't shy away from Folds's unwavering fondness for words of the four-letter variety in songs such as "All You Can Eat" and "Rockin' The Suburbs," it's odd that "Song For The Dumped" (which, in this space, I previously nominated as second-best f-bomb song of all time) is presented in a bleeped version from a televised concert, robbing the classic opening verse of its potent punchline. What the f***?
Disc three's rarities grab bag is, perhaps inevitably, a bit schizophrenic, rounding up stray B-sides, abandoned tracks and covers, but it's the only place on the collection to hear essential songs from the Folds oeuvre like "Boxing," "Alice Childress," and an alternative string-laced version of "Best Imitation of Myself," which gives this collection its title. This disc also features the debauched production number, "The Secret Life Of Morgan Davis," which suggests that a trip to Broadway a la "The Book Of Mormon" is inevitable in Folds's future.
"The Best Imitation Of Myself" comes at an interesting moment in Folds's career, as he may have greater name recognition than ever, due not to his music but to his night job as a judge on NBC's "The Sing-Off," where his precise, thoughtful and empathetic critiques of a capella groups demonstrate the crucial difference between being judged by one's peers and being judged by Piers Morgan. This gig even led to the unlikely sight of Ben filling in for Kathie Lee Gifford on a recent "Today" show, an event which the Folds of two decades ago would likely have dismissed by declaring you to be "f***in' high."
The compilation also led Folds to reunite with his colleagues from Ben Folds Five, bassist Sledge and drummer Darren Jessee, to record three new tracks, with the promise of new recordings and possibly a new tour in 2012. As a die-hard fan, I confess that I'm perhaps overly enthusiastic about the prospect of seeing them onstage once more. Yes, yes, I know, you can't go home again, you can't recapture your youth, and seeing them reunite won't magically make me 20 years younger. But that trio consistently created such infectious energy onstage, it sure would be nice to see that fire burn again. Hey, as much as I adore Paul Simon's post-1970 body of work, "Bridge Over Troubled Water" is just a heck of a lot better when he sings it with that other guy.
"The Best Imitation Of Myself" is a welcome addition to the collection for Folds fans, but it also provides a worthy introduction to the catalogue of one of contemporary music's originals. Although Folds's songwriting influences are sometimes obvious -- from Randy Newman-esque non-heroic and unreliable narrators to the label-mandated attempt to write an Elton John song in "Landed" -- what becomes clear upon immersing yourself in this broad sampling of his work is how specific and individual Folds' voice was from the get-go and has remained through the years. It turns out that the person he's best at imitating is, in fact, himself.

SUBSCRIBE TO & FOLLOW CULTURE SHIFT
Every Friday, HuffPost's Culture Shift newsletter helps you figure out which books you should read, art you should check out, movies you should watch and music should listen to. Learn more