In his boisterous directorial debut, "That Thing You Do!", Tom Hanks's record-executive character Mr. White makes the following request of the songwriter for the one-hit Wonders (nee Oneders):
"I want something peppy, something happy, something up-tempo. I want something snappy."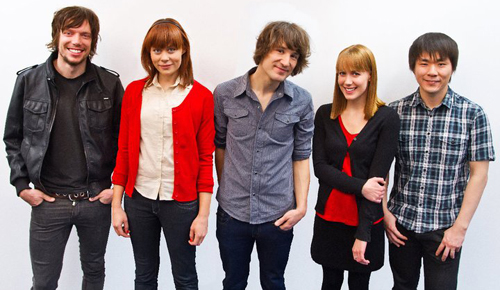 An energetic power-pop quintet from Melbourne, Australia, the Wellingtons have just launched a world tour in support of their fourth album, "In Transit". Like their previous output, the new collection promises bucketloads of what their promotional materials describe as "pop hooks that will tear your shirt off." The lead-off single, "Keep Me Holding On", is a synth-driven slice of missed-signal office romance complete with the band's characteristic sunny vocals and rapid-fire guitar runs:
I stumbled upon the Wellingtons two years ago through a fortuitous web search involving, of all things, the "Gilligan's Island" theme which, in its first season, was performed by a folk group of the same name. They weren't what I was searching for, but something intrigued me about these new Wellingtons enough to click on the video for "Come Undone," a catchy track seemingly plucked from the Oneders songbook, right down to the handclaps:
Immediately won over, I bought their then-latest album, "Heading North For The Winter". Clocking in at under half an hour, packed with ten lovingly-crafted gems, "Heading North" remained in my own private heavy rotation for much of the following year. Although the lyrics often deal with frustration, annoyance and heartbreak, it's hard not to be in a good mood when listening to the Wellingtons. Even their most downbeat songs are upbeat.
The sub-genre of power-pop is strangely contradictory: what seems to stand in its way commercially is how blatantly commercial it sounds. With its most obvious roots in the Beatles, Beach Boys, bubble-gum and glam, power-pop at its best - exemplified by acts such as the much-missed Jellyfish or the sadly lost Owsley -- harkens to the spirit and joy of past hits while always striving for freshness, but it seems to have no natural home in the current popular landscape. It's not edgy enough to be hip, but it's a little too nerdy to be cool.
Granted, it's a rough time for musicians of any stripe to gain attention, but if you're a country singer or a metal band, there's a clear eco-system in place to support you. And it's not as if pop craftsmanship is totally missing from today's airwaves. It's plentiful on country radio, or in the confectionery section of the top-40 (see Katy Perry), or abundantly in the Auto-Tuned wasteland that is Radio Disney. But what do you do with a band like the Wellingtons that isn't twangy enough for country, or glossy enough for top-40, or tweeny enough for Disney?
Fountains of Wayne, a clear influence on the Wellingtons, are probably the modern masters of power-pop, with co-founder Adam Schlesinger famously having composed the title song for "That Thing You Do!" They did sneak a hit onto the pop charts with "Stacy's Mom", the best Cars song that the Cars never recorded. It's probably no coincidence that their popular breakthrough came with a song sung from the point-of-view of a horny (if hilariously deluded) teenage boy, or that its success was propelled by a music video which relegated the thirtysomething band members to the position of a two-dimensional Greek chorus. With a receding hairline and the vaguely annoyed onstage demeanor of a substitute teacher, lead singer Chris Collingwood was never going to be a Teen Beat pin-up or see his face on a lunchbox. Fountains of Wayne is basically the Partridge Family if it were fronted by Reuben Kincaid. While the Wellingtons are more fresh-faced, videogenic and enthusiastic than the boys from FoW, they still face an uphill climb with no series on Nickelodeon and a frontman who's too old to survive "Logan's Run".
Multi-talented Boston-based artist Bleu, who has sometimes shared a stage with the Wellingtons, has followed an increasingly common route, continuing to release eclectic work under his own name and as part of one-off combos like his Jeff-Lynne-inspired L.E.O., while also penning and producing songs for teen-favored acts like the Jonas Brothers, Selena Gomez and Demi Lovato. One Bleu original, "Boy Meets Girl", looks back on a college romance, defining the unlikely lovers in terms of their disparate '80s pop-culture preferences in the chorus:
"It's like Twisted Sister meets Mr. Mister/
It's like 'Rolling Thunder' meets 'Careless Whisper'/
It's like Jesus Jones and the Rolling Stones in a game of Twister/
It's like boy meets girl."
But when Evan Taubenfeld opted to re-record the song, aimed at a younger demographic, the backstory in the verses was eliminated and completely rewritten, preserving only the chorus which, out of its original context, became a word-salad of references unfamiliar to the targeted new generation of listeners. (Okay, they'd probably heard of Twister.)
So isn't there an audience out there that would really enjoy snappy, hooky, Beatle-y music, yet who've outgrown the need for Clearasil?
Finding that audience is a conundrum which clearly frustrates the Wellingtons' lead singer, guitarist and songwriter, Zac Anthony. The band's second album was called "For Friends In Far Away Places", which also served as the title for a song on "Heading North For The Winter". The song begins with this post-gig lament:
"It's four in the morning/
I'm lying in bed thinking of a show that we just played, to another empty room/
It's not that we're boring/
It's just that the people who like our songs live far away, in a place I've never been"
How simultaneously encouraging and frustrating to know that your music does have enthusiastic fans, only they're dispersed in minute quantities across the globe. On the other hand, it's possible to reach that scattered audience more easily and directly than at any time in history, as the internet has created an environment in which I could accidentally discover their music one night at my computer, and you can be reading about them now and listening to samples of their music, all without the involvement of a major record conglomerate.
So, do yourself a favor. Check out the Wellingtons' music. If you like what you hear, buy their albums. And if you're lucky enough to be near one of their gigs in Japan, Spain, Italy, England or the U.S. in the next month, make the effort to get out of the house and catch them live.
They could always use some more friends.

SUBSCRIBE TO & FOLLOW ENTERTAINMENT
HuffPost Entertainment is your one-stop shop for celebrity news, hilarious late-night bits, industry and awards coverage and more — sent right to your inbox six days a week. Learn more