Blame it on Chitty Chitty Bang Bang, Genevieve and Two for the Road, but I have always loved cars. As a little girl, I lugged around a box of die-cast Matchbox classics and as a shy teenager, the only body I wanted to check out was the 1969 Volkswagen Karmann Ghia parked around the corner from my high school. It's no wonder that, for years, I've wanted to participate in a vintage car rally.
Enter Mille Miglia, Italy's historic 1000-mile rally from Brescia to Rome and back. Discontinued in 1957 after a tragic accident, Mille Miglia was reincarnated in the 1980s as a three-day vintage car race with an overnight pit stops in Ferrara and Rome. Participating cars must represent models from the original 1927 to 1957 rallies, which race through the smaller state roads, hugging corners in towns as well as countryside. Since I have lived here full time, I've made sure to be first in line when the cars parade through Rome, showing off names like Abarth, Fiat, Alfa Romeo, Bandini, OM, Cisitalia and Healey, among others, loud engines and racing colors. I've talked a good game about getting behind the wheel, but even though a Fiat Topolino and VW Bug qualify, my own 1971 VW Karmann Ghia doesn't make the cut.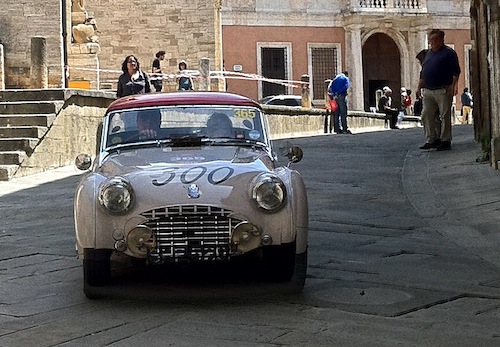 This year, my champagne dreams and cylinder wishes came true. No, I 'm not going to tell you tales of how I hopped into a 1955 Maserati 150S and sped my way through a bit of Lombardy, Emilia Romagna, Umbria, Lazio, Tuscany and back. There were no free seats available. But I did follow the Maserati thanks to a chance meeting. Next thing I know, I'm a backseat driver in the Acqua di Parma sponsor car for the last leg of the race, from Rome to Brescia.
And what an amazing twelve hour ride it was. On Saturday morning, we cut to the chase (think autostrada) and sped to San Quirico d'Orcia in Tuscany to catch the cars approaching. We hit the pavement, cameras ready. This would be the only time the cars slowed down during the day's adventure, and the only time I was able to get a clear shot. From there we hugged the curves of the Sienese hills, passing through several towns including Buonconvento and San Casciano in Val Pesa. We watched drivers take quick food breaks when they stopped for time trials and even passed a few as at local gas stations on our way through Tuscany.

We accompanied the cars to the center of Siena, a non-competing car in the rally of vintage vehicles. In the famous Piazza del Campo, an Alfa Romeo Super Sprint honked us off the road. The drivers were focused on racing, not giving camera faces as we would do each time we were greeted by any flag-waving, photo-taking, cheering spectator. I waved back, perhaps not the photo op they were looking for. The race moved forward, but we were hungry and took a not-quite-as-quick pitstop in Cerbaia at La Tenda Rossa. This deviation put us behind the race so we darted across Tuscany to Emilia Romagna to head off the racers at the Pista di Fiorano, the famous, private Ferrari test track.

Enzo Ferrari once claimed that the Mille Miglia was "the most beautiful race in the world," and happily, I'll claim that the Pista di Fiorano is the loveliest lap track in the world and beyond. The classic cars politely filed in line ready to take their turn at the nearly three-mile circuit in Maranello. Yellow and Ferrari red peppered a landscape of greenery and pavement, and engines revved loudly as the sun set behind the track. The scent of burning fuel was intoxicating. Or maybe I was caught up in the speed of the event. It was racing at its most beautiful.

From Maranello, we advanced to Parma and got lost in the roundabouts. We met up with the rally on a two-lane strada statale near Casalmaggiore. And thus began our own race to catch up to Acqua di Parma's Maserati, cheering as we passed the competing cars while facing oncoming traffic--and cheering when they passed us back. In Cremona, we saw a vintage Mercedes in a minor fender bender and a piazza completely filled with fans of all ages at 10:30 pm. I think it was the very small town of Manerbio whose crowds were largest, sitting outside at small coffee tables, where we passed a Mad Max-inspired time trial stop- desolate, lit by fluorescent over head lights. But we couldn't stop because the winners had almost reached Brescia, twenty minutes away. And with only two minutes to midnight, we made it to Brescia's Viale Venezia and the finish line.
Mille Miglia: The Most Beautiful Race in the World
Our first stop was San Quirico d'Orcia in Tuscany. This was the only time our feet hit the pavement during the racing as we were trying to get the very "best" shots. 1956 Triumph TR3

The only clear glimpse I would catch of host Acqua di Parma's 1955 Maserati 150S for the entire race. The car, driven by Roberto Gorni and Angela Grasso, would finish 80th in the general rankings.

Most of the ride was as picturesque as this quickly snapped shot. The Sienese hills were beautiful but it was not easy taking photos as we took the curves.

During one of the time trials, I took a peek inside the 1956 Porsche 356: I was happily surprised to see a mix of tech and post-its.

Every small street had a bit of a crowd, getting larger the further north we headed. We somehow caught up to the 1956 Triumph TR3 again.

Led by a 1957 AC Aceca Bristol, Mille Miglia caused gridlock while parading through Siena.

The Mille Miglia rally literally rolls through the centers of several Italian towns, always attracting quite a crowd. In this instance, the drivers of the 1957 Alfa Romeo 1900C Super Sprint were not happy with the traffic jam as no matter where they are (piazza or street), the race is timed.

The rally came to a lovely standstill in Maranello (near Modena) at the Pista di Fiorano-- Ferrari race track where cars lined up for time trials. 1955 Mercedes Benz 300 SL W198-I

The driver of this 1953 Osca MT4-2AD may have made my day with this look as he waits his turn on the Ferrari circuit.

The 1929 Bentley 4 1/2 litre supercharged waits in line for his turn at the track. Take a look behind-- in the background is a Ferrari-red, FIAT F104 Starfighter.

Ferrari's Fiorani circuit was the setting for 2012's time trails. 3 miles and 13 curves. I caught another glimpse at the 1950 Maserati 150S, this time not so clear.

The futurist 1955 Mercedes Benz 300 SLR leaves the track and off toward Reggio Emilia and Parma.

Most of my ride involved gazing at the back ends of gorgeous classic cars and reaching speeds of up to 180 km/h. That may have been considered slow.

We turned the corner off of Cremona's main square. 1952 Ermini 1100 Sport

Waving the checkered flag to a 1956 Porsche 356 A 1500 GS Carrera at the finish line in Brescia.
Follow Erica Firpo on Twitter: www.twitter.com/moscerina