If you tuned into any TV coverage of the Olympics, it would have been hard to miss the ubiquitous new ad from the Canadian American Business Council.
The ad touts the United States' and Canada's "mutual respect for the environment," but then goes on to shamelessly greenwash one of North America's worst environmental disasters, the massive project to extract oil from Alberta's tar sands.
The ad presents an image of the tar sands that looks more like a scene from The Sound of Music than the environmental crime scene that big oil corporations are actually perpetrating. Cue the frolicking and the music. What's missing in this picture?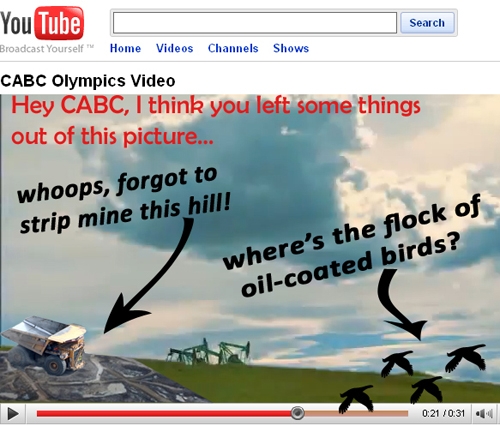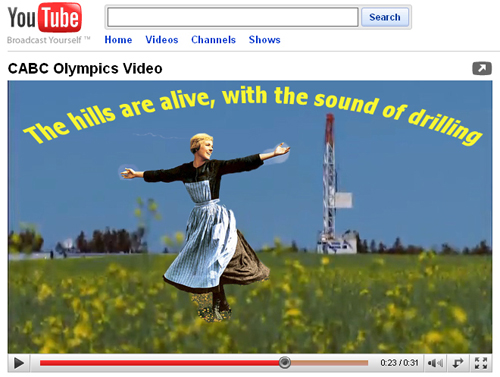 The real tar sands are the world's largest and most destructive industrial project. Oil from these tar sands is extracted by strip mining huge tracts of the Boreal Forest in Alberta, Canada and using massive inputs of water and energy. In actuality, grassy hills like the one depicted in the ad are being razed and replaced with a wasteland of open pit mines, oil wells, smokestacks, and toxic ponds. This very real landscape of destruction is set to consume an area the size of Florida.
Here's a picture featured in a National Geographic article of Syncrude's Aurora Oil Sands Mine, where the Boreal Forest has been stripped away to access the tarry deposits below: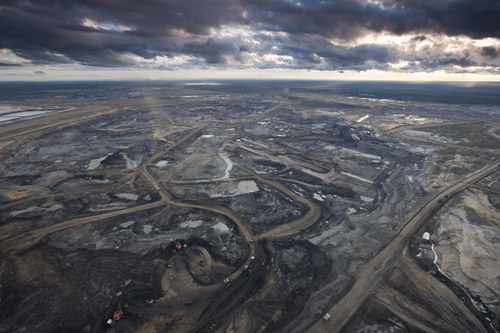 The environmental demolition of once pristine land by tar sands extraction is not the only injustice committed by members of The Canadian American Business Council. The toxic byproducts of the mining process are poisoning the First Nations (indigenous peoples in Canada) that rely on the land and water downstream. These sovereign communities have seen high rates of rare cancers since the mining began.
It's not surprising that the Canadian American Business Council wants to greenwash the tar sands. Its board of directors is stacked with corporate climate criminals that have made huge investments in this dirty fuel, including Shell Canada, Exxon Mobil, the Royal Bank of Canada, and TransCanada Pipelines.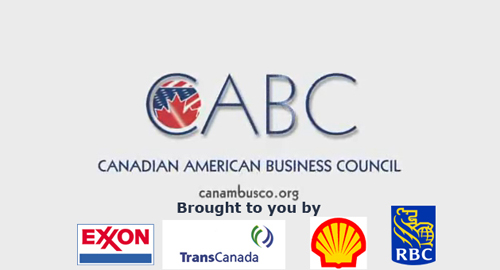 The latest project to expand this plundering of ancient forests and poisoning of local communities, the Keystone XL pipeline, is brought to you by TransCanada Pipelines. It would carry dirty tar sands oil from Alberta all the way to Texas' Gulf Coast refineries, funneling in 900,000 barrels per day and doubling the amount the U.S. already imports daily.
But this environmental and social injustice has not gone unanswered. Corporate profits from tar sands oil are at risk as more Americans learn about the destruction of forest and lives in every drop of piped-in tar sands oil.
Some of the U.S.'s biggest corporations have already turned their backs on the dirtiest fuel on Earth, because producing gasoline from the tar sands emits three times more global warming pollution than producing conventional gasoline. Earlier this month, Whole Foods announced that it would stop sourcing from refineries that take tar sands oil, an about-face that has rippled across Canada. The Globe and Mail warned, "these trends show why an aggressive policy is needed: Canada can ill afford to be caught wrongly assuming that the world will automatically pay willingly, and dearly, for its oil."
Big Oil and its Canadian government allies have been selling this fake green image to U.S. lawmakers, too, with promises of future emissions reductions and carbon sequestration. These companies want to stop climate solutions, such as the regulation of greenhouse gas emissions under the Clean Air Act, that could penalize tar sands oil and make it more difficult for firms to receive approval for new pipelines to pump more of it into the U.S.
While a permit that would allow Big Oil to move forward with the Keystone XL pipeline sits on President Obama's desk awaiting approval, ecosystems and indigenous communities are suffering. Last summer, the Obama administration approved another pipeline that transports tar sands oil to Wisconsin. President Obama needs to change direction on dirty fuels like tar sands.
Join us: Tell President Obama to shut the door on more tar sands oil and reject the Keystone XL Pipeline.