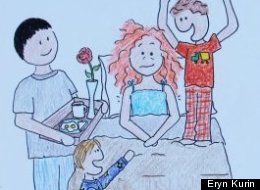 "There are times when I just thought about... checking into a hotel and just being in a quiet room by myself, just sitting in a quiet air-conditioned room, sitting down, eating my lunch, with no one touching me, drinking a Diet Sprite, by myself."
- Claire Foster (Tina Fey), in Date Night
This weekend is Mother's Day. A day when, in theory, moms get pampered, taken care of and get someone else to yell at the kids for them for once. When I was a kid, I got my mom a Hallmark card and picked up flowers for her with my dad, but it didn't resonate. Not like it does now that I'm a mother of two.
Valentine's Day is for neophytes -- not only that, you have to share it with your significant other. Any quality husband knows that the minute you have kids, Mother's Day is the holiday that counts... because Mother's Day is all ours, baby. All ours!
I understand that the pressure's on. You have to take the kids shopping for a gift -- by yourself. Or at least talk them into telling mom that you bought her gift weeks ago, not hours ago when you ran out of the house in your pajamas, wallet in hand. Many spouses feel the need to pull out all the stops on Mother's Day... but that's where they make their mistakes.
Don't get me wrong -- I appreciate every gift my family is kind enough to give me. Misshapen ceramic ashtray made at school? I'll take up smoking. If my son presents me with a handmade card with a drawing of him smacking his younger brother, I'll smile and say, "Thanks, Picasso!" And I really will overlook the sticky handprints on my nice armchair when you present me with the special meal you made me. But as you'll learn, the best gift of all is the gift of solitude.
What Your Wife Really Wants (and Doesn't) for Mother's Day
You think I want breakfast in bed for Mother's Day. I appreciate the thought - I really do. While it sounds great in theory, there's not enough french toast in the world to make up for our children dancing on my solar plexus at six o'clock in the morning.

I actually want sleep. Glorious sleep. I don't know when 9am became "sleeping late, " but I don't like it. I don't like it one bit. I just want one morning when I can snooze as long as I want without being awakened by a toy truck on my head.

You think I want sexy lingerie for Mother's Day. Don't laugh - almost every single one of my mom friends has received the gift of panties on this day to honor motherhood. What, we don't look good enough in our Lululemon knockoff workout gear and workplace retreat t-shirts? Lingerie will be happily accepted the other 364 days of the year, thanks.

I actually want to go shopping... alone. And no questions about what's in the bag or how much I spent. It's Mother's Day, dammit. I just want to try on clothes in a dressing room without the constant fear of my five year old throwing open the door while I'm standing around in my underpants. Because it's already happened. Twice.

You think I want fancy brunch at an overpriced restaurant for Mother's Day. After all, the restaurant industry tells you so! And parenting magazines! And all your married friends! The truth is that our little angels, wonderful as they are, don't exactly mix with a $70 per person champagne brunch at Le Fancy Restaurant. Nor do they exactly mix with McDonald's, but you get the idea.

I really want some coffee. And a room where I can drink it by myself. I've always wondered what a latte would taste like if I could finish the whole thing without yelling, "Stop sitting on your brother!" after every third sip.

You think I want an iPad for Mother's Day. A beautiful iPad that would be mine, all mine, for five minutes - right before I added the requisite dinosaur noise making and virtual cupcake decorating apps for the kids.

Yeah... I'll take that iPad. I may be cranky and desperate for five minutes of alone time, but I won't turn down the gift of modern technology. Thanks, honey.
Follow Eryn Kurin on Twitter: www.twitter.com/littledictators