8 Ways to Perform Plastic Surgery With Your iPhone
Does your face look like five miles of bad road? Have you got a nose like a turnip and breasts like empty sandbags? Does your ass looks like a sack of cats being dragged to the river?
You, my friend, may be a perfect candidate for surgical augmentation. But getting a total body makeover is a big step. Why not try it out first on your iPhone? There are now two apps that let you envisage what a new, improved you would look like before you go under the knife. Per Reuters:
The Shafer Plastic Surgery App ... is aimed at modern patients who are "sophisticated, inquisitive and information seeking," and it taps into a database of more than 1,000 questions and answers about specific cosmetic surgery procedures.

The Shafer app will soon be joined by iSurgeon, developed by Miami cosmetic surgeon Dr. Michael Salzhauer, who authored the 2008 book "My Beautiful Mommy" aimed at helping 4-7 year-old children cope with plastic surgery. iSurgeon combines a game mode allowing users to try their hand at surgery with a feature that gives people the chance to instantly modify images of themselves -- or their friends -- through lip enhancements, breast augmentations and dozens of other improvements.
eSarcasm has learned these apps are just the tip of the proverbial noseberg.
We spoke with Dr. Eileen Dover, noted plastic surgeon and author of Babies and Botox, a probing look at the benefits of pre-emptive cosmetic procedures for the rug-rat generation, and Mommy's Got New Tits, a guide for adolescent children whose friends have started noticing their mother's expensive new rack.
According to Dover, several promising iSurgery apps are about to be introduced: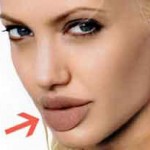 LipCrip: This accelerometer-based app simulates actual collagen implants by having you bang the iPhone repeatedly against your lips until they swell up like Angelina's. Even Brad will be fooled.
ManGina: Feel like you're a woman trapped in a man's body? With ManGina, you can at least pretend to have a hooha. The app's patented Weenie-B-Gone technology makes any penis disappear when viewed through the iPhone's camera. Also great for gags on really drunk friends.
iLaser: Get rid of unwanted body hair without an expensive laser procedure. iLaser temporarily increases the iPhone's radiation level to the undocumented 'Chemo' setting, guaranteeing follicle loss. Not recommended for use on testicles or other valued body parts.
The MJ: Named for the dearly departed pop icon, this app cycles through an ever shrinking series of virtual nasal alterations until your nose looks like two holes in a bowling ball. Companion app WhiteLikeMe simulates bleaching your skin until it reaches a state of near translucence.
Grey Me: Named for the Dirty Dancing star who changed her unique appearance and ruined her career in the process, Grey Me allows you to remove any prominent facial feature and look like a completely different person in minutes! (Note: Electric saw available for an additional fee.)
MyBicep: Flex your way into the ladies' hearts with MyBicep, the app that makes your man-guns massive without the cost and hassle of a gym membership. Follow its easy-to-use fitness program, and after approximately 294,322 reps of MyBicep-directed iPhone-curling, your bicep may grow by as much as 0.000000001 percent.
iPhallus. This manliness enhancer requires two or possibly three iPhones, stacked end to end. Though unlikely to fool potential partners, it can show you what you might have looked like if those pills you bought on the Internet actually worked.

Blowtox: Put your lips around this app's iWind sensor and you can literally blow the years away, erasing lines and wrinkles from your profile photos with a few strong puffs. You'll still be an old hag, but your digital doppelganger will be smokin' hot. Endorsed by Nicole Kidman.
Photos: Smarter Beauty, Plastic Sergeant
Follow eSarcasm on Twitter: www.twitter.com/eSarcasm