Looking to make an extra $120,000 a month? Try selling penis pills online.
Shady spammers are pulling in a full $4,000 a day for peddling those pesky pecker pills, a new study by security firm Sophos shows. That comes out to $1.46 million a year -- nearly 30 times the median amount made by an entire American household. And they probably have bigger wangs than you, too (at least, gauging by the rather cocky e-mails they're always sending).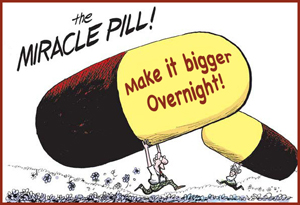 To be fair, these guys do have their work cut out for them. After all, writing such killer subject lines as "Make an elephant out of your ant" and "Be proud to change your underwear in public" isn't easy work.
"We think for many minute to write subjcet that have many typo and does not make any the sense," we imagine one of them would explain, were we to awkwardly conduct an uncomfortable e-mail interview. "It a fine art to please many men with their looking for larger lovestick. You want extra inches to please youre lady, or rolodex watch?" we suspect he'd add.
Most of the spammers actually work for affiliate-like networks based in Russia, the Sophos study finds. The networks -- known as "partnerka" -- pay commissions for every user the spammers refer to their Web sites. Some of the commissions go as high as $80 a pop, or roughly $20 per inch their pills promise to add. The only time we've seen a per-inch rate that high was when we bought drywall at the Home Depot, and those inches weren't very impressive to anyone.
In related news, eSarcasm will be selling penis-enlarging pills effective immediately. Please send in $200 (and/or 20 freshly baked cookies) to receive your very own shipment.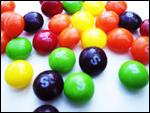 The pills may look like Skittles due to their rainbow-like coloring and the capital "S" letters printed on each one, but rest assured that that's just because they're the Super Powerful and Pretty™ brand of male enhancement medication. And, er, their delightfully fruity flavor is also a mere coincidence. As is the Skittles packaging in which we've sealed them for your privacy. Order today!
For more Geek Humor Gone Wild, visit eSarcasm. You'll be glad you did.