Tell me if this shocks you: According to the Bureau of Labor Statistics, minorities comprise 17% of the United States workforce, and it'll be 20% by 2016. But 95 percent of all executive-level positions in the United States are still held by white males, according to David A. Thomas and John J. Gabarro in Breaking Through: The Making of Minority Executives in Corporate America.
That tidbit came from the 2008 Chicago United Corporate Diversity Profile which, among other dizzying and depressing diversity statistics, estimates that if the growth rate in minority representation in Chicago's executive/managerial ranks were to remain similar to that of 2000-2004 period -- when it increased by 1.1 percent annually -- it'll take 89 years for minorities to achieve equal representation in corporate America. Ouch.
The report, to be released October 8, may seem like bad news for minority professionals, but it's not.
Nope. Talented minority workers will continue to find -- or make -- their own fortunes, it's the businesses who refuse to look past the images they see in their own mirrors to the growing talent pool of women, African-Americans, Latinos and Asian-Americans with which to stock their C-level suites and boardrooms who'll suffer.
"Corporations have a responsibility to be successful and sustainable. They have to develop and retain critical talent -- including women and people of color -- to succeed," Gloria Castillo, the President of Chicago United, a diversity in business advocacy organization, told me Monday afternoon as the report was being printed for distribution.
"We are in a global war for talent -- corporations all over the world have more interest in talent rather than in race or gender," Castillo said. "How long will it take us to realize the treasures here at home?"
I asked Valarie King-Bailey, founder and CEO of OnShore Technology Group, Inc, a Chicago-based technology, marketing and engineering firm she started in 2004 with the goal of helping to keep technology jobs in the U.S., about that global war.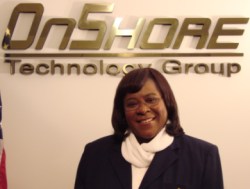 Valarie, who will soon be honored at her alma mater -- the University of Wisconsin -- for having been the first African-American to graduate in civil and environmental engineering in the school's 103-year history, spent 24 years hitting the glass ceiling at the director level before becoming an executive -- for an Irish company!
"I'd gotten every excuse in the book from several different U.S. companies about why I wasn't being promoted past the director level, then I got a call from Ireland," Valarie told me. "It was funny, I couldn't get a U.S. company to promote me but the Irish hired a black woman to promote their products around the world! With QUMAS, Ltd, a software company, I took the company from 1.8 million to 10.5 million in revenues in three and a half years."
"It was wonderful, I was treated like a queen," Valarie gushed, "the Irish had no problem with me -- nobody blinked when I walked into a room."
When Valarie's job was outsourced offshore in 2004, she decided to her make her own fate rather than try to crack corporate America's Caucasian culture. It led her to become a 2006 "Make Mine a Million" award winner -- and she's not alone.
"There are millions of women who become entrepreneurs because they get tired of waiting or playing the game of trying to make a place for themselves [in the traditional corporate system]," said Nell Merlino, founder of Count Me In for Women's Independence, a New York-based not-for-profit women's economic independence organization that runs the "Make Mine a Million Dollar Business" program. They're dedicated to helping post-start-up, women-owned businesses reach $1 million in revenues.
I asked Nell what corporate America loses by ignoring diversity. "They're missing out on an enormous amount of talent, creativity, and innovation," she said, "Women [and minorities] are finding alternatives to trying to crash through those ceilings and instead say 'let's try to do this on our own.'"
Don't get me wrong, it's not all doom and gloom in the boardroom -- the Chicago United report does say there are positive diversity increases in representation at the senior manager, director and vice president level. While no city has reached parity in the top executive ranks, Chicago - the number three minority population city in the U.S. and number four U.S. city in the number of Fortune 500 headquarters -- fares equal to or better than its peers.
Chicago United's data analysis suggests that, strangely, Chicago's corporate community doesn't boast its diversity accomplishments enough. They say Chicago must heighten its profile as a strong competitor for corporate headquarters and diverse senior leaders.
Still, at only 5% minority representation in U.S. executive level positions, there's clearly a ceiling to be broken, but the bright side is that there's plenty of opportunity for growth.
"Where is the ceiling? That's not a simple answer and there's no magic bullet for cracking it," Gloria Castillo said, "we have to keep putting ourselves in stretch positions, volunteer for high visibility profit and loss projects, and ask for assignments that clearly show a commitment to the strategic goals of the organization."
Or, like Valarie, you can forget the ceiling, declare that the sky's the limit, and let the corporations fend for themselves.
"At the time I lost my job, 3 million jobs were outsourced offshore and I was very squeamish about going back into corporate America and any layoffs that might have come with that. If figured if I was as good as I thought, I'd succeed. After my first two months I landed a $250,000 contract and I haven't looked back." Valarie said.
This leads me back to who the real winners and losers are in the race for rainbow-ing up the ranks of elite business people in Chicago and beyond.
"The corporations who don't embrace cultural diversity are missing out on a whole lot of creativity but the bottom line is sales," Valarie said. "Ignoring a big part of the market causes missed sales, it hurts the company's bottom line but they don't know it."
Not yet, anyway. But they will -- and soon -- Valarie, believe me they will.
Follow Esther J. Cepeda on Twitter: www.twitter.com/estherjcepeda