Then I immediately blew in a call.
"Hello, this is Marc," said Marc Schulman, president of The Eli's Cheesecake Company, a temple of mine.
I asked him how, how! could he let those wacky, tamale-slingin', tequila swillin' Mexicans beat us out of the Guinness Book of World Record's world's largest cheesecake designation. Wasn't it our birthright?
"Yes, we take a lot of pride in our cheesecakes and we definitely took notice of Sunday's record," Marc told me on the phone Tuesday.
The south of the border pastel de queso was cooked up by both the fine folks at Northfield, IL-based food giant Kraft Foods, Inc. - presumably to hook the Mexican masses on the deep joys of a finely baked graham-cracker-crumbed cake - and one Chef Miguel Angel Quezada.
He told the AP that "55 cooks spent 60 hours making the world's biggest cheesecake -- a 2-ton calorie bomb topped with strawberries." It took nearly a ton of cream cheese, a ton of yogurt, 772 pounds of pastry, 551 pounds of sugar and 331 pounds of butter and yielded 20,000 slices of cakes for the citizens of Mexico City.
Lest you think your Eli's corps was somehow sleeping on the job when the Mexican cheesecake orgy went down, nothing could be farther from the truth. They were busy.
"We were recovering from making a special cheesecake for the Presidential inauguration," Schulman said, admitting the Mexican Kraft promo seemed to come out of left field. "It was 500 pounds and if it had been any bigger, we wouldn't have been able to get it through the door of the National Building Museum [for the Commander in Chief Ball]."
As noted on CNN, the Ball "was started by President Bush and it's really to honor the members of the armed services, the military troops, the spouses of deployed soldiers are here, the spouses of former soldiers are here. It's a free ball for the military troops. About 2,000 troops are expected here. President Obama is expected to speak here just before 10:00 tonight and that will actually be broadcast on the Pentagon channel to all of the military bases overseas."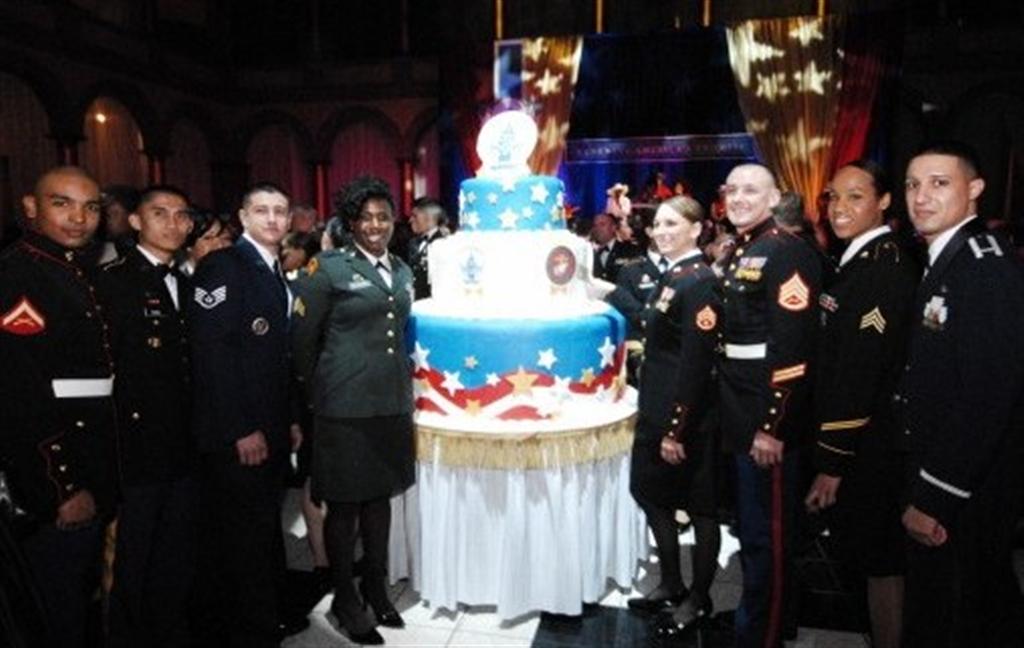 The actual cake, seen here in it's pre-eaten glory, took 100 pounds of cream cheese, 30 pounds of sugar, 25 pounds of sour cream, 126 eggs, 50 pounds of Michigan apples - for an Abraham Lincoln-themed apple layer- and 30 pounds of butter.
It was cooked in specially-made 42-inch diameter pans then assembled complete with a chocolate inaugural seal topping and decorated with the seals of the five military branches, then finished in royal blue fondant, a wave of red and white stripes and gold and white stars. The whole thing was made to feed 3,000 Purple Heart recipients and military families with the yummy leftovers marked for a local food bank.
So yeah, Eli's was a little distracted by, oh, making history to worry about some publicity stunt in a place better known for their pastel de tres leches (three milks cake) than for their steak dinner topper.
Still, there's braggin' rights to consider, so I inquired about a possible future cross-border, international-incident-inducing cheesecake smackdown.
"Well, we're doing a little more research to see if theirs was a baked cake," Schulman said, "but either way we're definitely looking into it."
Esther J. Cepeda eats Eli's cheesecake at every available opportunity and writes about good nutrition - and many other things - at www.600words.com
SUBSCRIBE TO & FOLLOW THE MORNING EMAIL
The Morning Email helps you start your workday with everything you need to know: breaking news, entertainment and a dash of fun. Learn more