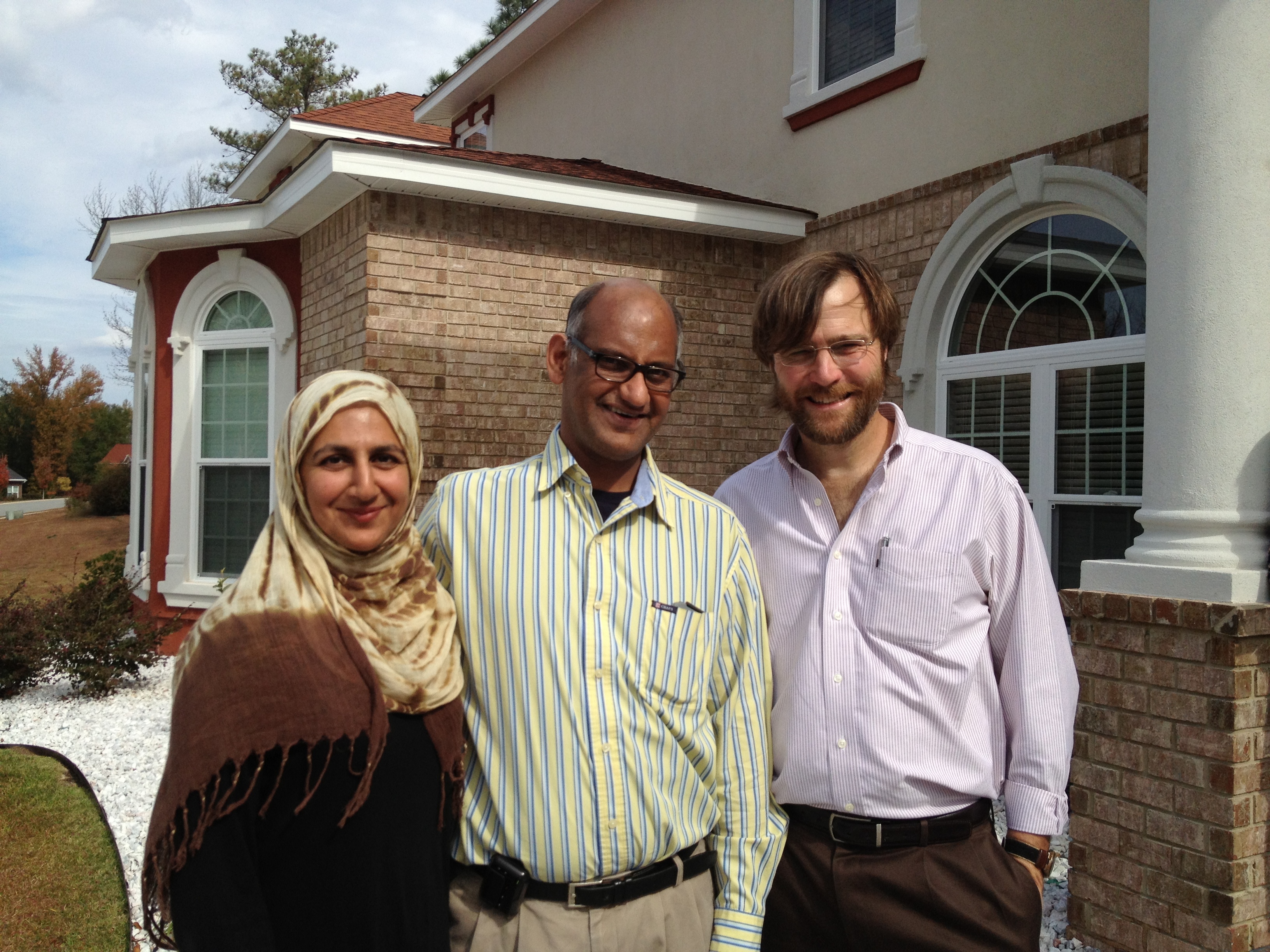 With Aniqa and Aamer Shabbir, Macon, Ga., Nov. 4, 2012.
Dr. Aamer Shabbir, a cardiologist in Macon, Ga., grew up in Pakistan in the 1970s, the same time I was growing up in Wisconsin. He and I have at least one thing in common: We both grew up watching The Six Million Dollar Man. "I remember in elementary school, we used to imitate the sounds and everything," he told me.
I was Aamer's guest for several nights last November, when I was driving around the U.S. for my new book, Home Free: An American Road Trip. When I arrived at his house, Aamer's elderly father, whom I had never met before, greeted me with a hug and told me he had been reading my book Alive and Well in Pakistan. And he had been making notes. For example, he told me, my mention of Tata Durbar on page 207 should be Data Darbar. He had written what he considered the correct transliteration in the margin. "If I find any more errors, I will bring them to your notice," he said in a jocular vein.
"This is my mother," said Aamer.
"As-salamu alayka," she said to me.
"Wa alayki as-salām," I replied.
"I read your book, and I know several of the people that you mention, specially Naveed Shahzad," she told me.
"Mrs. Shahzad was my boss," I said.
"She was a student at Kinnaird College, and she was the head of the dramatics society. She was the daughter of Justice Rehman. She was Naveed Rehman."
Such moments are the grace notes that, to me, justify my style of both travel and travel writing: showing up, taking an interest in people I meet and listening to them, narrating their stories largely through their own words and memories, reinforcing both topical and - more importantly - human connections. As The Daily Telegraph's reviewer very kindly observed about Alive and Well in Pakistan: "The author's real journey is a search for common humanity."
A few weeks after the World Trade Center attack in 2001, Aamer Shabir was approached by one of his elderly white patients in Mississippi, where he was living at the time. "He told me that if anybody gave me any trouble, he would come over to my place and bring his shotgun with him," Aamer told me. "I was not aware that the danger was so much. I said, 'Is it really that bad?' And he said, 'You don't know.' I don't know if he was demented, or if he knew what was going on. I was surprised to hear that from him, but at the same time, I felt better."
Even amid such fears and dangers, Pakistanis in America are contributing actively and generously to American society.
"I think that my children and their children are going to live in this country, and they should be treated fairly," Nadeem Iqbal of Cary, North Carolina told me. "But the only way it can happen is for them and us to become part of the greater fabric. I'm not talking about assimilation, but about being able to participate in American society on an equal basis, without fear or compulsion. In the 1980s it was haram to vote. And now they are having political meetings in the mosque. So things are changing, slowly. We just had a meeting with the candidates gathering. But it took them many years to convince the mosque to have this gathering. And many of the candidates told me they never knew of the existence of the mosque, and they were living maybe three blocks away. Doing religious stuff is important from the religious point of view and the social point of view, but getting involved in the larger society is equally important."
"I came here primarily because I didn't want to be left behind," Aamer told me. "I figured that was the best country you could live in, the United States of America, so I came here."
If Pakistanis like Aamer and Nadeem can express such positive attitudes toward my country, the least I can do to reciprocate, as an American who knows Pakistan for the flawed but human and likeable society that it is, is to continue visiting my friends there and to speak and write against the fear-mongering of the U.S. government and establishment. The State Department's recent evacuation of non-essential personnel from the consulate in Lahore, and its travel advisory urging Americans to avoid traveling to Pakistan, are depressing, but we need not take our cue from them. Indeed, we should make a point of not taking our cue from the U.S. State Department.
There is always both the need and the opportunity to resist attempts by those in power everywhere to make us live in fear of each other. The passage from the Koran that I quote most often to American audiences is: "For I made you nations and tribes, that you might know one another." Neighbors get to know one another by visiting, sharing meals, sharing stories. These are the things that I, as an autonomous, free individual American who sets his own priorities, defines his own terms, and makes his own free decisions, choose to continue doing, here and in Pakistan, with my Pakistani friends.
SUBSCRIBE TO & FOLLOW WORLD POST