There is something appropriate about the length of time Seattle artist James Cicatko spends on his drawings. Think years instead of days, weeks or months. His primary influence for this new body of work is the Austrian artist Franz Messerschmidt (1736-1783) who spent years in seclusion developing a huge collection of sculptures entitled Character Heads. As Cicatko says they are, "a body of work over 200 years old, but, to me, nonetheless of this time."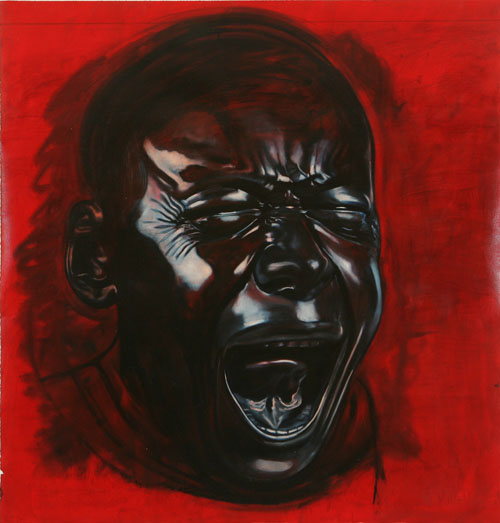 Red Messerschmidt Head oil on paper 44"x44" 2006

Images and info about the Messerschmidt Character Heads can be found here. Cicatko's first investigations into this topic began in oil with pieces that functioned more like studies of the original sculptures.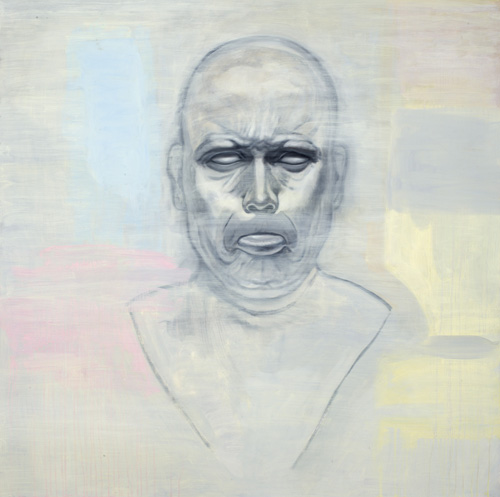 White Messerschmidt Head oil on paper 44"x44" 2006
Recently Cicatko moved toward graphite drawings, using the Messerschmidt imagery as a reference point. Like Messerschmidt's own work, there is something inherently troubling about Cicatko's drawings.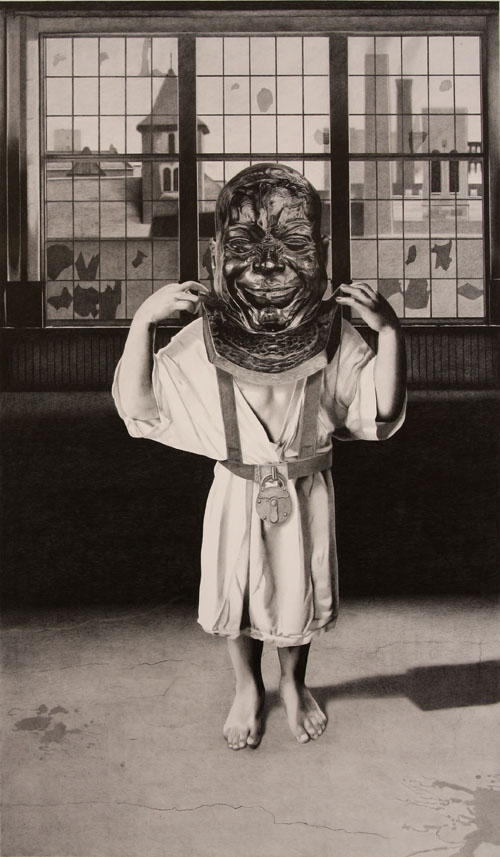 Locked Inside  graphite on paper 64"x38" 2010
There are the more obvious notes such as the dark mood but the quiet details are what I find most alarming and scintillating. For example in the piece above, the figure seems to be sunning himself with a slab of meat. These are not drawings for the lighthearted but are voluminous in their complex and rich investigation of sanity.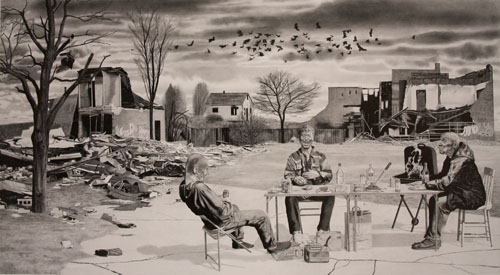 Barbeque graphite on paper 48"x80" 2010
Cicatko has spent a good deal of time researching and considering Messerschmidt so I'll let him explain a bit about who he was,
He reached the zenith of his artistic career in 1769, when he was invited to join the Vienna Royal Academy. His first attack of mental illness is recorded the following year, the year he began work on the Character Heads, or, as he referred to them, Tendeleien (notions). In 1774 he was passed over for the chair of sculpture at the Academy, and was retired on an "invalid's pension". He later moved to Pressburg, where he worked in seclusion, almost exclusively on the Character Heads, until his death in 1783.
Hall of Mirrors graphite on paper 54"x76" 2009
The drawing above irks me in a way that I love. I see this piece as a passage of thought, a brain's musing, however frightening it may be. The figures and environments are both calm and yet ready to spiral out of control. Cicatko explains some of these troubling and diverse settings when he writes about this new body of work for an upcoming show at 4Culture in Seattle.
Character Heads and other portraits appear in the World War I battlefield Passchendaele, in an architectural environment taken from the Hall of Mirrors, Amalienburg, Munich, a barbecue in present day/future Armaggedon America . The drawings together share a concern with, or are influenced by, a world unhinged or undone, or becoming so. Like Messerschmidt's heads, the work may also indicate unhinging on a psychic level.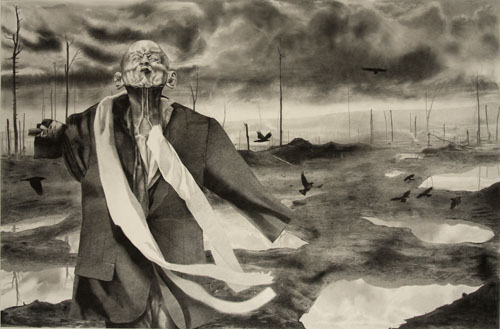 Judgment of Thoth graphite on paper 50"x76" 2008
Because Cicatko has been at work on these pieces for so long, they come to us as a kind of disturbed and generous gift from the artist's vault. One hopes Cicatko will unlock many more of these weird treasures.
All images copyright and courtesy of the artist.
SUBSCRIBE TO & FOLLOW CULTURE SHIFT
Every Friday, HuffPost's Culture Shift newsletter helps you figure out which books you should read, art you should check out, movies you should watch and music should listen to. Learn more