UNITED NATIONS - It is rare, although not unheard of, that a country wants UN peacekeepers to take a hike. Chad, a precarious home to more than 350,000 people displaced by the Darfur conflict, has done just that and no one is quite sure why. Often nations want the UN to hang around longer.
The Chadian government of President Idriss Déby, which together with the Zaghawa military clan has monopolized power since 1990, said the UN mission should leave the country's eastern region within a few months. UN officials are engaged in talks with Chad but the troops can only stay with government consent.
The region has an estimated 220,000 refugees from neighboring Darfur in Sudan and at least 160,000 Chadians driven out of their villages in border areas because of the warfare. Since the Sudanese and Chadian governments have spent years supporting each other's rebel insurgencies, the camps have often turned into fodder for militia recruiting and forcing men and boys to their ranks. Criminal gangs have sprung up, often comprised of young men who have never known anything but warfare.
In this barren sandy moonscape, UN troops replaced European peacekeepers last March. Both missions were relatively small: the UN Security Council authorized 300 police officers and 5,200 troops. But the operation, known by its French acronym of MINURCAT has only been able to raise 2,489 troops, 24 military observers and 264 police officers plus at least 400 civilian personnel and aid groups. Some of the personnel are in the bordering Central African Republic to help guard refugees there.
Peace Deal with Sudan
The reasons Chad gave for wanting UN troops out are none too clear. In a news conference this week, Chad's UN ambassador, Ahmad Allam-mi, said the latest peace deal with Sudan and a beefed up national police made it possible to protect vulnerable people. Déby made a rare visit to Sudan's President Omar Hassan al-Bashir in Khartoum earlier this month that resulted in another agreement to end the proxy wars proxy wars.
As a result, the ambassador said "Chad is able to guarantee security in the east of Chad in order to take over from (the UN's) military component and that is why we are calling for its withdrawal." He said he was willing for international civilian staff to remain but UN peacekeeping chief Alain Le Roy, who is expected to visit Chad shortly, said that was not an option. Allam-mi, however, said he had no objection to the larger UN complement of troops in Darfur, on the Sudan side of the border.
After Security Council consultations, John Holmes, the UN humanitarian coordinator, told reporters the mission was "important for the safety and security of the people in the camps, the civilians in general and for the humanitarian operation, so we really fear the consequences if the force were withdrawn." He said Council members agreed.
Human Rights Watch, which has reported on Chad for a decade, said it also feared the consequences of a withdrawal, saying the UN operation, despite its small size, had improved security for refugees and appeared to have prevented a resumption of mass killings. The mission also helps with police training, which has not yet been completed.
Georgette Gagnon, Africa director for the organization, in a letter to the Security Council, wrote:
Human Rights Watch has found that although widespread attacks on civilians have subsided since 2005-2007, civilians in eastern Chad remain vulnerable to persistent insecurity from a variety of armed groups including the Chadian army and Chadian and Sudanese rebel groups, and loosely organized criminal gangs. In the most severe battle between government and rebel forces in recent months, Chadian soldiers used indiscriminate force in and around Am Dam in May 2009, killing at least 15 civilians, raping women and girls, and looting civilian property including medical supplies.

Local authorities and displaced communities have reported to humanitarian organizations that the UN forces have improved the security situation in recent months, and many are concerned that without the peacekeepers, insecurity will increase again.
So why Chad wants the peacekeepers out is a mystery. Some diplomats speculate the country, a former French colony, wants money for the roads the peacekeepers allegedly ruined. Others say Chad anticipates that the latest peace deal with Sudan might fall apart again and wants a free hand for its military on the border regions - and any possible rights abuses unmonitored. But convincing answers were not forthcoming. Stay tuned.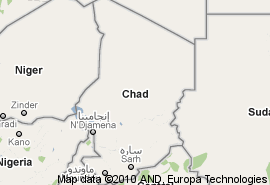 SUBSCRIBE TO & FOLLOW WORLD POST