(resolution text)
UNITED NATIONS - Brazil and Turkey said the sanctions resolution adopted by the Security Council against Iran would inhibit future deals to curb Tehran's nuclear ambitions while the United States and its allies maintained that only punitive measures would force Iran to negotiate.
The resolution, number 1929, aimed at Iran's military which runs the nuclear program, was passed on Wednesday by 12 votes with Turkey and Brazil voting "no" while Lebanon abstained. It was the fourth sanctions resolution since 2006 and the first that was not unanimous. (Voting in favor: Britain, China, France, Russia, United States, Austria, Bosnia, Gabon, Japan, Mexico, Nigeria and Uganda).
The sanctions, which took five months to negotiate, fall short of harsh measures the United States originally wanted as China and Russia refused to touch Iran's oil industry. Still President Obama said the resolution "put in place the toughest sanctions ever faced by the Iranian government, and it sends an unmistakable message about the international community's commitment to stopping the spread of nuclear weapons."
At issue is whether Iran is en route to building a doomsday weapon, as the West suspects, or whether it wants to keep its options open and enter the nuclear club in the future. Tehran says its nuclear activities are in the pursuit of peaceful uses only.
Turkey-Brazil maneuvers
Interesting was the two-step around the recent Turkish-Brazilian initiative for Iran to send some of its low enriched uranium to Turkey in exchange for fuel rods to be used in a medical research reactor.
All speakers complimented Brazil and Turkey and foreign ministers of the big powers issued a statement saying that Baroness Ashton, the European foreign affairs official, would pursue incentives presented to Iran two years ago. But at the same time they castigated Iran's stance, including the Turkish-Brazilian deal, especially France's UN ambassador, Gerard Araud. He said:
"Iran has carried out advanced military research....in particular with respect to the development of a delivery system for a nuclear warhead while refusing any cooperation on this issue with the IAEA. More recently it built a clandestine enrichment facility in Qom, suitable for military purposes, but much too small for civilian purposes - it would need to operate 24 hours a day for 45 years in order to provide the initial fuel supply for a civilian reactor. Lastly, in February Iran began the enrichment of its uranium to 20%, putting it even closer to the military threshold...It is no surprise then that the Director General of the (IAEA) has concluded in his report of 31 May that the agency is unable to confirm that all nuclear material in Iran is dedicated to peaceful activities."
He said that Iran, by enriching uranium to 20 percent, nullified the purpose of the Turkey-Brazil agreement and a similar offer by the IAEA last October "by buying time so that it would only have to export a fraction of its stocks of uranium and so that it would be able to quickly replenish the quantity needed for a military missile." (The IAEA is critical of Iran's stance, unlike its refutation of US claims in 2003 that Iraq had nuclear arms)
As for Iran, its UN ambassador, Mohammad Khazaee, related his country's suffering at the hands of the British and Americans, starting with the overthrow of elected president Mohammad Mosaddegh in 1953 over the nationalization of oil to the Security Council's failure to condemn Iraq in the 1980s for bombarding Iranians with chemical weapons, although a UN report verified Iran's charges. He ended his five-page speech with a rant against the "Zionist regime" and lost the audience.
On the Turkey-Brazil agreement, Khazaee said: "Those who were unfairly accusing the Islamic Republic of Iran of lack of cooperation are today showing no respect to what they had initially encouraged these two members of the Council to do," adding: "No amount of pressure and mischief will be able to break our nation's determination to pursue and defend its legal and inalienable rights."
The new measures include financial curbs, an expanded arms embargo and a blacklist that added 40 companies and one individual to an existing trade embargo. The sanctions target the Revolutionary Guards Corps. (for its dominance of the nuclear program, not its brutality during a crackdown on dissidents exactly a year ago which no one mentioned).
"This council has risen to its responsibilities. Now Iran should choose a wiser course," US Ambassador Susan Rice, a key negotiator of the resolution, told the Council.
The six sponsors of the measure - the United States, Britain, France, Russia, China and Germany - believe the isolation of Iran and the higher cost of doing business will bring Tehran to the negotiating table and force it to suspend enrichment activities. The resolution will also allow the United States and the Europeans to enact harsher sanctions of their own. (One such measure before the US Congress would penalize third parties who violate any American sanctions, a reminder of the Cuba embargo that enraged US allies. Obama is struggling to soften it.)
But some experts believe a dialogue will be fruitless unless it touches on more than the nuclear issue - and includes, perhaps, Afghanistan and eventual normalization of relations with the United States.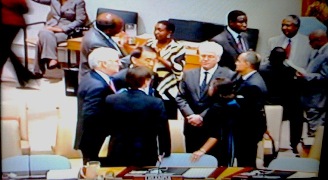 Six sponsors of the resolution huddle before Iran vote.
Clockwise: Mark Lyall Grant (UK), Li Baodong (China) Vitaly Churkin (Russia), Gerard Araud (France) Susan Rice (US), Peter Wittig (Germany)
SUBSCRIBE AND FOLLOW
Get top stories and blog posts emailed to me each day. Newsletters may offer personalized content or advertisements.
Learn more