Okay, I visited nearly every tourist attraction in Hangzhou, the city south of Shanghai built around the beautiful West Lake and filled with beautiful people. Healthy elderly exercise every morning and live longer than most in China, lean students bubble with optimism and the rich drive small children to McDonalds to get fat. One side of a banknote even honors the West Lake as "three ponds mirroring the moon."
Not that I now "know" China. But having toured Hangzhou in 1978, amid the dying embers of the Cultural Revolution, only the West Lake remained the same and the wealth was staggering.
The purpose was to attend a conference in a five-star complex of hotel rooms, restaurants and meeting halls, all with views of the lake. The forum in November was sponsored by the city of Hangzhou and Zhejiang University, one of China's oldest and most prestigious institutions. I was invited as one of three "celebrity" journalists, recommended by Fred Eckhard, the spokesman for former U.N. Secretary-General Kofi Annan. Eckhard had taught at Zhejiang two months each year since 2005.
First there was the two-day conference, filled with observations about "Lifestyle and Development" as well as tangled reports from European professors. And then there were the many student volunteers, artists and others available for dinner. As a backdrop was Hangzhou itself on China's gold coast where gentrification moves at a fast pace and the impoverishment of peasants in western China is but a distant reality.
Josh and Robert
Of the three "celebrity" journalists, Joshua Friedman stood out. A two-time Pulitzer Prize winner when he worked for Newsday, his current position as a Columbia University journalism professor was a spectacular draw. It seems to be de rigueur for Chinese students to seek an American university for graduate work. (Nearly any institution will do but Columbia is particularly attractive). The third "celebrity" scribe was Robert Holloway, a Briton working for Agence France Presse and now the head of the Paris-based AFP Foundation. Those who spoke French clustered around Robert. (I was of lesser interest as I could not offer students a year at the Huffington Post.)
The deputy mayor of the city (a relatively small one of 8 million!), Hu Zhengyu, invited us to tea, saying, "Hangzhou must become a brand name." The town is noted for silk, tea, design and the arts -- and a housing bubble. The mayor said all sorts of restraints had been put on families buying more than one apartment, or the amount of down payments needed and so forth. But the city remains a magnet for those who commute to Shanghai, a short ride by bullet train. (Sensible regulation seemed to be a desirable goal, if not a reality. One young man at a jazz club we frequented said the biggest criticism of the United States was that its unregulated financial system had caused a worldwide recession.)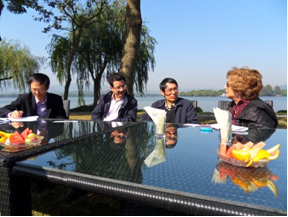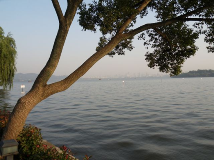 Internet Buster
Hangzhou also hosts China's leading Internet company, Alibaba, with an instant messaging service and Baidu, a search engine. A bit of a geek, the Internet fascinated me. I was able to get
into Google but not Facebook and Twitter. One young woman at a dinner answered a question by pulling out her laptop equipped with a Wi-Fi attachment. She answered her cell phone that had email and Internet. She was surprised that I paid much more for similar technology. And that we in the US had no bullet trains.
And then she said many paid an annual fee for a "Great Wall" Internet buster. However, the censors are also not technically challenged. If you use Twitter, for example, you can be in trouble and if you search for the jailed Nobel Prize Peace Prize winner Liu Xiaobo, you could be in bigger trouble.
The main purpose of the conference itself seemed to be to advertise Hangzhou and then talk about concepts of city planning. Professor Luo Weidong, an economics professor and deputy president of Zhejiang University, said large industrial parks, particularly in rural areas, do not necessarily improve living standards, were not organic and sometimes increased the gap between rich and poor. Life should be centered on creating a beautiful environment and not just on the GDP.

And speak we did
We all delivered 10 minute speeches in panels. Journalism, despite our efforts, fell by the wayside in discussion groups as did my paper on women's roles in development. The plenary sessions were VIP forums. Fred (who delivered a witty tribute to Hangzhou) and Josh (who said China was stable enough for a free press) were on the stage at the opening session. Robert and I were at the closing. No Chinese women were in either, only two American women. Robert bit the bullet by arguing that freedom of the press was not a benefit of a stable state but a precondition for it.
I too caused a bit of a stir, at least among Westerners or Chinese who understood English. After complimenting Hangzhou, I said I was tired of listening to talk about cultural differences on human rights. And diplomats do it at the UN all the time. Some standards apply to all. Torture is wrong, whether in Abu Ghraib in Iraq or elsewhere. And I said I hoped press coverage in the future could be improved if another dissident won the Nobel as China was teaming with talent. (We doubted this was translated.)
"Gak," wrote our diarist Fred Eckhard, whom Hangzhou authorities were thinking of naming their ambassador to the world. "I saw my ambassadorship go flying out the window, but good for her, I thought."
On our last evening, before exploring the wonders of Shanghai, we went to a French restaurant, filled with expats. A young German biologist was completing her study of alternative medicine. "Now what?" she said. "The United States? Germany? After this, every place is boring!"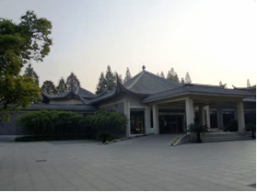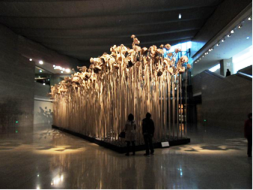 Villa at Hotel Zhejiang Xizi for conference guests; Zhejiang Art Museum exhibit "Sunflowers" (in brass) by museum director, Xu Jiang.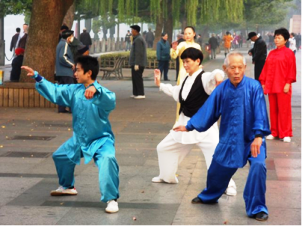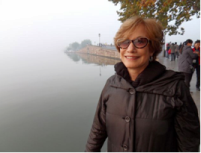 How the elderly stay young; author gets ready for early am exercise
(Photos by Fred Eckhard)