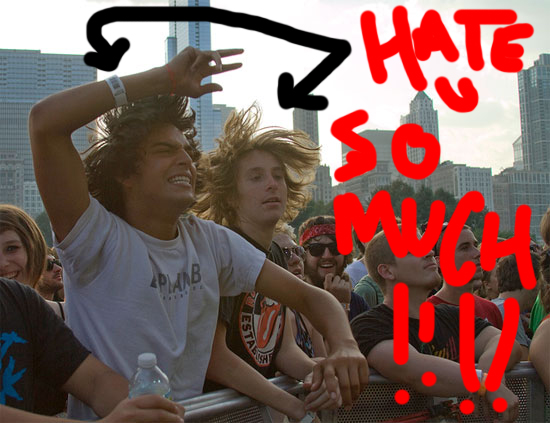 Coachella is full of idiots wearing flower headbands, and is incredibly dusty. Bonnaroo is all shoeless nerds who like jam bands. SXSW is worse than sitting at a table in a restaurant next to a group of white women in their early 30s who have just finished their second bottle of white wine. (Yes, that bad.) Austin City Limits? Hell no. CMJ? Kill me, and then yourself.
But as bad as these "festies" are, nothing, nothing... nothing is worse than Lollapalooza.
Conceived in the early '90s by Jane's Addiction frontman/ heroin-chic style pioneer/actual heroin user Perry Farrell, the festival was originally comprised of mostly rock/alt rock/grunge bands, and it was pretty cool. It was just lots of dudes who (probably still) hate their dads moshing & sweating together.