The past week suffered no lack of drama in Saudi Arabia as the nation witnessed, in amazing contrast, what could be a labelled as a modern-day 'Tale of Two Cities'.
In Riyadh, the Kingdom's booming capital and impeccably well-structured city, the organizers of the highly acclaimed Global Competitiveness Forum (an annual Saudi version of the World Economic Forum which was established around the country's determination to enhance its global competitiveness ranking) were celebrating the conclusion of this year's event on the 25th of January. The GCF this year was attended by the likes of Former US President Bill Clinton and Former British Prime Minister Tony Blair as well as a large number of delegates which include local and international movers and well, Sheik-ers.
However, as delegates were still absorbing all the thoughts, facts and ideas which shared at the Forum, a disaster happened less than 24 hours later -- one which certainly would disturb the positive image that most people who have attended previous GCF events have built over the years.
On the morning of January 26, residents of Jeddah, the Kingdom's key commercial port on the Red Sea, woke up to heavy torrential rain and it wasn't long before Saudi Arabia's second largest city was completely crippled by the flooding.
The rising water level (said to have been between 111 and 120 millimetres) caused people to be stranded in office buildings, students to be stuck at schools, roads to be jammed by dysfunctional vehicles as heavy wind blew away trees, destroyed bridges and fires erupted in many electrical generators leaving parts of the city powerless.

(a YouTube video uploaded by a Jeddah resident showing some of the damage caused)
As dreadful as this scene must have been, this isn't the first time such a thing happens, in November 2009, 130 people died under similar circumstances when the city couldn't handle the floods which resulted from the heavy rain.
Jeddah has long suffered essential issues in its infrastructure as most of the city (90%) lacks a proper sewage system -- For decades, 'sucking sessions' organized by municipality vehicles and equipment were the only means available for residents to get rid of their household wastewater.
Upon witnessing the disaster which occurred in 2009; The Saudi King, Abdullah Bin Abdulaziz, ordered an immediate and urgent investigation into the matter and 40 people were found responsible as plans were placed to prevent this catastrophe from re-occurring.
The city's residents blame certain well-known individuals who are said to have made a fortune decades ago from a government contract to build Jeddah's sewage system but never actually implemented a sustainable solution, while pocketing most of the contract's money.
As Jeddah suffered another blow, The King (who is still recovering from a recent operation in his back) furiously ordered the full deployment of rescue teams, the immediate release of any and all required resources and that officials 'work night and day until they find a solution'.
Following up the rescue efforts on the ground, HRH Prince Khaled Al-Faisal, the recently appointed Governor of the Mecca (Western) Province which includes Jeddah, has confirmed 4 deaths and losses in property as he vowed that this time 'pain-killers will not be accepted, the problem will be solved from its roots'.
Once again, rescue teams were supported by a massive volunteer movement which has been coordinated and organized throughout the city providing lifts, food, clothes and shelter to those in need.
Yet, it will be a long time before Jeddah residents recover from the emotional, financial and social effects of this disaster, some of which can be seen in this photo-gallery published by the Saudi English language daily, Arab News.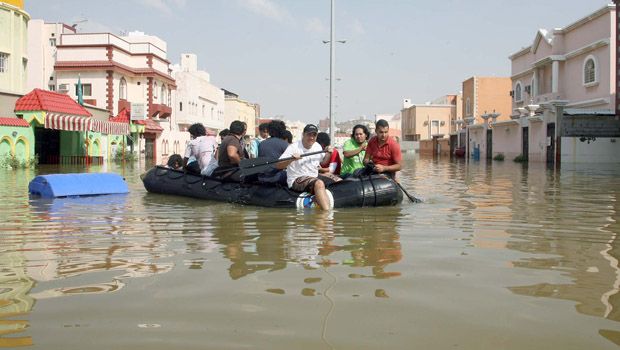 (Rafting to safety: Jeddah residents had to use different ways to survive the flood - Arab News Picture)
People I spoke to varied from men in tears to women bursting with anger -- and who can blame them? How would you react when water was flooding into a car stuck in the middle of the street and your 2 year old child in it? Or if you were a mother of 3 who had to stay at your desk over night whilst each of your children spent the night at a different place, one of them with a complete stranger who volunteered to help?
On social networks, pictures and videos were heavily uploaded bitter comments such as ones which referred to Jeddah's Municipality which is known in Arabic as 'Al-Amanah' (a word which also means 'The Trust') as 'Al-Khiyanah' (The Traitorship).
On Thursday 27 January, a call for protest against the neglect to take place has been reportedly spreading across Blackberry Messenger, with another message spreading on Friday to warn people not to join as they say anti-riot police are enforcing severe measures.
The ironic ending of this 'Tale of Two Cities' is that of course one of those who were trapped on Jeddah's main roads was the Turkish Finance Minister who was visiting the country (perhaps on his way back from the Global Competitiveness Forum in Riyadh?).
Yes, Saudi Arabia has come a long way -- and the GCF showed that we can put on quite a good a show and year after year it proves to the whole world that we are more than capable to attract foreign investors and dignitaries.
However, those corrupt contractors and city planners must be held accountable IN PUBLIC, an early alarm system supported by pro-active weather forecasts and emergency rescue plans have to be all prepared and placed on standby and mostly -- an immediate solution has to be found to give Jeddah the proper infrastructure it needs and victims who have not been compensated yet must be compensated straight away.
Not that is it the most important thing to those who suffered in Jeddah at the moment, but if we don't act quickly to help and protect these people then all our foreign investment-courting efforts will go down the drain, after all why would anyone want to spend a penny in a place that has no sewage system?

SUBSCRIBE TO & FOLLOW WORLD POST