Having just returned from Seoul, where I attended the 10th annual Korea-Middle East Cooperation Forum, I am more convinced than ever that the way forward for us as Arabs lies in contemplating the success story happening in the East rather than the West.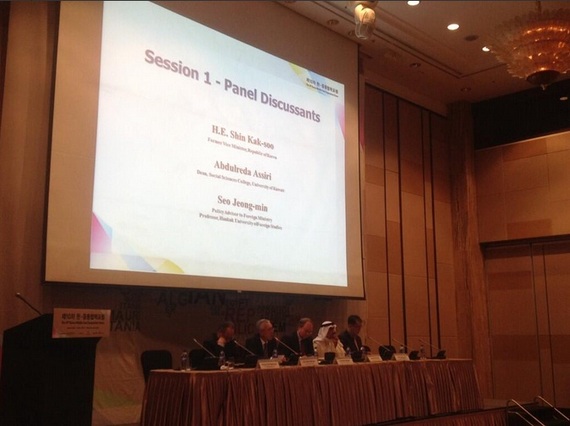 This year's Korea-Middle East Cooperation Forum was held in Seoul, South Korea. (Image Courtesy: @FaisalJAbbas)
I say this not out of spite for Western countries, which I greatly admire and respect, particularly in terms of their achievements in human rights, democratic values and freedom of expression. However, there is no question that the 'Arab street' and many Arab leaders remain disappointed with the fact that the West has constantly failed them when it comes to foreign policy (most recently and notably, regarding the Syrian crisis).
This is why I say that Arabs can -- and should -- relate more to a country such as South Korea. After all, we share a very similar history, and possibly a very similar position on several current issues.
Both our peoples experienced colonization at the dawn of the 20th century. In both cases, what seemed as successful campaigns to gain our independence resulted in decades of division, economic turmoil and political instability.
Following World War II, Koreans and Arabs were divided between being pro-communist or pro-West. In the Korean case, this ideological rift took a much clearer shape when the once-unified peninsula was (and still is) divided into the communist north and the pro-West south, an arrangement that ended the three-year Korean War of 1950.
However, it is what the South Koreans did next that Arabs should pay attention to and hopefully learn from.
Same starting point, different outcome
The South Koreans, like us, were new to democracy and were considered amateurs in modern governance. Also like us, they severely lagged behind the West in economic and industrial development. Yet unlike us, they managed to succeed on both fronts, while we continue to fail miserably, both politically and economically.
South Korea is today a stable and established presidential republic, where civilian government replaced military rule in 1987. Current President Park Geun-hye is not only the country's first ever female to hold this position, but is also the first woman head of state in the modern history of northeast Asia.
Regretfully, in most Arab countries the idea of a free election in itself still seems remote, let alone having an elected female head of state. The mere thought might be regarded as laughable when there are countries that still tolerate honor-killings or ban women from driving.
Economically, South Korea is a force to be reckoned with. It is Asia's fourth-largest economy, and the world's 15th largest by nominal gross domestic product, and 12th by purchasing power parity.
Once torn apart by constant invasions and a civil war, and for long a country that survived on international aid, South Korea is today an aid recipient-turned-donor that gave away $1.2bn in 2010, and is working towards more than doubling this amount in years to come.
Unfortunately, the only growth in our region (excluding economic growth in the oil-rich Arab Gulf states) is in the number of nations that require international aid in order to survive. This obviously includes -- but is not limited to -- Syria, where the ongoing crisis caused by the regime's handling of the 2011 pro-democracy protests has left more than 140,000 killed and millions of refugees in desperate need of food, water and shelter. In Yemen, resolving the food-shortage crisis has become literally a matter of life or death.
Having visited South Korea twice so far, I cannot help but respect how it has managed to embrace modernity while maintaining and being proud of its traditions. This is of great importance and sensitivity in the Middle East, and studying the South Korean model holds the answers to our extremists who oppose modernity in the name of protecting religion and preserving traditions.
Unlike some of their Western counterparts, South Koreans -- despite all their achievements -- look at Arab culture with much respect and great interest. Officials, journalists and academics look forward to working with us as great potential partners, not lackeys.
Perhaps nothing better describes this than what South Korean Foreign Minister Yun Bynug-se told delegates at the cooperation forum last week: "What was once a relationship of choice evolved into a relationship of necessity." If this is the case, then we should definitely invest more in reaching out and strengthening our ties with Seoul.
It is worth remembering that the United Arab Emirates recently commissioned a Korean-led consortium to build four nuclear plants, and that more Korean companies are winning heavy-industry contracts across the region.
However, this is not enough. Arab governments and businesspeople must invest in South Korean companies, as mergers and acquisitions are the easiest way to transfer knowledge (which we surely need). Furthermore, we must make our support for Seoul more public. Just like our issue with Iran, South Korea has to deal with the threat of a nuclear north, and just like us, it has a right to live peacefully and without nuclear fears.
*This article was originally published in the opinion section of Al Arabiya English.