Morgan Parker, a 36 year old real estate investment banking guru, decided to take a time-out from his promising, multi-million-dollar-paycheck career to delve himself into the world of philanthropy. His ambitious Wheel2Wheel project will take him and his friend Simon Lock on a motorcycle journey from Hong Kong to Morgan's roots, Brisbane Australia. This physically and mentally enduring trip will pass through 10 countries, in support of 10 grassroots charities, encompassing 20,000 km distance, over 100 days. The journey will be featured in a 10-series documentary on National Geographic Channel.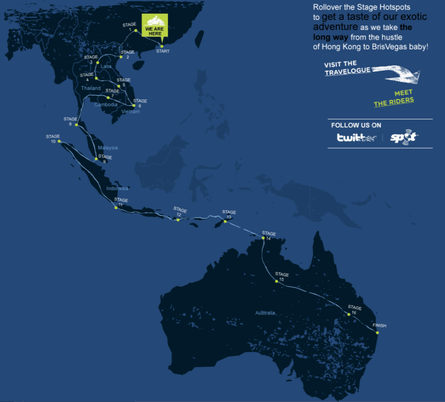 When I first asked Morgan "What happened?" over the phone, he responded with his well prepared textbook reply for reporters.
There's macro and micro reasons. On the macro front, the global financial crisis affected real estate market significantly. On the micro level, I worked for 15 years in Asia and had a great run. I started to feel like I've done a lot, and there's not much more I could to. I did some charity work, and saw a huge disconnect between different worlds. Working with billionaires has great side too, saw the world in incredible excess. But there's also the underprivileged people in Asia...
Having worked in finance, I could very well see how the reality paradox daunts on many people, and for sanity's sake most will close one eye and choose to stay in the jaded world of excess. So I asked, when we met over breakfast in Hong Kong a week later. "But what really drove you to make this change? It's not easy for anyone to downgrade their lifestyle. How's your family taking this?"
"Since I left Taubman, I have been sort of a home-daddy, taking Aria (Morgan's 7yld daughter) to school, playing tennis with her, taking her on trips," he answered. "I now actively engage in the decision making process for her education, such as her extracurricular activities. What are the assets we should equip her with at each stage, whether it's ballet, Mandarin, piano..."
The proud daddy smile instantly reveals Morgan's inner motivation. Was Aria the main reason why you made the change?
"Absolutely. Yes, she is my secret drive. We're divorced, but I have asked my ex-wife to move in with me again to reduce our cost of living. So Aria lives with me, and I have a co-parenting, roommate relationship with my ex-wife Amanda. I used to get the sense that Amanda was the main parent, and I was the breadwinning 'supportive' parent. Once we were at a resort in Thailand, I asked Aria if she wanted orange juice or apple juice, and before Aria answered my ex-wife would jump in and say 'Aria can't take apple juice so she'd have orange juice.' I felt so small and embarrassed, for not even knowing that my daughter can't have apple juice"
He looks somewhat mortified, then puts his fingers to stretch his outer eye corners to 4 o'clock and 8 o'clock positions.
"AND I probably looked like this, red eyes, working until the last minute the night before our vacation"
"...I've never spoken about this, but at times I even felt resentment. I would work hard, be on business trips from Sunday night to Friday night, only to be welcomed by angry and disappointed wife at home."
When asked if in hindsight he should've worked less,
"No. I've always worked so much to the extent that was required for my job. There are plenty of people who work a lot more. If I had a choice to work or not work, I would've not worked, always."
Aside from immensely demanding jobs, Morgan has firsthand-idly experienced his father being marginalized as a consequence of a divorce.
I was 13 when my father left for another woman. My sister was then 19. She is 42 now, and still hasn't spoken a single word to my father. My brother and I have, sporadically, but my father is nowhere near how predominant our mother is in our lives. My father has taught me what not to do by not teaching me. I needed to create this father-daughter bond with Aria, now. Change in direction will be harder (as time goes by).
So you've opened a new chapter to your life.
"Exactly. I started to look at life in a finite way. I didn't want to keep on living life the same way over and over, chasing bonus year after year. I wanted to be everything as a child, an adventurer, a scientist. I've had 15 years of good life, now I want to do something more meaningful."
Morgan hopes that this will be a permanent change for him. In plight of doing more than developing shopping centers and flipping buildings, he wants to 'mobilize successful and financially autonomous young people' to do charitable work. Wheel2Wheel, a nonprofit organization that he set up, is a perfect channel to exemplify such intensions.
"The idea of getting a heap of bankers and wealthy individuals doing charities on the ground is a stretch, but currently most millionaires don't even make a donation at all, only 10-20 percent of them (donate). I'd like to see 40-50%. I want it to be 'cool' to donate, I want to install a new value system in the society"
He thinks that "fame and fortune" have been the driving forces of a society.
We love celebritism. You can buy power and influence, but to what end? I want a third paradigm to develop, where we could admire and be influenced by people who creatively do things for the world, that are honorable and helpful. I want people to be judged by what they do for the community, not by their education/social standing/wealth. All these benchmarks are corrosive. We need to judge people on what great they can do, not what they do for themselves.
Morgan began by influencing those around him, a network of young, wealthy and successful individuals working in Asia. What started off as a "traditional marathon type of fundraising" turned into a much larger scale gig through Wheel2Wheel.
We can reach a very wide audience through National Geographic. The 10-episode documentary will feature us in each country, at each charity. We'll interview beneficiaries, show charity work and environmental damages. Wheel2Wheel is not a charity. It raises awareness for other charities, and creates a platform for donations.
In selecting a charity for each of the 10 countries, Morgan focused on grassroots charities that don't have heavy administration. He wanted to highlight salient issues in each country, for instance HIV in Thailand and environment in China.
I'm not saying that UNICEFs of the world are ineffective. But our desire is to be an agent of change for smaller charities, who are struggling with money and human resources, who are desperately trying to tell their stories to the world, more so than merely seeking for funding. By collectivizing these charities, through our journey and television, it creates a virtuous relationship. I'm hoping for engagement from audience.
Morgan has a particular passion in environmental issues. In fact, the majority of the 10 charities are for bettering the environment.
When you have children, you think different time horizon, different mortality. Aria will live to the end of the century. What sort of world will they be in? UN is predicting an empty ocean by 2050. No fish. Whether it will happen is debatable, but the planet will definitely have more people, from 7 billion today to 9 billion by 2050 (also UN prediction). I wanted to base my intent on an undeniable fact -- overpopulation. Forecasts for future ecological system are in bad shape.
It saddens Morgan that he did not start learning much about these environmental issues until 2007. Prior to that, he was questing for wealth.
I just listened, like everyone else. Environment problems became mainstream, political and public issue around 2007, with advocates like Al Gore and Leonardo Dicaprio. As soon as you start educating yourself about the world, someone with a moral compass, fire, inspiration inside them can't help but to do something.
What astonishes me is that motorcycle is also a new phenomenon for Morgan.
3 years ago I couldn't even ride one! I wanted to show people that it's never too late to learn. Learning keeps us alive and connected to the world. I've always longed to ride one. I was jealous at people who could ride motorbikes. I always thought what a wonderful freedom, stimulation of senses it gives. Getting on a motorbike is cool. It's fun. It's even better when it's televised.
Motorcycle journey has become popular since Long Way Round (2005), where Ewan Mcgregor and Charlie Boreman rode from London to NYC in support of UNICEF.
"Long Way Round was the real inspiration to ride a motorbike. Give them credit for that. What makes Wheel2Wheel unique is the start and end point, and our philosophy. Everyone has his own reason. Charlie Boreman might join part of our trip too."
Many people are riding around the world recreationally nowadays too. Consequently BMW has developed a wide range of bikes. Wheel2Wheel is using F800GS BMW with 25 alterations. It seems like Morgan has figured a way to enter China on a motorcycle from Hong Kong, which is unprecedented. There are still challenges to be conquered though, such as meeting the emission standards in Australia.
There are things that are not yet confirmed. Even on 3/1/2011 (planned departure date), not everything will be solved. It's a personal big change for me (as a ex-perfectionist, being a real estate developer), a positive one. We'll have to interact with people on the ground and solve problems on the spot at times. It will give rise to interesting discussions for the audience.
Training for Wheel2Wheel, a 100day motorcycle mission must be rigorous and challenging. Morgan comically said he tried riding for 3 days straight in September, and he was inundated with absolute physical and mental fatigue.
I've set my own challenge. I still don't know if I can do it, it can't be easy! But I've used Wheel2Wheel to learn many more things. I took mechanical courses, first aid course, read lots of physiology books. It's hard to appropriately prepare for something you haven't done and no one else has done. I've given myself 15months to get ready.
Nooooo (unconvincing tone). If I thought about all the risk associated with it, I could potentially get scared. I was at a business meeting with a 60yld man lately, who said "we'll talk later IF you get back from your trip" I was stunned, because it hasn't crossed my mind that I'd be injured! I am worried about security, as we'll travel through notoriously dangerous parts of the world with social and religious tension, like Southern Thailand and Indonesia. I'm doing counterterrorism-combat training. I'm also learning how to deal with a hostage situation.
How did you choose your route?
"I opened a map, like any adventures, and thought of a creative way to go from point A to point B, featuring charity, cultural, landscape diversity."
Morgan is set to embark on his ambitious, fun, charitable journey next March. With his charisma and determination, I'm certain that he can inspire change in many. Myself to begin with.
SUBSCRIBE TO & FOLLOW WORLD POST