Ms. Krentcil will post a weekly blog about the fashions appearing in the popular AMC television series 'Mad Men.' You can find an archive of her postings on previous episodes at AMCtv.com.
Mad Men Lesson One: If you're going to have a meltdown, it may as well be in a polka-dotted spaghetti strap party dress. At least that's the case for Betty Draper, who manages to choose exactly the wrong thing to wear when saying what's exactly right. Actually, that dress was interesting for several reasons: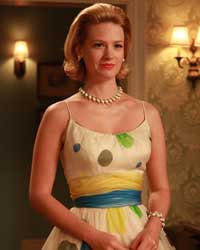 1. The silhouette was still very traditional, but the colors were a big push forward for Betty D.
2. The silhouette was very sexy but the colors were very innocent and childlike.
3. The fabric was very expensive, but the overall effect was cheap.
And that means something brilliant is going on here: The dress is completely ambivalent, pulling at both the past and the future, at luxury and misery, at reality and lies. In a way, the dress transcends the scene to represent Betty herself -- comfortable but uneasy, scared but bold, innocent but jaded. Really, the dress is saying "Should I stay or should I go?" Unfortunately, Betty herself won't be able to say that for another 20 years, since the Clash didn't write those lyrics until 1981. But I guess that's the way it goes.
Also, I hope you noticed the other wives at that dinner party -- between the neon plastic jewelry and the wallpaper prints on their dresses, I think it's safe to say we've taken a big step into a new world, at least where wardrobes are concerned.
Meanwhile, Peggy Olson went back to her schoolgirl outfits (boo!) for a few meetings with Father Gill, and if you weren't distracted by Colin Hanks himself (cutie!), you were probably pulled out of the scene by his amazing "briefcase," black with a giant cross painted on it, and small and square like a lunch box. I've no doubt that thing was historically accurate, but I'd also like to direct everyone to Gaultier's couture collection in '98 and Versace's ready to wear line, also from '98, because guess what? That thing was remade into accessories and prints and sold for like a thousand dollars to Madonna wannabes everywhere. If you can find it vintage, buy it, flaunt it, love it. Also love this: That ambivalence represented in Betty's dress? It came up again in Father Gill's speech to Peggy about reconciling with God. It's cute when a priest flirts with a parishioner by telling her to confess, right? But more exciting is the way the dialogue can mirror the costumes and their themes.
Finally, let's take a quick look at Jane Siegel, whose color palette has reverted straight back to nursery colors. In fact, her breasts look almost swaddled in her fuzzy blue sweater, and this can mean one of two things: She's staying far away from Joan's jewel-toned signature style to get off her back, so to speak, and retreat from being a threat. Or, more likely / more fun (circle one), she's subverting the colors of youth to show Joan that she can be totally and completely replaced by someone younger and less shaped by the working world, and by something that now seems inevitable: Corporate ambition. Wonder how Joan's stuffed bra will edge her into that boardroom now...