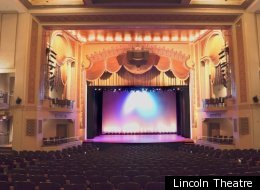 Last night marked the opening night of the 17th annual Rendez-Vous with French Cinema series, a veritable féte of contemporary French cinema presented by Film Society and Unifrance. For nearly two weeks, the cutely titled Rendez-Vous will take over screens at Walter Reade Theater, IFC Center, and BAMcinématek to bring NYC viewers about 30 of the latest feature length and short works. French language films are usually some of the highest grossing imports among foreign films playing in American theaters, which means even if you can't take advantage of the festival's NYC-based screenings, many of these films have a good shot at being picked up for US theatrical and online distribution, if they haven't already. Rendez-Vous is known for selecting films, from established auteurs and new talent alike, that gradually trickle into independent and arthouse theaters around the country.
Here are my picks from the 2012 Rendez-Vous lineup, and keep an eye out for select reviews in the coming weeks.
2012 Rendez-Vous with French Cinema Preview
Despite her big break in the enduringly popular Amelie, and subsequent casting in high profile US projects like The Da Vinci Code, Audrey Tatou never quite became the international star we all expected her to. I'm still rooting for her success, particularly in the festival's special closing night film, where she takes on the role of a woman trying to overcome the grief of losing her husband. A Cohen Media Group Release

I'm hoping that Jacquot's chronicle of the final days of Marie Antoinette will have the dramatic heft and political intrigue that Sofia Coppola's portrait of the infamous aristocrat, stylish and well-made though it was, seemed to lack. Jacquot's latest is coming fresh from February's Berlin Film Festival, where it was the opening night film, and features some beautiful star power with Diane Kruger and up-and-comer Léa Seydoux.

Some critics joke that it wouldn't be a Rendez-Vous without a film from Téchiné, 1960s Cahiers du Cinéma crony and the director of several past entires like 2009's The Girl on the Train and 2007 film The Witnesses. His latest follows a mystery novelist who must make like his characters after falling in love with a questionable real estate agent. A Strand Releasing Film.

The preternaturally talented and well-spoken Amalric is best known for his acting, particularly his position as Arnaud Desplechin's golden boy in films like Kings & Queen and A Christmas Tale, but the heartfelt and loosely-scripted burlesque drama he directed in 2010, On Tour, was reasonably well received. This follow-up, in which a hotel concierge hunts down a missing young man, is a modern update of Corneille's 17th century tale.

Beloved acting veteran Daniel Auteuil, the heart of everything from tough dramas like Michael Haneke's Cache to goofy comedies like Francis Veber's The Valet, makes his directorial debut with this film about the struggles of a well digger and his passionate daughter. Let's see how Auteuil fares as a director now, because he is already in production on another project, or three, technically: the films of La trilogie marseillaise.

Yet another actor-turned-director - it seems that boundary is a little more porous in France, nón? - Demy recently played the father role in 2011 arthouse hit Tomboy. He acts, writes, and directs with this story of a man who must fly from Paris to Los Angeles to deal with his estranged mother's estate, encountering one Salma Hayek along the way. The exploration of family revelations and dealing with objects left behind by the deceased reminds me of Olivier Assayas's Summer Hours, one of my favorite recent French films. An MPI release.

In the last decade or so, France has been killing it in the realm of innovative yet charmingly low-fi animation like The Triplets of Belleville, or the 2012 Oscar Nominated feature film A Cat in Paris. This hand-drawn animation follows a Sudanese child with an orphaned giraffe sidekick, but don't assume it's just for kids - their adventures through Alexandria, Marseille and Paris involve escaping from slave traders.

Belvaux is a prolific actor with over 40 films to his name, as well as the director of the trilogy of films released here as La Trilogie. Although not particularly well-known in the states, 38 Witnesses may be his American break, given the film, about a woman whose murder seems to have no witnesses despite the 38 people in the apartment building where it took place, is based on the infamous 1964 killing of Kitty Genovese.
To see the full schedule of films, and purchase advance tickets, visit the Film Society website.
Follow Farihah Zaman on Twitter: www.twitter.com/brandnewfarihah