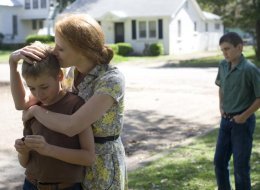 2011 was the rare and beautiful year that was so packed with surprising and innovative films, it was seriously difficult to boil it down to just ten. It was a particularly fruitful year on the domestic front; beside the American films both independent (The Future, Take Shelter) and big-budget mainstream (The Tree of Life) included on my list, there were also just-barely-weeded-out gems like the hysterical Bridesmaids, left out only because I wanted more, more, more of the ensemble cast; the haunting film that introduced us to Elizabeth Olsen, Martha Marcy May Marlene, and the low-key but stunning Cold Weather, both of which are highly deserving of honorable mentions.
Easily the most thought-provoking, playful, and downright ballsy film of the year, the largely overlooked Argentinean film doesn't just create a compelling story, it questions the very nature of what a story is and how it can be told. The three narratives (which include elements as deep and wide as spies, architects, mysteries, criminals, shut-ins, wild animals, loneliness, urban planning, and so much more) that make up the film are never merged or tied up into some neat little package, just woven into a dazzling enigma you'll never quite solve.

A documentary linking the clear night sky over Chile's Atacama desert, renowned among astronomers the world over, with the women who comb the sand below for remains of loved ones abducted during Pinochet's regime sounds like it could be an insufferable stretch. But Guzmán sparks an eye-opening, moving recognition of our infinitesimal yet significant place in the universe, that every particle of man or star is equally humble and wondrous.

Typically for the work of Weerasathekul, the astounding filmmaker who melds mythology, modernity and magic with seeming ease, this is a difficult film to describe. It is ostensibly about a family gathering at the home of dying Uncle Boonmee, but that is really just the starting point for a meditation on life and death, spirituality and the bonds of love. Weerasathekul crafts a world of earthly feeling out of dream logic, an experience so uncanny that the presence of ghosts, ancestral memory and fantastical beasts requires little suspension of disbelief.

Although this film has been popping up on end-of-year lists the last couple of weeks, it was shockingly overlooked during its run. Nichols has created a work that is part apocalyptic horror and psychological thriller, but in the entirely unexpected register of a subdued, finely drawn domestic drama. The images are purposeful and haunting, the characters raw and real, and the various turns taken in the final act of the film left me emotionally electrified.

Sometimes a film is so overwhelmingly poignant, so jaw-droppingly ambitious, that its flaws fade in the face of its overall achievement. Malick's scope here is the entirety of space and time, yet he approaches it through the incredibly intimate, semi-autobiographical story of a troubled family in 1950s suburban Texas. From milky cosmos to childhood car trips, the film is shot and edited in a fearlessly impressionistic style that penetratingly evokes the human processes of feeling, experience and memory.

If The Tree of Life is beautiful because it is messily bold, this film (which I have privately dubbed Le Quattro Formaggi) is the opposite, a deliberate little gem, lovely in its compact perfection. The depiction of life in a Calabrian village manages to be both profound and banal, touching and humorous, and all the more remarkable given it is nearly wordless. Furthermore, the canine performance in this film would give the adorable but overrated pup from The Artist a run for his doggy bones, and the lead goat (pictured) is quite a charmer too.

Haroun's film examined the emasculation of a former Olympic swimmer turned pool attendant in Chad, by war, by age and by the haunting mistakes of his past. When this film won the Cannes Jury Prize in 2010, the Chadian government invested a million dollars in building a movie theater that could screen it at home, the first theater in the war-torn country in over thirty years. That is how universal the film is in its heartbreaking themes, yet how specifically and unflinchingly evocative it is of its native country.

I've seen movie beasties of all stripes, spots and sizes, so when the hysterically dry entrance of the troll in this film made me shout "holy shit" in a packed theater, I knew it was something special. Equal parts monster movie, oddball Western, paean to the stunning landscape of Norway and hilarious bureaucratic spoof, Trollhunter is both thought provoking and exceedingly enjoyable, a unique approach to a genre trope further distinguished by the fact that it is steeped in its native Scandinavian culture.

July's second film about a couple on the brink -- of quarter-life crisis and a breakup --deserves every criticism it has received; it is precious, twee and irritatingly self-conscious. It is also funny, courageous, painful and true. After a second viewing I realized its beauty lies in that tension between annoyingly awkward and fearlessly surreal. Also, kudos to July for spotting a star in Hamish Linklater, whose last notable gig was on the sitcom The New Adventures of Old Christine.

Forget what everyone is saying about Hugo, or even Cave of Forgotten Dreams, Wim Wenders' stunning tribute to late, great German choreographer Pina Bausch is the best use of 3D technology in 2011. Wenders interviews members of Bausch's former troupe, has them perform her avant-garde yet incredibly accessible pieces everywhere from a conventional stage setting to a public bus, a city street or hurtling around the edge of a cliff. Most impressively, this film treats dance as if it were a cinematic medium, playing with the boundaries between the two art forms.
Follow Farihah Zaman on Twitter: www.twitter.com/brandnewfarihah