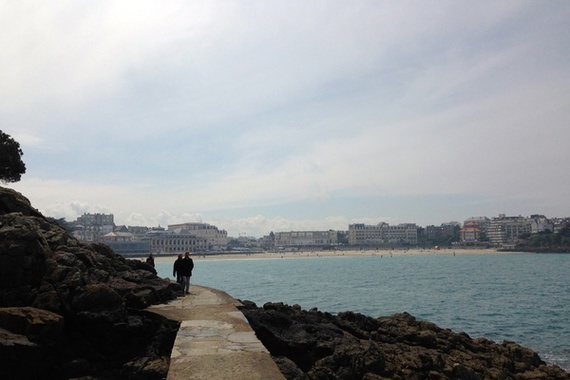 By Courtney Maum for Fathom | With a romantic landscape of frothy inlets, verdant cliffs, and seaside cottages speckled with orange moss and honeysuckle, off-season or in, Brittany's Emerald Coast is the ultimate escape for rest, relaxation, and serious shellfish.
Les Blés Dorés
4 rue Gén de Gaulle, Ploubalay
The exterior of this modest bakery reveals nothing of the wonders within. The decadent oven-baked fruit and nut bread is served by the kilo, and the fist-size dark chocolate almond clusters make great dinner party gifts.
Rue Christophe Columb, La Fontaine au lièvre, Saint-Malo
This agricultural cooperative has unbeatable prices on meat, vegetables, fruit, and dairy products. The chestnut and cognac duck paté is a must.
Cancale Oyster Market
Quai Thomas, Cancale
Seven days a week, those brave enough to tackle the gusts that sweep determinedly around the nearby lighthouse can sample the best oysters the region has to offer. A dozen oysters, shucked and served with lemon, are an affordable decadence at only five euros, and you can eat them right on the beach.
La Chaumière
Pointe Du Décollé, Saint-Lunaire
The populace skews clean clad, preppy, and super young, but it's worth pulling out your senior card to have a drink in this nightclub perched perilously on a cliff above the sea.
Britanie
40 rue Levavasseur, Dinard
This elegant shop houses body care and candles made by local artisans using Breton ingredients like donkey milk, algae, and orange wheat.
46 Ave. George V, Dinard
If high tea, slightly damp rattan chairs, and striped linens strike your fancy, you'll love the laidback luxury of the Grand Hôtel. Start your morning with the stunning, cliffside Clair de Lune walk around the port before indulging in a kouign aman in one of the beachside cafés on the grand plage.
Read more on Fathom: The Villages, Valleys, and Views of Corsica, A Feast in Southwest France, Fathom"s Paris Guide
Courtney is a fiction writer who likes make believe, jump rope, and Yorkshire Breakfast Tea. She travels for the creative repercussions.