Already missing the long, lazy days of summer? You can find them -- well into autumn -- on the coast of North Carolina.
It's hard to find beaches and beach towns that feel the way they did when you were a kid. Places where boogie boards are the most common accessories, flip-flops are welcome everywhere, and the most difficult decision is whether to pick strawberry or mint chocolate chip. That's easy, by the way, if you're at The Original Ice Cream Stand on North Lumina Avenue. Have both.
Wrightsville Beach, a sliver of land split from Wilmington, North Carolina, by a calm, reedy causeway, has preserved the pace and feel of long, lazy summer days. The beach is wide and the sand is perfect for crafting into castles. Everything about it is slow and Southern and there is no thing. You won't run into your boss, your neighbor, or anyone wearing Lululemon. And you can enjoy the beach season well into the fall.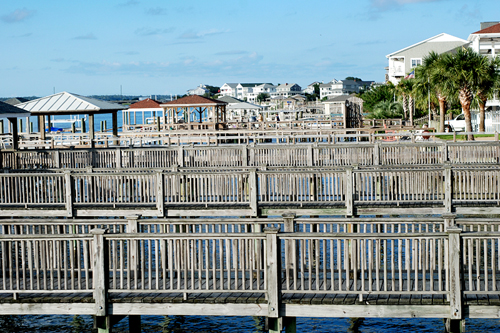 WHAT TO DO →
Morning Fuel: Wake up and put on your bathing suit. You'll be wearing it all day anyway, so you might as well get started. Throw on flip-flops, make a quick stop at Roberts Market, the oldest store on the beach, grab a newspaper, and make yourself comfortable with a cup of coffee on the porch of Causeway Café while you wait for a table. It's a local favorite, where older couples blend with groups of friends laughing, and families gather to catch up and indulge in delicious, fluffy biscuits, seafood omelets (local, of course), giant waffles, crispy bacon, and fried green tomatoes. After brunch, head next door to Redix (120 Causeway Dr., +1-910-256-2201) to freshen up your supply of sunscreen and beach toys from the store's vast assortment of useful and not-so-useful treasures.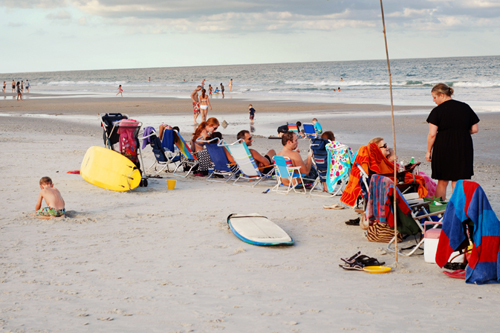 The Beach: The whole flat, spacious beach is public, and one of the best things about it is that there's room for everyone. No need to wake up at dawn to stake out a spot. There are 44 public access points along the stretch of Wrightsville, and four public parking lots with restrooms. Amenities -- public volleyball nets, Vito's Pizzeria, Rita's Water Ice -- are clustered around Johnnie Mercer's Pier, as are slightly bigger crowds. Packed sand makes it a perfect beach for strolling. Just make sure to keep an eye out for perfect shells, Atlantic-battered sea glass, and the very occasional jellyfish.
Water Sports: Wrightsville Beach has become an East Coast surf destination in recent years. If you're the kind who gets restless lounging in the sun, take to the waves and learn to surf, stand-up paddleboard or kite board from one of the area's eight schools and camps. Most offer group or private lessons.
Lunch: Something about the salt and surf means being especially hungry for lunch. Head to Dockside by car, or rent a boat and arrive on the dock side like a local. The deck is the perfect vantage point for scoping out boats (the best things to ogle in these parts besides the sunsets) gliding through the Intracoastal Waterway. Like those in the know, go off-menu and order a basket of golden hush puppies to snack on with a beer while you wait for a crispy crab cake sandwich or Shrimp-a-Roo, a classic Low Country shrimp boil. The waitresses are so brimming with Southern hospitality (and quick refills), it's easy to see why the cast of Dawson's Creek came here to unwind after long days of filming.
Golf. Mini Golf: Tired of the beach? Channel your inner kid (or current competitive spirit) at Jungle Rapids Family Fun Park with a round of miniature golf. Beware of the two-par third hole: A misplay of the plateau lay can easily kill a round. If a rematch of a different sort is in order, go for a race around the go-cart track.
Already missing the long, lazy days of summer? You can still find them -- well into autumn -- on the coast of North Carolina.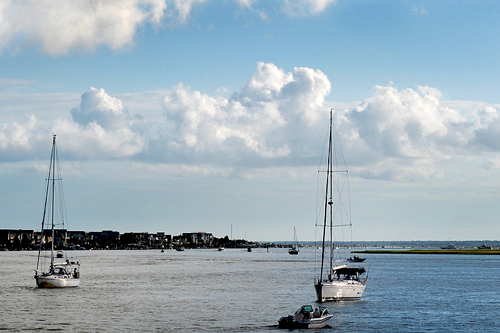 Promenade: Take a late afternoon stroll along Johnnie Mercer's Pier. Family-owned since 1969, it divides the north and south sides of the beach. Watch the surfers hanging ten in the waves below or rent a fishing rod and work up an appetite angling for Spanish mackerel and bluefish.
The Big City: Downtown Wilmington, a twenty-minute drive west of the beach, is edged by the Cape Fear River. Perched on the wooden waterfront boardwalk, beautiful buildings once used for trading Southern-grown commodities, like The Cotton Exchange, have been converted into boutiques, galleries, and restaurants. Stroll Front Street, landing at Aubriana's for dinner where chef Alexander Succop turns out American fare like buzzed-about lamb lollipops and delicate crab and lobster cakes.
Live Music: Just south of downtown, Greenfield Lake Amphitheater is an intimate venue surrounded by cyprus trees with beautiful views of the adjacent lake. Concerts and events only happen once or twice a month, but it's an extraordinary atmosphere to catch acts such as Bela Fleck and the Flecktones and Dr. John.
Nightlife: After the show, head to the rustic/hip Satellite Bar and Lounge (120 Greenfield St., +1-910-399-2796) for a pint of Stone IPA or Rogue Beer in a cavernous, wood-beamed space. There might be a Blue Grass band jamming out or movies playing in the lush, fairy light-strewn backyard.

For more information on Wrightsville Beach (like, where to stay and when to go) check out www.fathomaway.com.
SUBSCRIBE TO & FOLLOW LIFESTYLE
HuffPost Lifestyle is a daily newsletter that will make you happier and healthier — one email at a time. Learn more