What to do when you can't get home? If you're food editor Amanda Kludt, you find a warm booth in the middle of nowhere. And slowly get drunk with your friend.
I was flying back from the Aspen Food & Wine Festival with a co-worker. We were supposed to drive to Vail, fly to Denver then connect to an NYC flight, but because of high winds, they decided to bump 10-15 people from the first flight. After all was said and done, we got in a rental car with three other bumpees for a three-hour ride (with my suitcase on my lap) to the Denver airport so they could make their connection and we could find an airport hotel.
While in the car we started tweeting (I know...) asking followers where to eat while stranded in Denver. After settling into our Holiday Inn and getting the okay from my boss that we could expense pretty much whatever we wanted to eat that night, we found ourselves a 20-minute cab ride away in the center of Denver at Stueben's. It's the kind of retro comfort food spot where you can order some serious bourbon cocktails and eat loads of fried chicken and mac 'n' cheese in a vinyl booth. And that is exactly what we did.
The place was buzzing with tattooed 20-somethings who seemed so content and distant from the world of flight attendants, airport shuttles and diva celebrity chefs. It felt weirdly nice to be in this strange in-between place where no one knew me and there was nothing I had to be (or could be) doing. I was just in a warm booth in the middle of nowhere slowly getting drunk with a colleague.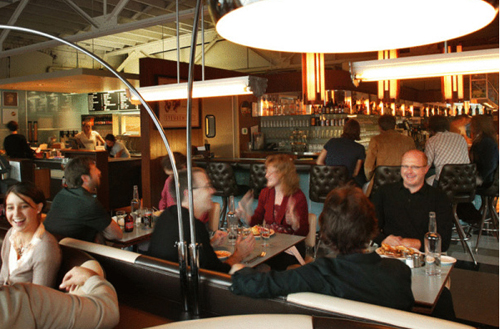 Photo: Courtesy of Steuben's
Of course, the next morning our plane was cancelled. So we found a new hotel, tweeted again for recommendations and ended up at Osteria Marco, a restaurant from the man who is apparently the Mario Batali of Denver, Frank Bonanno. Again it was beautiful food -- excellent cheese plates and pizzas and fish and pasta -- a great setting, and a revelation to me that a city so far off of my New York-centric radar could have so many restaurants that stood up to what I had back home. With much nicer waiters.
The next day we finally escaped Denver, but I wouldn't mind being stranded there again.
Find more travel tips, tricks, and anecdotes at fathomaway.com.

Follow Fathom on Twitter: www.twitter.com/@fathomwaytogo