From collapsing in a heap on the couch, to striding past the gym on my way home to eat, fondle my remote, and sleep, the past few weeks have been an exhibit of a frenzied life lived on autopilot. Evenings curled up with a book and a magazine have dovetailed into a need for quiet and a catatonic state. And although it's inconceivable that I'd have the time (or resources) to book a spa day appointment, I'm trying to reserve the weekends for at-home indulgences and full-body scrubs. And realize this requires a temporary iPhone reprieve, or burial if you're the dramatic sort. Here are my choice selects for creating and savoring your at-home, DIY spa experience.
My affection for lavender knows no bounds, so it's no surprise that I'm enraptured by AHAVA's Mineral Botanic Honeysuckle and Lavender Velvet Cream Wash ($21.50). The soothing shower wash harkens back to Santa Monica days by the beach, feeling the warm February sun on my pale skin. Paraben and SLS-free and targeted towards those with sensitive skin, AHAVA's body wash is formulated with healthy Dead Sea minerals, sunflower oil, and organic plant extracts. Consider this a cuddle for your skin.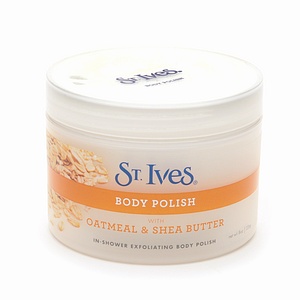 However, if you're trying not to crack the proverbial piggy, St. Ives' Oatmeal and Shea Butter Body Polish ($8.29) is a worthy substitute. To be frank, St. Ives is the best drugstore brand in the market. For years, I've been an ardent and loyal fan of their exfoliants, shower gels and gentle sugar scrubs. Free of parabens and formulated with natural sugar crystals, oatmeal and shea butter extracts (sucrose and sunflower oil are the first two ingredients), this uber-gentle body polish delivers a delicious foam while ridding your body of dead skin cells and impurities. Every beauty girl in the game has evangelized St. Ives, and you'd be insane not to snatch up one of their delectable, refreshing scrubs.
From the frenzy of last week's Fashion Week and the workload that ensues, minor tasks like washing one's face feels Herculean. From falling asleep on the couch to relying on moisturizing make-up removal wipes to ignoring my weekly exfoliation ritual, my complexion was in dire need of deep cleaning. And desperate times call for serious measures -- the kind that requires an under-the-hood situation involving Ajax and a Brillo pad.
Luckily, I have Lumene's Arctic Touch Deep Cleansing Peat Mask ($9.99) in my arsenal. You've heard me sing the praises of the Deep Repairing Cream, which is a mainstay in my nightly moisturizing ritual, and I'm starting to believe that Lumene is the pinnacle of dimestore luxe. Perfection for normal, combination skin and formulated with mineral-rich Arctic peat, kaolin, aromatic rosemary and skin protection natural Vitamin C, Lumene's mask lifts and removes dirt and impurities leaving your skin utterly refreshed, clean and soft. During the course of ten minutes, you'll feel a deep tingling and soothing all at once. After use, I felt an instant glow and the week's worth of stresses and dirt washed away.
So if you're seeking to squirrel away your disposable income, if you're not keen on investing on haute masks, opt for the efficacious, affordable option: Noxzema's Clean Moisture Makeup Removal Cloths ($4.99), which are the sharpest tool in your kit. I grew up using Noxzema simply for the fact that my mother used it, and from slathering on the cool cream on my sunburned skin to washing off the day's play, Noxzema reminds me of childhood and I'm thrilled that the brand continues to offer affordable solutions for my skin care regimen. The pre-moistened makeup removal cloths remove dirt, oil and makeup without stripping your skin of essential oils. Alcohol-free and gentle for sensitive skin, I love how my skin feels revitalized, clean, and moisturized after use.
Clearly, I'm a cliche, for I'm about to drop a bomb of lavender into your life. Midday is typically my worst time. I'm vulnerable to making poor food choices, emails mount and punching stuffed animals seems like a worthy solution to all of one's ills. So for a dose of serenity amidst the chaos, I recommend a spritz of Arcona's Lavender Hydrasol ($40). While I don't believe the "ageless" claims, spraying yourself with soothing lavender (I also spray lavender water in my sheets come evening) quells anxiety, albeit for a little while. A few quick spritzes and your skin is left dewey, moisturized and glowing.
Believe me when I say that I nearly wept tears of delirious joy when I snagged Calm Me bath gel ($16) and Soothe Me body lotion ($24). What I adore about the Philosophy line is the fact that the scents are subtle, luscious, and far from pungent and artificial; this lavender-infused variation is no different. From an ultra-rich lotion formulated with shea butters, macadamia and olive oils, to a body gel rife with foaming lather and a luxurious soft lavender scent, you'll leave the scalding hot shower refreshed and serene.
When you're ready to slip back into Blackberry-punching mode, at least you'll have been rested and refreshed, albeit for a little while.
This Blogger's Books and Other Items from...
SUBSCRIBE AND FOLLOW
Get top stories and blog posts emailed to me each day. Newsletters may offer personalized content or advertisements.
Learn more