The 17th-century French playwright Moliere had the right idea. He not only skewered the powerful, he championed the powerless, noting: "Every good act is charity. A man's true wealth is the good that he does in this world to his fellows."
The next time you're in midtown Manhattan, remember the sentiment. In a tough economic climate, there is an easy way to honor it. Since 1902, Volunteers of America has used a familiar figure -- Sidewalk Santas -- to collect money for vital social services. For busy New Yorkers, the program is a simple way to contribute to charity; for recipients, it can be a lifesaving gesture.
The VOA's seasonal campaign -- the Holiday Food Voucher Program -- benefits thousands. A signature sight through Christmas Eve, Sidewalk Santas target midtown Manhattan; since 1902, they've been ringing their bells at storefronts and street corners. And thanks to the generosity of those who give, the elderly, formerly homeless families and the chronically ill aren't forgotten.
Here's how it works -- the food voucher program gives recipients cards that let them purchase and prepare a meal, rather than rely on a soup kitchen or pantry. The VOA services, however, are year-round, helping the mentally ill, kids with developmental issues and people with HIV/AIDS, among others. One of the nation's oldest and largest human services organizations, VOA serves nearly 50,000 people in need in the Greater New York area every year. (It also has 54 affiliates in 300 cities nationwide, one of the world's largest and most comprehensive nonprofit human services organizations.)
Volunteers of America-Greater New York president/CEO, Richard Motta explains why the organization is essential:
Why is VOA so important to the city?
VOA has been helping people in need put food on their table since 1896, the year the charity came into existence. Back then, staff used to deliver food, now we give food vouchers, but the intention remains the same: to help feed the hungry, care for those in need, and engage others in the community to respond, year-round and especially during the holidays.

Which stores honor the vouchers?
The food voucher is only available through Volunteers of America-Greater New York. We have partnered with most of the large grocery store chains in the city again this year, including A&P, Pathmark, Waldbaum's, King Kullen and Food Emporium.
Where else do you get monies?
We've received a $20,000 contribution from the Greater New York Hospital Association, and a portion of the funds raised at our annual gala on Dec. 8 will help fund the Holiday Food Voucher Program.

Does VOA fill in when government can't?
Thousands of New Yorkers go to bed hungry, or are at risk for hunger should they lose their job. Or their rents goes up or they have unexpected medical expenses. VOA's Sidewalk Santas serve as a gentle reminder that everyone has to do what they can to help their neighbors in need.
For more information: www.sidewalksantaVOA.org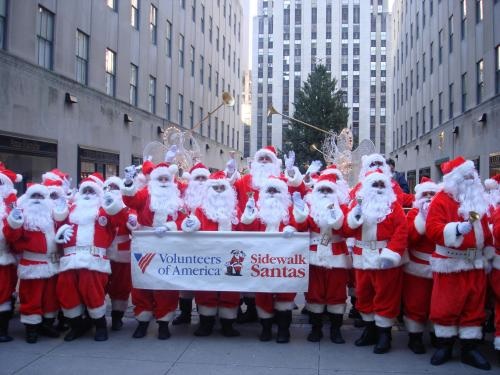 This Blogger's Books and Other Items from...
SUBSCRIBE AND FOLLOW
Get top stories and blog posts emailed to me each day. Newsletters may offer personalized content or advertisements.
Learn more