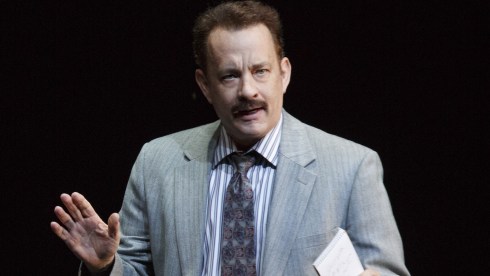 In the heyday of New York's tabloid journalism, when newsrooms were boys' clubs and you could smoke and swear with impunity, the best reporters were on a mission to right wrongs. For these power-to-the-people crusaders, the 1980s and '90s were a hellava time.
Just ask Mike McAlary, the well-known columnist who began his career at Newsday, then ricocheted between the New York Post and Daily News, breaking stories about dirty cops and city corruption, while gaining both wealth and notoriety. "We're God's fucking messengers," he says, embracing the news as religion.
McAlary is immortalized by Tom Hanks, making his Broadway debut in Nora Ephron's Lucky Guy at the Broadhurst Theater. Hanks, who can play affable, determined and cunning without losing an audience's sympathy, is joined by a top-notch cast -- passionate editors Hap Hairston (Courtney B. Vance) and John Cotter (Peter Gerety), columnists Michael Daly (Peter Scolari) and Jim Dwyer (Michael Gaston), and reporter Bob Drury (Danny Mastrogiorgio).
The only women are McAlary's supportive wife Alice (Maura Tierney) and Louise Imerman (Deirdre Lovejoy), the sole female reporter who explains the gritty, often ribald newsroom was no place for ladies: "This is a story about guys, guys with cops, cops with guys."
As McAlary's rise from Queens reporter to big-city journalist takes off, logo projections identify his work and the period, 1985-1998, when crack and crime plagued New York. Lucky Guy is a love letter to the exciting, competitive, red-meat gusto of those times. At best, it's a quick-hit memoir of McAlary's tumultuous ride before his death at 41.
Ephron, who began her career at the New York Post, appreciated McAlary and his tough-talking, hard-drinking colleagues. McAlary broke many key stories, including the drug-dealing cops at the 77th precinct in Brooklyn and the abuse of Abner Louima. But McAlary's vaulted reputation suffered when he badly mishandled a Prospect Park rape case, while his arrogance could be insufferable.
McAlary realized his dream -- to work at what he considered the greatest job of all -- a columnist at a Manhattan tabloid. Before the Web and Twitter, before polarizing 24/7 cable news dominated media, daily newspapers were devoured by eager readers. The headlines may have been sensational, but the goal was to serve the city -- and reporters fought to break important stories.

Ephron's narrative is smart, and George C. Wolfe's direction is tight. McAlary's career is compelling. But however lucky McAlary was in securing his dream, Lucky Guy is more homage than a fully realized dramatic work.
Photo: Joan Marcus