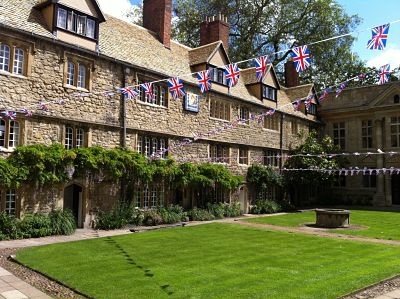 Oxford is sui generis, literally "of its own kind."
Poet Matthew Arnold described it as "that sweet city with her dreaming spires." It is home to the oldest university in the English-speaking world, comprised of 38 independent colleges, such as Magdalen, Balliol and Keble. Founded in the 13th century, this ancient university is the core of a beautiful rural region, which includes the Chilterns and the Cotswolds.
Blenheim Palace and the spectacular gardens of Rousham House are nearby. So are storybook villages like Chipping Campden.
But the big draw is the colleges, notable for their architecture and graduates. Most have open hours for visitors and entry fees. Entrance is considered a privilege, not a right. St. Edmund Hall flew the Union Jack in its quad in honor of the Queen's Jubilee.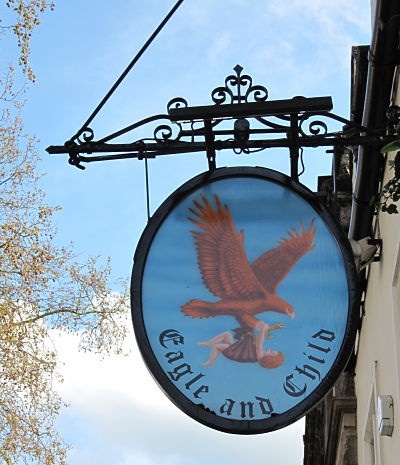 To pop culture fans, Oxford is something more.
It claims literary giants, such as Lewis Carroll, Oscar Wilde, Graham Greene and Evelyn Waugh, as its own. Several famous writers, including J.R.R. Tolkien and C.S. Lewis, also taught here. Both men, part of The Inklings, met in The Eagle and Child pub in St. Giles Street. Discussions in the Rabbit Room, which bears mementos of their patronage, contributed to Lewis' Narnia books and Tolkien's Lord of the Rings series.
So it's no surprise that Oxford is the backdrop for beloved books.
The magnificent Christ Church dining hall doubles as the Great Hall at Hogwarts for the Harry Potter films, while The New College cloisters are seen in Harry Potter and the Goblet of Fire. The Pitts River Museum, which has a renowned archeology and anthropology collection, is said to have inspired Diagon Alley. Plus, the Bodleian Library serves as Hogwarts infirmary and a dance practice room.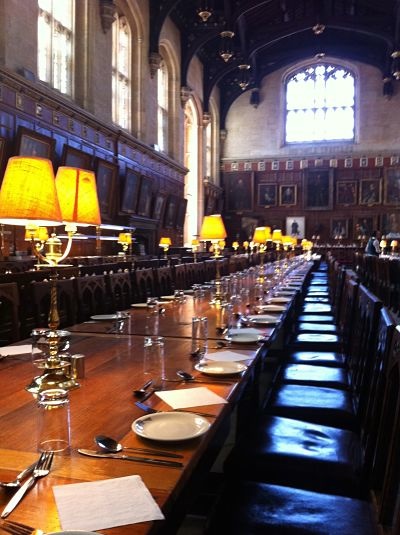 Magic aside, the Bodleian is a treasure trove for scholars.
It houses the original manuscript of Frankenstein, a Gutenberg Bible and one-quarter of the world's original copies of the Magna Carta. The Bodleian's "Dickens and His World" exhibit, through Oct. 28, celebrates the bicentenary of the great Victorian novelist. The Radcliffe Camera, an architectural jewel, is the main reading room of the library. It's also a visual marker in numerous productions, including Inspector Morse, The Golden Compass and Brideshead Revisited.
Brideshead Revisited, Waugh's homage to pre-war Britain, opens in "a city of aquatint." Waugh attended Hertford, as does his protagonist Charles Ryder, recognizable by its famed Bridge of Sighs. It's just behind the gates to the graceful Sheldonian Theatre, which Christoper Wren designed to imitate a classical Roman theater. Name aside, it's known for its music recitals.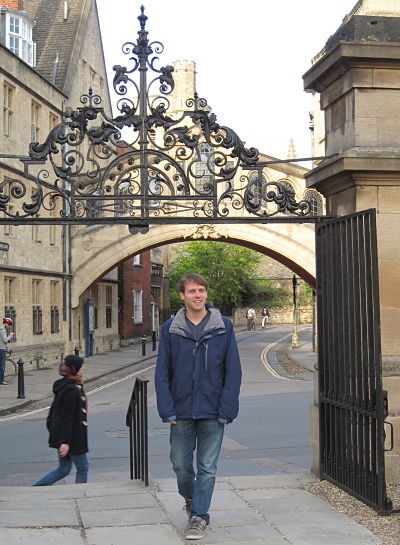 Like Ryder, visitors can punt on the Cherwell. It's a languid way to see Oxford, though the city is walkable. Just remember the same street can change its name several times.
To tout its literary history, there are wonderful tours, given by the Oxford Visitor Information Centre, as well as The Oxford Monocle Tours. Writers as diverse as Oscar Wilde and Dorothy Sayers are featured. Lewis Carroll, a pseudonym for mathematics lecturer Charles Dodgson, used Alice Liddell, his dean's daughter, as the model for Alice in Wonderland.
By the mid 20th-century, spy novels and police procedurals were in vogue. Oxford's John Buchan wrote The 39 Steps; John le Carré, known for Tinker, Tailor, Soldier, Spy, was recruited by the British Security Service while still an undergrad.

Though a Cambridge man, Colin Dexter's Inspector Morse series is set and shot in Oxford. Dexter makes a cameo appearance in almost all TV episodes. Crusty detective Morse suffers his fatal heart attack in the Exeter College courtyard. Philip Pullman, a graduate of Exeter and the author of the fantasy trilogy His Dark Materials, locates his Lyra stories here.
This Blogger's Books and Other Items from...
SUBSCRIBE AND FOLLOW
Get top stories and blog posts emailed to me each day. Newsletters may offer personalized content or advertisements.
Learn more