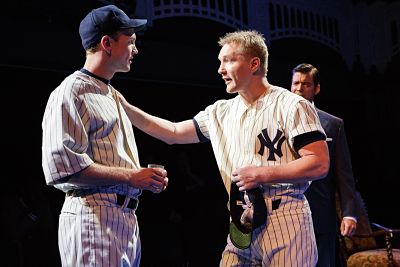 "It ain't over till it's over." The quote comes courtesy of famed Yankees catcher turned coach Yogi Berra. Known for his mangled witticisms, Berra centers the baseball play Bronx Bombers, which is an homage to the storied team.
After all, many of baseball's legends -- Lou Gehrig, Joe DiMaggio and Mickey Mantle -- played for the New York Yankees. More than just a ball club, it's a history of diamond greats. Now off-Broadway at the Duke Theater, Bronx Bombers pays tribute to some of the game's standouts, from Babe Ruth to Derek Jeter, while providing a behind-the-scenes look at the egos, rivalries and power plays.
Playwright Eric Simonson, who wrote Broadway's Lombardi, clearly loves sports; he's adept finding its place in America's cultural landscape. And he's particularly enamored of the Yankees, who he terms "the Mount Olympus of baseball."
Bronx Bombers is set in June 1977; New York City is in free fall; baseball is changing. The team isn't performing, and manager Billy Martin (Keith Nobbs) fears being fired. Reggie Jackson (Francois Battiste) is giving him grief, so team captain Thurman Munson (Bill Dawes) and a loveable Yogi (Richard Topol) try to broker a peace between the two volatile men.
The point-of-view is Yogi's, and he bemoans the fact that Jackson isn't a team player. The Yankees he knew, and the greats he worshipped, played for the love of the sport, not endorsements or big salaries. "I may be nostalgic, but I don't like to live in the past," he explains.
But Bombers is a eulogy for the past, as well as a critique of present-day play. That duality is realized when Yogi meets his dream team -- Lou Gehrig (John Wernke), Babe Ruth (C.J. Wilson), Joe DiMaggio (Chris Henry Coffey), and Mickey Mantle (Bill Dawes) -- only to discover that resentment and grandstanding, respect and mistakes are as much a part of baseball as home runs.
Gehrig brings dignity to both himself and the sport, while DiMaggio and Mantle display hair-trigger tempers. Each man has a specific view of baseball; what they share is an extraordinary pride in being Yankees, which Yankee fans will find irresistible.
Aided by his loving wife Carmen (Wendy Makkena), Yogi Berra's proudest moments were as a Yankee. Bombers uses baseball to examine larger American themes of greed and ambition, while mourning a loss of team spirit and personal responsibility embodied in Lou Gehrig.
While the plot is uneven, the cast is solid and the sentimentality pronounced. Bombers isn't as strong as Lombardi, which profiled the Green Bay Packers coach, but Yankee stalwarts won't care. There is a sweetness to Berra, accompanied by a love of legends that will score with baseball fans.
A more disturbing commentary is found in Bad Jews, now at the Laura Pels Theater. Three cousins arrive for the shiva of a beloved grandfather, a Holocaust survivor. Jonah (Philip Ettinger) is passive, while brother Liam, (Michael Zegen), an assimilated Jew, arrives with a Christian girlfriend (Molly Ranson), in tow. Liam, skiing in Aspen, missed the funeral, which angers his cousin Daphna (a fantastic Tracee Chimo).
Wild-haired Daphna is intelligent, articulate and passionately committed to Judaism. She plans to emigrate to Israel after graduating from Vassar, while Liam is in grad school for Japanese studies. Secular Liam, she claims, is interested in all cultures save his own. At issue is a key inheritance, their grandfather's chai, a small gold image of two Hebrew letters that stands for life. In Bad Jews, that premise is taken literally, underscoring the focus on Jewish identity and survival.
That's a compelling topic; sadly, playwright Joshua Harmon, despite his insights and humorous digs, has reduced it to nasty rants. Daphna and Liam may be volcanic in their eruptions (hers are more entertaining), but their anger, however pointed, triggers personal assaults, not thoughtful drama.
Photo: James Lenyse