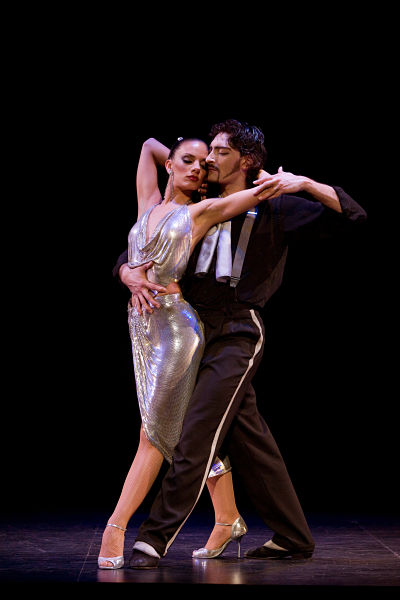 For 10 weeks, Broadway sizzles with the sultry sensations of tango.
Forever Tango at the Walter Kerr offers an array of artistic riches. The accomplished troupe, boasting major tango stars such as Juan Paulo Horvath, Victoria Galoto, Natalia Turelli and Ariel Manzanares, is joined by Grammy-winning singers Gilberto Santa Rosa, through July 28, and Luis Enrique through August 18.
From the opening number, the show is a winner. Backed by a select orchestra and wonderful bandoneon musicians, Forever Tango is a feast for the eyes and ears. There is great joy in listening to live tango music accompany classical tango, danced by such extraordinary performers. Plus, the designer Argemira Affonso has created gorgeous garb for the stage. The result is artistically exhilarating.
Tango, both sexy and sinister in its passionate embrace, is a precise art form of nearly sculptural perfection. The drama of the tango explodes on stage, aided by that distinct, melancholic sound. While there is sensual choreography here, the focus is the disciplined, stylized beauty of the genre.
For some, an added bonus may be Dancing with the Stars' duo Karina Smirnoff and Maksim Chmerkovskiy, together for a limited five-week run. Their dancing is smooth and eye-catching, but they seem to be more in love with Latin-style dance moves and individual gyrations that play to the TV fans in the audience, versus the traditional tango. While they are headliners, the purity of the tango turf is the sanctum of the Forever Tango dancers, who deliver an extraordinary night of movement and magic.
Another culture mainstay, Yiddish vaudeville, is celebrated off-Broadway in the poignant Exodus Code: Advice for Wanderers at The Flea. Inspired by life on the Lower East Side, the touching production honors a cultural art form, weaving various stories together to recreate an archetypal immigrant experience.
It opens in a Follies' -like fashion; a 100-year-old theater is about to be demolished. Three New Yorkers (Ann Talman, Carey Urban and Max Arnaud) hoping to retrieve memorabilia quickly discover a Yiddish comic (Shane Baker). All begin channeling the ghosts of vaudeville and an ethnic past.
In short order, we meet Abraham Cahan, the esteemed editor of the Yiddish-language Jewish Daily Forward, a hugely influential newspaper that carried news, arts and, most telling, instructed immigrants on American life. It also ran a famous column, "Bintel Brief," in which readers shared questions and fears about their new American lives.
The letters from "Bintel Brief" are blended with stories and songs of immigrant life. Humor commingles with tragedy. The experiences, from the horror of the Triangle Shirtwaist Factory Fire, to a rabbi's son in love with a gentile girl, to husbands who deserted families, underscore the challenges newcomers faced.
The humor is played out in various vaudeville sketches by the talented and deft ensemble. Sketches tout the versatility of the Yiddish word "nu," as well as the travails of a young man. When he announces he'll marry a woman who makes him happy, despite his parents' objections, his mother replies: "When you're dead, you can be happy."
The moving and evocative Exodus Code champions the Yiddish past, the comedy that reflected and comforted its audience, and the experiences that shaped their lives. The quartet of authors -- Rob Hartmann, Laura Henry, Andrea Lepcio and Susan Tenneriello -- reminds us of the importance of stories and salutes this extraordinary community. At heart, lies a profound message: If we don't remember where we came from, how do we know who we are?
This Blogger's Books and Other Items from...
SUBSCRIBE AND FOLLOW
Get top stories and blog posts emailed to me each day. Newsletters may offer personalized content or advertisements.
Learn more