Consider it the miracle on 59th Street. The hysterically funny British trio, Fascinating Aïda, is back in New York with a new show: Fascinating Aïda -- Absolutely Miraculous! at the 59E59 Theaters.
The neatly staged satiric musical revue lives up to its name. Witty, lacerating and hugely entertaining, it zings everyone from celebrities to the Christian Right. Best of all, this imaginative troupe -- Dillie Keane, Adèle Anderson and Liza Pullman -- boast great personal charm.
That's thanks to a gift for physical comedy, accompanied by zippy dialogue that brackets each number. The economy of language is key; this is a show for sophisticated audiences that relish verbal dexterity and clever jibes. Fascinating Aïda manages to send up Oprah and Tiger Woods in a few short stanzas, all part of their inventive "Bulgarian Song Cycle." These a cappella pieces target their subjects with laser-like precision, while the song that attacked the insanity of Wall Street's implosion was nothing short of brilliant. It should be required viewing for financiers.
Moreover, the hilarity of the musical numbers underscores its larger aim: social commentary. "Charity begins in public, and it's not what you give, it's who sees you" is a terrific smack down of faux sentiment, while the gospel send-up of Walmart had audiences screaming with laughter. It takes great finesse to calibrate mocking; it helps that Fascinating Aïda joyfully mocks itself. No one escapes unscathed.
The troupe's musical versatility and Frank Thompson's direction keeps the pace lively, while the lyrics would have Dorothy Parker cheering. Each performer has singular strengths; individual numbers allow them to shine. Together, they are theatrical magic. There is no better gift for the holidays than Absolutely Miraculous!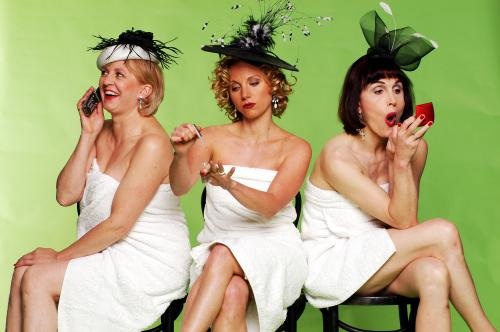 SUBSCRIBE TO & FOLLOW THE MORNING EMAIL
The Morning Email helps you start your workday with everything you need to know: breaking news, entertainment and a dash of fun. Learn more