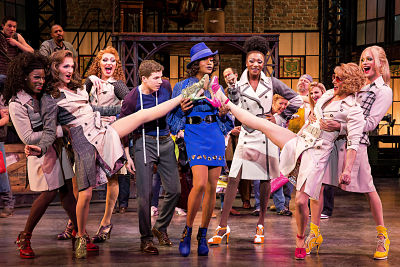 Kinky Boots is loud, mundane and best suited for suburbanites who consider drag risqué. It's another movie turned Broadway musical, sans the great score and story that defined the touching La Cage Aux Folles.
Now at the Al Hirschfeld Theater, Kinky Boots is based on a 2005 comedy about British shoemaker Charlie Price, a young man (Stark Sands) who reluctantly inherits his family's business. But the 1890 firm, makers of top-notch men's shoes, has fallen on tough economic times.
What to do? By chance, Charlie meets Lola (Billy Porter), a sassy cross-dressing singer who, after the requisite snappy retorts, along with store-employee Lauren (Annaleigh Ashford), convinces him to cater to a niche market. Charlie has a revelation: kinky boots! He'll transform Price's; out goes the time-honored shoes, in comes thigh-high leather boots initially worn by prostitutes that turned mainstream in the sixties.
The catch: the kinky boots are strong enough to support men. But will his male employees, uncomfortable with Lola and her coterie, stay loyal to Charlie? Is there a market big enough to support such a targeted demo?
This being a feel-good show, you can guess the ending. And that's part of the problem. Harvey Fierstein's book isn't very entertaining; the stakes are low and the psychological lessons predictable. A bigger one is Cyndi Lauper's music -- which is loud rather than theatrical, coupled with forgettable lyrics. Her score is better suited to pop radio than Broadway.
Still, Sands and Porter are terrific, as is the rest of the hardworking company. But Kinky Boots needs to turn down the volume and turn up the interest. These boots ain't made for walking.

However, it is worth making the journey to 59E59 Theaters for Bullet Catch, a clever show that features William Wonder (the multitalented Rob Drummond). He will ultimately re-enact the most dangerous stunt in magic -- catching a bullet in his teeth. Since 1633, the act, which Houdini refused to attempt, has claimed 12 lives.
What's so entertaining about Drummond, who won several awards at last year's Edinburgh Festival Fringe, is that he builds tension around an actual 1913 performance, which resulted in the death of a famed magician. Plus, he possesses considerable expertise at mind reading, levitation and storytelling.
The lead up to the finale -- the bullet catch -- is gripping. Relying on an assist from the audience, Drummond, who is loaded with quiet Scottish charm, produces a show that is intimate, thoughtful and hypnotic. It leaves the audience awe-struck.
Kinky Boots photo: Matthew Murphy